New in Theaters June 12: Jurassic World
By Chris Kavan - 06/11/15 at 06:49 AM CT
The last three weeks have been lackluster. All three have been down compared to the same time frame as 2014 (which was, in my opinion, a notoriously weak year - especially the summer) but all that should change this weekend when Jurassic World drops. It has been 14 years since we last visited the franchise, one that was due for an update. The original still holds up well, but I was never a fan of the two sequels. Here's hoping that with a stellar cast and some fancy new effects we'll finally get the Jurassic Park sequel we deserve.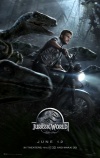 JURASSIC WORLD There have been a few complaints about how this film relies too much on CGI effects rather than the practical effects that Jurassic Park used. However, Steven Spielberg himself has said this movie is better than both Lost World and Jurassic Park III, and if I can't trust an acclaimed director, who can I trust? Of course this movie is going to use more computer effects, back in 1993, when Jurassic Park was released, the idea of using CGI was still pretty much in its infancy. Everything I have seen makes me pretty excited to see this one. You have the in-demand and quite talented Christ Pratt (should I call him the Velociraptor whisperer?) in the lead roll, along with Bryce Dallas Howard playing the lead scientist. In the film Jurassic Park has achieved the result that Richard Hammond (played by the late, great Richard Attenborough) envisioned. People from around the world enjoy the park in all its splendor. But, like everything, bringing in new and exciting attractions (or, in this case, dinosaurs) is what keeps things going. After 10 years of solid, though declining tourism, the brains behind the operation create their own hybrid (named Indominus Rex)- and, of course, it turns of to be a terrifying monster that quickly adapts, kills and causes all kinds of havoc. That includes terrorizing the plot devices, er, I mean young relatives of our head scientist (Ty Simpkins and Nick Robinson) who, of course, must be located before they can leave the island. The supporting cast includes Irrfan Khan, Vincent D'Onofrio, Jake Johnson, Omar Sy, Judy Greer and, in a returning role from the original film, BD Wong. I like the fact they have someone returning, it would be nice to some of the other cast make an appearance, but I'll take what I can get. Anyway, once our smart dinosaur friend gets loose, it's open season on guests and security alike. It looks exciting and I'm hopeful that Pratt and company can inject some feeling into this effects-heavy endeavor. Pre-sale tickets are through the roof (outpacing all films from last summer) and estimates have it pegged to be the third-highest opening of the year (behind Avengers and Furious 7) and currently accounts for a staggering 90% of tickets sold for the weekend. That means competition should be nil - and an opening of at least $130 million (probably higher).


With no other competition, Jurassic World is easily going to rule the weekend. We'll see if the huge pre-ticket sales propel this into the record books. I'll be back on Sunday with the final numbers.