New in Theaters May 15: Mad Max: Fury Road, Pitch Perfect 2
By Chris Kavan - 05/14/15 at 06:46 AM CT
With Marvel's The Avengers: Age of Ultron entering its third weekend after two very successful top finishes, it's finally going to get some competition. We have a full shotgun-blast-to-the-face action film and a musical sequel looking to hit all the right notes. One thing is for certain, it's going to be a three-way race to see which film has the edge over the weekend, but no matter which film comes out on top, the audience it going to be the true winner.


MAD MAX: FURY ROAD It has been a long and not entirely smooth ride for Mad Max: Fury Road. First announced all the way back in 2003 (with none other than Mel Gibson signed on to reprise his role), instead, it was pushed back until 2009 - and even then, with Tom Hardy and a nearly bald Charlize Theron on board, it was a tough shoot. The movie has been called a "90 minute car chase" in the desert. And, apparently, that's not too far off. Max (Hardy) finds himself caught up with Furiosa (Theron) who is trying to rescue a group of women from the depraved Immortan Joe (Hugh Keays-Byrne), who uses them as breeding stock. Also along for Mr. George Miller's Wild Ride is Nicholas Hoult, ZoŽ Kravitz, Rosie Huntington-Whiteley, Riley Keough and Nathan Jones. One would think that a movie with this much action would have a lot of CGI effects, but, instead (and, I think a correct choice) Milled used almost all practical effects. That means loads of stunts - but it makes things so much better (and dangerous). The movie looks fantastic - an adrenaline rush of action and Theron looks to join Sigourney Weaver (Alien) and Linda Hamilton (Terminator 2) as one of the most badass female characters to appear on the big screen. I, for one, am totally on board for this one and early reviews peg this as a top, if not the top action movie of the year.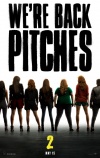 PITCH PERFECT 2 Maybe superheroes and over-the-top action aren't your scene. Don't worry, Pitches, the Barton Bellas are back and in top form. Pitch Perfect 2 is the sequel to the very well-received original, and the cast, including Anna Kendrick, Rebel Wilson, Brittany Snow, Adam DeVine, Skylar Astin, Alexis Knapp and Anna Camp are returning, along with newcomers Hailee Steinfeld and Katey Sagal among others. This time the talented group of women find themselves in dire straights after a disastrous performance at the Lincoln Center (in front of the president no less). In order to regain their status they are given a seemingly impossible task - win an international competition that no American team has ever won. It'll be an acapellacalypse if they can't come together as a team and blow the competition away. I have yet to see the first film and while I'm usually against this kind of thing, I have to admit it does look like a lot of fun. Given its rating, don't be surprised if the women of Pitch Perfect 2 manage to top the badass women (and Max) of Fury Road. It may come down to the wire, but both films should do quite well.


The weekend looks to be a good one - both new films, along with Ultron, have a good chance of earning $40 million plus. I'll be back on Sunday with the details.