New in Theaters May 1: The Avengers: Age of Ultron
By Chris Kavan - 04/30/15 at 06:41 AM CT
Nothing brings in the summer like a blockbuster. Now, I think we can all agree that Furious 7 exceeded pretty much all expectations, if not domestically than certainly internationally. If Furious 7 can have such an impact, one wonders just how high Age of Ultron is going to go with the massive marketing effort, hype and super hero pedigree behind it. One thing is for certain, it's going to be a big weekend - at least for one movie.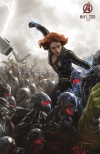 THE AVENGERS: AGE OF ULTRON Age of Ultron has already got some good news to back ups push to become the highest-grossing film of all time (topping Avatar's current $2.78 billion tally): it opened early in 44 foreign markets and already have over $200 million in the bank. It's tracking 44% ahead of The Avengers and 24% ahead of Iron Man 3 in said markets. If that is any indication, we may be looking at the first $3 billion film (I believe the only other film this year that has a serious shot at the mark is the upcoming Star Wars: Episode VII - The Force Awakens). Age of Ultron has had a huge marketing push - it would be hard-pressed to find someone who doesn't have awareness of the film. But, more importantly, it looks like it's going to be good - all the action we've come to expect, a sinister villain (voiced by James Spader), tension and even... romance? Yes - it's all there along with some new mutant... er, I'm sorry "gifted" brother and sister Pietro Maximoff aka Quicksilver (Kick-Ass and Godzilla veteran Aaron Taylor-Johnson) and Wanda Maximoff aka Scarlet Witch (who was also in Godzilla - along with Martha Marcy May Marlene - Elizabeth Olson). We also have the introduction of Vision (Paul Bettany, who previously voiced Tony Stark's AI Jarvis) and Andy Serkis as villain Ulysses Klaue (who should be a factor in upcoming Marvel films - Black Panther especially). Once again the biggest threat to the film is too much too fast - too many characters going off on too many tangents. I thought that would sink the first Avengers film, but that turned out to be one of the best superhero films ever (in my opinion). It helps that director Joss Whedon is back on board - even if this is his last ride. He's sure to go out with a band, though from what I've seen this time around things are going to be a bit more serious. Whatever the course the film takes, things are set in motion - with Ant-Man coming this summer, we're already being set up for Infinity Wars Part 1 and 2, not to mention the Captain America: Civil War storyline. It remains to be seen how Spider-Man is going to be brought into the fold, but it will happen. All in all - this is going to be the movie of the summer (early, but still here) and I doubt anything else will approach it - in fact, it has half of May to itself (until Mad Max drops on the 15th) - we'll see if that's enough to break some records.


Nothing dares to challenge the superhero title and thus the big question will be how much it makes and how few crumbs are left over for the likes of Furious 7 and the rest. I'll be here Sunday to see how good things get.