New on DVD and Blu-ray Week of April 7-April 13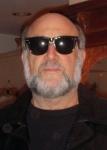 By Harley Lond - 04/07/15 at 02:33 AM CT
THIS WEEK'S THEATRICAL RELEASES:


"A Most Violent Year" was one of the most overlooked films of 2014. Directed as a crime drama by J.C. Chandor ("All Is Lost") and featuring a bravura performance by Oscar Isaac, the film is nothing less than a treatsie on the failure of the American Dream. The story is set in New York City during the winter of 1981 -- statistically the most dangerous year in the city's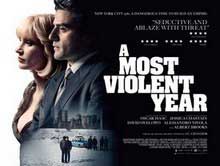 history -- and wends its way through a maze of corruption plaguing the bankrupt city. The film follows Abel Morales (Isaac), the hard-working owner of Standard Oil, an up and coming heating oil company, as he fends off rivalries, attacks on his family, hijackings of his trucks, loan sharks and an investigation by an upwardly mobile assistant D.A., all while clinging to a code of honor that threatens to fall by the wayside as he climbs up a morally crooked ladder of success. The film featurees pitch-perfect supporting performances by Jessica Chastain (as Morales' wife), Albert Brooks (as the family lawyer) and David Oyelowo (as the assistant D.A.). Don't miss it. DVD and Blu-ray extras for A Most Violent Year
include a trio of featurettes, deleted scenes, outtakes and commentary with Chandor.

Also due this week, but unavailable for review: "The Immigrant
," starring Marion Cotillard as a recent arrival to America in 1931 who falls under the spell of a pimp (Joaquin Phoenix) and is then saved by a magician (Jeremy Renner), from Radius-TWC; and the horror sequel "Woman in Black 2: Angel of Death
," from Fox.


BUZZIN' THE 'B'S:

In "Home Sweet Hell
" (2014), starring Katherine Heigl, Patrick Wilson, Jordana Brewster, James Belushi and Kevin McKidd, Don Champagne (Wilson) seems to have it all: a successful business, a perfect house, perfect kids and a perfect wife. Unfortunately, when his wife, Mona (Heigl), learns of Don's affair with a pretty new salesgirl (Brewster), this suburban slice of heaven spirals out of control. Don soon realizes that Mona will stop at nothing, including murder, to maintain their storybook life where "perception is everything." On DVD, Blu-ray Disc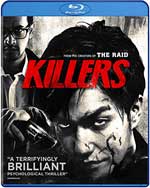 from Sony ... In "The Voices
" (2014), starring Ryan Reynolds, Gemma Arterton, Anna Kendrick and Jacki Weaver, a simple, likeable guy trying to do the right thing with the help of his talking pets accidentally winds up as a serial killer. Jerry works nine-to-five at a bathtub factory, with the offbeat charm of anyone who could use a few friends. With the help of his court-appointed psychiatrist, he pursues his office crush but the relationship takes a sudden, murderous turn after she stands him up for a date. Guided by his evil talking cat and benevolent talking dog, Jerry must decide whether to keep striving for normalcy, or indulge in a much more sinister path. On DVD, Blu-ray Disc from Lionsgate ... In "Killers
" (2014 -- Indonesia/Japan), a series of horrific murders have just gone viral, posted anonymously by the handsome and seductive Nomura (Kazuki Kitamura) with a taste for torture. Thousands of miles away, disgraced journalist Bayu (Oka Antarra) can't stop watching and in a reckless moment discovers he, too, can kill. One man in Tokyo. One in Jakarta. A serial killer and a vigilante. As the posts multiply and the body count rises, a bizarre and psychotic rivalry begins and the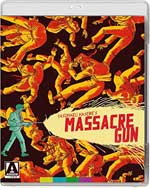 face-to-face showdown that's coming will paint the city in blood. On DVD, Blu-ray Disc from Well Go USA ... Genre icon Jo Shishido stars in "Massacre Gun
" (1967 -- Japan), a tense and violent yakuza yarn from genre stalwart and Seijun Suzuki's former assistant, Yasuharu Hasebe. Shishido stars as Kuroda, a mob hitman who turns on his employers after being forced to execute his lover. Joining forces with his similarly wronged brothers, hot-headed Eiji (Tatsuya Fuji) and aspiring boxer Sabura (Jira Okazaki), the trio escalate their mob retaliation to all-out turf war where no one will stop until one faction emerges victorious. Strikingly violent for the period and gorgeously photographed in monochrome like genre siblings "Branded to Kill" and "A Colt is My Passport" (Shishido's other films from 1967), "Massacre Gun" is a bold iteration on the genre featuring some stunning compositions and the assured direction of Hasebe. In a Blu-ray/DVD Combo from Arrow Video/MVD Entertainment.


FOR THE FAMILY:

In "Yellowbird
" (2014), with the voices of Seth Green, Dakota Fanning and Danny Glover, a tiny orphaned bird that has never left the nest and has no family is inadvertently chosen to lead a flock on their migration to Africa. From Lionsgate.


SPECIAL INTEREST:

"The Simon Wiesenthal Collection" is a boxed set of documentaries exploring Jewish history: "Genocide" (Academy Award Winner, Best Documentary Feature), "Long Way Home" (Academy Award Winner, Best Documentary Feature), "Liberation," "Echoes That Remain," "Unlikely Heroes," "In Search of Peace," "Ever Again," "I Have Never Forgotten You," "Winston Churchill: Walking with Destiny," "It Is No Dream," "The Prime Ministers: Part I and II." $49.98 from Cinedigm.


FROM TV TO DVD:

"The Book of Negroes" (2015), starring Aunjanue Ellis, Louis Gossett Jr., Cuba Gooding Jr., Lyriq Bent, Jane Alexander, Ben Chaplin, Allan Hawco, is a dramatic adaptation of the critically acclaimed novel by Lawrence Hill that depicts the extraordinary life of Aminata Diallo (Ellis) -- an indomitable African woman who survives against all odds in a world that forever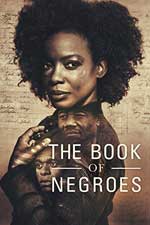 underestimates her. Kidnapped by slave traders in West Africa and subsequently enslaved in South Carolina, Aminata must navigate her way through the American Revolution in New York, the isolated refuge of Nova Scotia and the treacherous jungles of Sierra Leone, before ultimately securing her freedom in England at the dawn of the 19th century. BET's top-rated original mini-series. From Entertainment One ... "Manhattan: Season One" (2014) features all 13 episodes of the series that's set against the backdrop of the mission to build the world's first atomic bomb, and follows the brilliant but flawed scientists and their families as they attempt to coexist in a world where secrets and lies infiltrate every aspect of their lives. On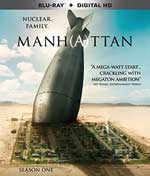 four-disc DVD: $49.97, three-disc Blu-ray: $49.98; extras include "Ground Zero: Bringing the Bomb to Screen" featurette, "P.O. Box 1663: Creating a City that Didn't Exist" featurette, "'Now I Am Become Death': J. Robert Oppenheimer" featurette, "Recreating an Era: Manhattan Costume Design" featurette, select episode commentaries with cast and crew. From Lionsgate ... In "Masterpiece Mystery!: Grantchester" (2014), the handsome, jazz-loving vicar Reverend Sidney Chambers gets to the bottom of another baffling murder around the placid village of Grantchester during a simpler England, when World War II had just ended, Elizabeth II was the new queen, and the local vicar was the pillar of the community. On DVD, Blu-ray Disc from PBS Distribution.

Check out other April 7-13 DVD releases and reviews at OnVideo.