2/4

2/4

3/4

1.5/4

2.5/4

2/4

2.5/4

2/4

2.5/4

1.5/4

2/4

3/4

1.5/4

1.5/4

3/4

2.5/4

3/4

3/4

1.5/4

2.5/4

3/4

2/4

3.5/4

4/4

4/4

Next 25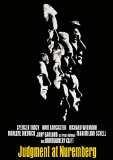 Judgment at Nuremberg
Does not know what it is saying.
3/4 stars
here is a film I thought I liked but as I though more about it the more I find out how little I liked it actually because it has no idea what it is trying to say. It really goes all over the place. Yes the performances are all good but only sells the poorly written material. It is poorly written because of the Spencer Tracy's character bizarre actions and views. He lets the defense ridicule witnesses for no good reason except in a Nazi's mind. then the film does not portray the prosecutor as positive but ends up siding with him at the end anyways even though it does not really state it well anyways. The film really is haphazard and needed some focus.

Oscar Win Best Actor Maximilian Schell 3/5- Schell is good as the defense for the Nazi war criminal, but he mostly just does a standard prosecutor role the way he treats the witnesses. He gives a strong performance but really does not have a real character just a talker.

Oscar Nominee Best Actor Spencer Tracy 2/5- he does the standard Spencer Tracy performance in this film but fails to do more than that. He also failed to express the characters opinions in the film someway that the script does not give them. His character is confusing and ends up being cruel allowing the treatment of Clift's and Garland's characters by Schell's character.

Oscar Nominee Best Supporting Actor Montgomery Clift 5/5- Clift makes the most out of his little time on the screen. His character actually seems to have far more depth and detail then the tow main actor Nominees who have far more screen time than him. In fact his testimony seen is the best part of the film.