4/4

1/4

3/4

4/4

3/4

1/4

3/4

4/4

4/4

4/4

2.5/4

3.5/4

0.5/4

N/A

3.5/4

4/4

1.5/4

4/4

3.5/4

0.5/4

4/4

2.5/4

4/4

0.5/4

4/4

Next 3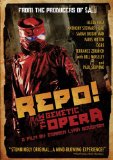 Repo! The Genetic Opera!
REPO: The Genetic Opera!
2.5/4 stars
REPO: The Genetic Opera!
I had seen an ad for this movie in my favourite occult peroidical, The Fortean Times (shameless advertising!) and thought, hey, this looks pretty cool. So, a month or so later, I saw it for rent at my local video rental store. I got it out and watched it that night, because I'm a sad loner.
Now, I'm not a man for musicals. The second the singing started, I was screaming 'WHAT THE HELL!!!? AAAAARRRRRGGGH!!!' and other certain profanities. Seriously, what was that!? It was weird, Gothic madness with a guy who looked eerily like Ewan McGregor in a fright wig! Anthony Head was scaring me as he tore open people to reclaim their organs, I was horrified and as PARIS ****ING HILTON came on screen, I was grotesquerised!
I wasn't really sure what I was watching. There were so many colours, like Technicolour got drunk and threw up.
I feel like I'm repeating myself, but I'm honestly speechless. I'm trying to find words that properly convey my utter...confusion? Surprise? Horror? I don't know! This film was so inescapably bizarre that words cannot describe it.
I know it has become a sort of cult phenomenon. Naturally, it would, being so impossibly surreal. Yeah, I'm just gonna say it was weird, Gothic, macabre, colourful and Anthony Head's daughter in the film was hot. I'm 17.

See it... if you enough drugs to survive the onslaught of whatever this is!