2.5/4

2.5/4

3/4

3.5/4

2.5/4

3/4

2.5/4

3/4

3.5/4

3/4

3/4

2.5/4

3/4

3.5/4

2.5/4

3/4

2.5/4

2/4

2/4

3/4

3.5/4

3/4

3/4

3.5/4

2.5/4

Next 25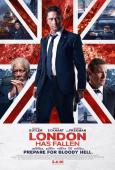 London Has Fallen
Killing Terrorism, One Bullet at a Time
2.5/4 stars
London Has Fallen has created its own new genre I'm referring to as "terrorism porn" in much the same way that movies like the Saw and Hostel series are "torture porn". If you like lots of action, things blowing up, people getting shot, stabbed and exploded - well, London Has Fallen will certainly fulfill your desires and then some.

The film takes place three years after the events of Olympus Has Fallen where disgraced Secret Service agent Mike Banning (Gerard Butlter) saved President Benjamin Asher (Aaron Eckhart) from certain death by taking down a White House full of bad men, with extreme prejudice. London Has Fallen opens soberly enough with a drone strike against a major arms dealer in what appears to be some kind of celebration - killing many innocent people in the process. We get to catch up with the president and his new head of agent, who, by the way, is about the welcome his first child into the world and is seriously considering becoming a father instead of an agent.

Shorty thereafter, the Prime Minister of England dies and the world gathers in London to pay their respects, including several heads of state from the likes of France, Italy, Japan, Canada and, of course, the U.S. Security is very high but none of that matters much when the bad guys have infiltrated the security forces. Soon London becomes ground zero as major landmarks fall, several people die (including everyone just mentioned, sans the U.S. president) and it is soon apparent that the drone strike didn't quite take out everyone and they are holding America accountable and want the president's head to roll.

The rest of the film follows the frantic escapes of Butler and Eckhart as they try to escape London amidst a seemingly huge army of terrorists and mercenaries. Bulter, unsurprisingly, is the most badass of badasses as he shoots, stabs and punches his way out of pretty much ever situation. While they are running and killing anyone who is unlucky enough to get in their way, back at the White House, Vice President Allan Trumbull (the always welcome Morgan Freeman) is trying to pin down the whereabouts of the terrorist leader Aamir Barkawi (Alon Aboutboul). The movie cuts between high action and people looking grim around the White House pretty regularly.

Aside from the pretty much non-stop action that starts at about the 20 minute mark, the film really doesn't offer that much more. However, that action is pretty impressive from helicopters being shot out of the sky, some impressive car stunts and driving, a lot of great fights and lots of landmarks being destroyed. If there is a message buried under all that, I'm sure it's something about "America great, terrorism bad" - and about as subtle.

Despite the lack of anything other than action, I still enjoyed this a lot. This is the kind of movie you watch with the volume up to shake the windows and wake the neighbors and if they complain you just yell 'Murica and turn the volume up that much higher.