3/4

2.5/4

4/4

3/4

2.5/4

2.5/4

3/4

3.5/4

2.5/4

3/4

2.5/4

3/4

3.5/4

3/4

3/4

2.5/4

3/4

3.5/4

2.5/4

3/4

2.5/4

2/4

2/4

3/4

3.5/4

Next 25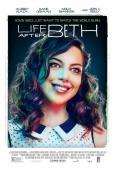 Life After Beth
Love Never Dies
2.5/4 stars
I make no attempt to hide the fact I'm a big fan of the whole zombie genre. Sure, the genre has exploded of late, and with such an explosion of popularity comes (hopefully) new and exciting directions to take it. Now, I still think the idea of a "zom-com" is rather depressing - there is nothing warm or fuzzy about the walking dead as far as I'm concerned, but there is a push to make it happen.

Life After Beth is the latest attempt to make two clashing genres work and it does throw in some interesting perspectives and ideas in the mix. For one, these aren't your shambling, groaning masses. The "zombies" here are very animated - talking, delivering mail, driving horribly - but, don't fret, while they may start off mostly normal, things go downhill from there until we're left ultimately with gnashing, violent monsters who retain just a sliver of their humanity. And, like the best zombie films, no explanation is given for this epidemic - and the way it plays out (on a more local scale) seems entirely plausible.

Dan DeHaan (probably best known as Harry Osborne in the latest Amazing Spider-Man film) plays Zach Orfman, the distraught ex-boyfriend of the late titular character, Beth Slocum (Aubrey Plaza) who, due to a snake bite, has shuffled off the mortal coil. Her parents are likewise trying to cope - played by John C. Reilly and Molly Shannon - are a great pair - and provide most of the laughs in the film. In short order, however, before Zach discovers Beth walking around - some slight memory loss (including forgetting the two ever broke up), but otherwise seems pretty good for having suddenly come back to life. Trying to keep her secret safe, her parents encourage him to reconnect with her - and even he is at first angry, he figures having a second chance at his relationship is a good idea. While things start off well, it soon becomes apparent the longer Beth is dead-alive, the more zombie-like she becomes and things in short order begin to unravel.

The supporting cast includes Cheryl Hines and Paul Reiser as Zach's mostly accommodating parents and Matthew Gray Gubler as his gun-toting police-officer brother. Anna Kendrick also shows up as a friend of Zach's jazzersizing mother - and new potential love interest - which doesn't go over well with Beth. I wish the four had been given a bit more screen time myself.

As it is, most of the film is spent between DeHann and Plaza trying to come to terms with the strange turn of events. Given this second chance, it's apparent he really does care for Beth but this happiness at being given this opportunity to rekindle their relationship very quickly turns sour as he realizes this isn't the Beth he fell in love with. DeHaan is known more for dramas, and as this is his first comedy he's not exactly delivering zingers. However, he does given a rather earnest portrayal of a man dealing with grief, then joy, then revulsion and finally acceptance - the ending kicker is quite effective. Plaza, often known as a more sarcastic, blunt personality actually gives Beth a heart - she's warm, kind and often confused - but she really shines when she lets her primal side out and goes full-on zombie.

There are some interesting ideas about zombies here - my favorite being that the soothing sounds of smooth jazz put the zombies into a kind of trance - I don't know if I would try this during an actual zombie attack, but it was pretty hilarious. I also like the fact that early on the zombies (including a mailman and short-order cook) try to keep their humanity but are a bit "off" (as in the mailman runs over mailboxes and the cook throws food around). There isn't much gore going on - in fact, most of the blood is relegated to the final 20 minutes or so - so those looking for more horror than comedy will be disappointed.

The biggest issue I had was the pacing - things moved a bit slow for my tastes. And although primarily billed as a comedy, aside from a few lines (mostly from Reilly) and the overall insanity of the situation, it wasn't exactly a laugh riot. Because of this, I find this a bit of a tough sell to either romantic comedy or zombie fans. That being said, the performances are good - and for that alone worth watching. I'm still not sure I'm happy about this whole zom-com idea, but at least they're keeping things interesting.