2.5/4

3.5/4

2.5/4

2.5/4

3/4

2.5/4

4/4

3/4

2.5/4

2.5/4

3/4

3.5/4

2.5/4

3/4

2.5/4

3/4

3.5/4

3/4

3/4

2.5/4

3/4

3.5/4

2.5/4

3/4

2.5/4

Next 25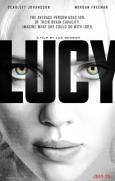 Lucy (2014)
A Mind is a Terrible Thing to Waste
2.5/4 stars
Lucy is a film that wants to be all things: an action film mixed with a hefty dose of sci-fi but also a philosophical drama that touches on everything from evolution and emotion to the connections around us. But in an effort to include everything, it is only half-successful in any of its endeavors. It's a film that wants to be deep and exciting (this is still a summer blockbuster) at the same time, but doesn't quite achieve either of its objectives.

We start out with Lucy (Scarlett Johansson) being conned into delivering a mysterious briefcase to Mr. Jang (Min-sik Choi). In short order, things go south, and Lucy finds herself at the mercy of a very ruthless drug kingpin - and becomes an unwitting drug mule for a blue powder dubbed CPH4 - her and three other men are sewn up with a bag of the stuff and sent on their merry way. Thanks to a thug getting a little fresh, Lucy finds herself on the receiving end of a few well-placed kicks that opens the bag - and opens her mind, literally. As the drug seeps into her bloodstream, her brain capacity increases - granting her access to parts of her brain that allows her to do amazing stuff like learn a language instantly, access 100% of her memories, feel the Earth's rotation, change her appearance and download knowledge with amazing speed. She comes across the work of Professor Norman (Morgan Freeman) who has spent his career on the mind - and needs his help to figure out what to do. As she knows death is eminent, she also gets in touch with Paris officer Pierre Del Rio (Amr Waked) in order to take down the other drug mules and get her hands on the rest of the drug in order to extend her own (brief) life she has left.

Lucy has been described as a female-centric version of Limitless (the one where Bradley Cooper becomes super smart and exceptional thanks to another miracle drug) and, for the first 15 or 20 minutes, it kind of has that feel. But it goes to much more philosophical lengths as Lucy unlocks more of her brain capacity - almost like cramming a bit of Tree of Life into an action movie featuring car chases and shootouts. It's a bit jarring - especially towards the end - and just feels... off. Director Luc Besson is known for action and sci-fi - but the mix doesn't quite gel here. Plus, his early use of questionable cuts (leopards hunting a gazelle, Morgan Freeman giving a lecture) - is also a strange choice.

The one thing about Lucy is that early on, as she unlocks her mind, she also loses access to her emotions. It makes for a rather cold journey with Lucy who, through all her mind trickery and powers, always feels detached from reality (and she kind of is - or at least above it). No smiling, no laughing, no crying, anger - none of that - just doing. If you want to connect to these characters, good luck with that.

The philosophical angle also wants to try hard to give us a reason to care - but it feels like a hectic mix of a bunch of different science theories (evolution, technology and whatever else) mixed together with some flashy CGI graphics. It's all well and good, but I fail to see what the big picture is supposed to be - I wasn't moved or swayed. Plus, the science behind the movie is just, well, kind of dumb - the whole "only using 10% of our brain" argument has been disapproved - so if that's your entire premise, it makes it a bit harder to get behind the rest of the film.

In the end, Lucy just bites off more than it can chew. It can't decide if it wants to be an action movie where people are levitated and cars go the wrong way down the streets of Paris or a journey into the mind where a person can experience the history of the world with a wave of their hand. By trying to be all things at once, it succeeds at doing none of them particularly well.