2.5/4

3.5/4

2.5/4

2.5/4

3/4

2.5/4

4/4

3/4

2.5/4

2.5/4

3/4

3.5/4

2.5/4

3/4

2.5/4

3/4

3.5/4

3/4

3/4

2.5/4

3/4

3.5/4

2.5/4

3/4

2.5/4

Next 25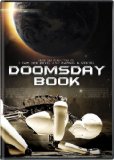 Doomsday Book
Doomsday Has Never Looked Better
3/4 stars
I had heard a little about this film before going in and having been a fan of Jee-woon Kim (director of the excellent Tale of Two Sisters and I Saw the Devil), I knew this would have something good to offer. Plus, other anthologies I've checked out (including Three Extremes) have turned out well, so I was willing to give this a shot too.

I was surprised at how deftly the films managed to mix in humor and drama - especially from Pil-Sung Yim who directs the opening segment (A Brave New World) and the closing segment (Happy Birthday). Jee-Woon Kim's middle segment takes a bit more serious tone and serves as an anchor for the trilogy - and also proves the most thought-provoking.

As we open, we find a young man left behind as his parents and sister go on vacation (as he's in the military, he can't leave the country). His mother is kind enough to leave him a list of chores - including taking out the trash. Before preparing for his date, he dutifully carries out his duty - an a bad apple - literally - enters the system. As we follow the journey of this tainted fruit we see it wind up as cattle feed - before the animal is slaughtered and winds up on the plate of the man who originally threw it out. His date is happy enough to snap pictures of everything - and the two seem to be hitting it off - well, before everyone starts to get sick.

Needless to say - tainted meat leads to tainted people and soon Seoul is awash in zombies. But things may not be all bad - even though the city is all but destroyed, mindless zombies walking around - there still may be a chance to connect. The end, while not exactly hopeful, puts a nice twist on a typical zombie story.

The second entry concerns a robot, part of a Buddhist temple, who has apparently found enlightenment, thinks for himself, and is revered by his fellow monks. A no-nonsense technician shows up and pretty much declares the robot a defective unit - and defective units are slated for termination. After trying to fix a dog robot for a young woman - he has a change of heart. The next day as the CEO and second in command show up to deal with this rogue unit - he tries to stop them only to have the so-called machine give them all a lesson in what it means to be human. This portion is a great mix of technology, materialism and religion. And the story doesn't seem at all that far-fetched (loved the news report snippet thrown in about declining birth rates due to people choosing robot companions over actual humans). Artificial intelligence is often presented in many ways, but this has to be one of the most interesting in recent memory.

The final segment is the most humorous despite the fact it deals with most serious consequence - the Earth coming to a screeching end. But I'm getting ahead of myself - when we open a desperate young girl is trying to cover up an accident. Her father's 8-ball has broken, and she rushes to cover up this incident by ordering another one online. Too bad the site she chooses for her .10 ball happens to be alien and the order comes in the form of a super-charged meteor. Luckily her family is prepared and a fallout shelter (complete with people-powered electricity and their own garden) is in order. We watch humanity slowly collapse (in the form of a news report that spirals out of control and a hilarious home-shopping network order of personal pods - complete with urine recycling for fresh water!), If you think a last-ditch effort to save humanity will work... well, don't hold your breath.

All three films stand on their own, but taken together they form a kind of trilogy of life, spirituality and death - and while there is plenty of humor, there is certainly an underlying message here, however, this is one of those films where you can draw your own conclusions about what that message might be. All I know is that Jee-woon Kim, Pil-Sung Yim make a good team and the movie will leave an impression on you.