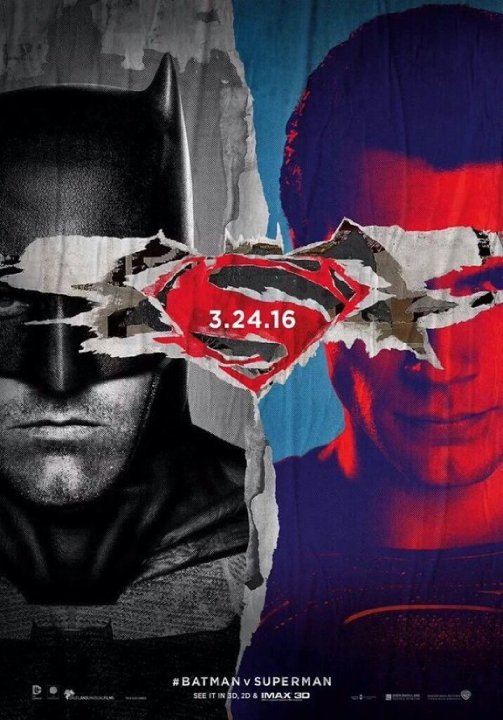 Batman v Superman: Dawn of Justice
Why, just why
Pat - wrote on 06/02/16
"Batman v Superman: Dawn of Justice" is best in class epic superhero FILMMAKING. That is a compliment on the off chance that you lean toward these motion pictures to be massive, disrupted and sullen, yet a notice on the off chance that you favor tonal variety from film to film and scene to scene, and have a weakness for narrating that really advises, you know, a story, instead of doing an once in a while roused yet generally simply skilled employment of setting up the following part in a Marvel-styled establishment.

The story starts with yet another flashback to youthful Bruce Wayne seeing his folks' homicide by a firearm wielding mugger, trailed by a sectioning injury, his experience with a group of bats in a cavern close stately Wayne Manor. As co-composed by Chris Terrio and David S. Goyer ("Blade," "Dull City") and coordinated by Zack Snyder ("Man of Steel," "Sucker Punch," et al), this succession at first plays like one more visit to a went away well. Be that as it may, it bodes well when you get to the following scene, a replay of the Metropolis-leveling "Man of Steel" confrontation between Superman (Henry Cavill) and General Zod (Michael Shannon) from the perspective of Bruce Wayne/Batman (Ben Affleck), who sees many individuals from his embraced proficient "family" slaughtered when Wayne Industries' Metropolis office is harmed in the super-battle. (The succession likewise depicts Wayne as a to some degree withdrew one-percenter who's embarrassed at having underestimated his work "family—" a mindful touch.)

This is the film's most influencing and unique grouping, in vast part since it takes a tenacious protestation against "Man of Steel"— that the gathered Boy Scout from Krypton was insensitively careless in regards to inadvertent blow-back—and retrofits it, with the goal that it would appear that something "Man of Steel" dependably intended to do, the better to give solid, straightforward inspiration for Bruce. Re-damaged by a 9/11-style calamity that murders many his workers, including a young lady's mom, he channels his displeasure and powerlessness into a preemptive war against Superman, to be conveyed with biomechanical defensive layer and Bat-tech invigorated by Kryptonite. He sees Kal-El as a dumbfounded and imprudent false god whose forces must be killed, for fear that people get so OK with worshiping "outsiders" that they set the phase for a takeover by more Zods.

I continue alluding to the cowled legend as Bruce since, more so than any Batman picture, "Batman v Superman" regards the Caped Crusader as an unnerving marvelous sign of conventional anxieties, for all intents and purposes a lycanthropic rat mammoth who rises during the evening, summoned by his own particular monogrammed spotlight-moon. In examination, Superman appears a more adjusted character: beside the nearness or nonappearance of glasses or a cape and the anxiety of keeping up his main story (he gets so engrossed by an unapproved examination of Batman's vigilantism that he begins botching his consistent obligations at the Planet), Clark Kent and Superman are basically the same person.

The title guarantees an even dissemination of screen time. Be that as it may, notwithstanding the habitations of touchstone DC characters—including a smarmy, maniacal, tech-douche rendition of Lex Luthor (Jesse Eisenberg, wriggling and yammering like Jeremy Davies); ever-enduring Amazon warrior Wonder Woman (Gal Gadot); pro journalist and Superman lady buddy Lois Lane (Amy Adams); Alfred the Butler (Jeremy Irons); Daily Planet editorial manager Perry White (Laurence Fishburne) and Ma Kent (Diane Lane)— this is at last an overstuffed, overpopulated, fumblingly plotted Batman picture that consigns the Man of Steel to a celebrated supporting part. (In the event that industry reports are to be trusted, this was a very late choice by Warner Bros., which favored the budgetary sure thing Batman to the as of late rejuvenated Supes.)

Tragically, the script's initial guarantee subsides as the film unreels. "Batman versus Superman" is a confused, lead-footed film that holds itself with unmerited certainty; you see each card it's going to play ten minutes before the motion picture plays it, yet Snyder doesn't simply slap every one down on the table with energy, he continues indicating it and letting you know what rank and suit it is. We without a doubt would have deduced that the indistinguishable first names of Bruce's dead organic mother and Kal-El's receptive mother—Martha—would become an integral factor in the end, yet the film is worried to the point that some individual won't not get it that it has Thomas Wayne croak "Martha" with his diminishing breath, then discovers approaches to continue rehashing "Martha" throughout the following two hours, working toward a repeat flashback of Bruce's folks' murder that will update latecomers.

There are different dull touches thusly, including numerous, vocal certifications that the characters are battling in terminated territories—a cumbersome protective strike against "Man of Steel" hand-wringing. Everything appears to be pointless when you understand how little exertion has been given to decorating the characters in Snyder's "Nashville"- estimated cast, none of whom wake up as they did in Tim Burton's or Christopher Nolan's or even Joel Schumacher's Batman pictures. Eisenberg's Luthor may have been a captivating third board in the motion picture's exhibition of forlorn and frequented man-kids (in a nerve racking minute, he rails against "daddy's clench hand and plagues"), yet he for the most part appears to be a 21st century brogrammer, all tics and dangers and undesirable physical advances. Adams' Lois Lane is at the end of the day decreased to a poker-confronted maid in trouble. Jeremy Irons' Alfred isn't a patch on Michael Gough's or Michael Caine's. Gadot, a flexible marvel with a musical accent and a steely attitude, is conceded less profundity than a common Bond young lady. The film demonstrates little enthusiasm for clarifying or defending its hitched up subplots, and its temporary routes into establishment building are regularly self-overcoming. The most confused is a pooch leg close to the end: exactly when the story begins developing a head of steam, it stops for a recitation of the DC saints we can hope to find in the primary all out Justice League motion picture.

"Batman v Superman" tries to make up for these blemishes and others through sheer scale and volume. It's over two hours in length, louder than an airstrip at O'Hare, gins up "fervor" with insecure cam footage and hyperactive cutting, and has both metaphorically and actually dull pictures. Indeed, even its sunlight scenes appear to happen at sunset, because of the way Snyder and his cinematographer Larry Fong drain the shading out and cover the characters in smoke. Luthor's mutant Kryptonian mass Doomsday—spoiler cautioning not required; its nearness was uncovered in PR photographs and limited time footage weeks back—is a nonexclusive hellfire brute, all ropy muscles, spiky encrustations, and Rancor-like teeth. Reports of an expected "R"- evaluated DVD adaptation aren't astounding: the film's delicious stabbings, brandings-by-Batarang, crowdedness discharges, scenes of twisted capturing and torment, and for the most part hopeless tone are Urban Thriller 101. The film is more successful when it's directing expressionist thrillers by taping activity from confusing points and giving blood a chance to leak from abnormal niches and crevices. When it obtains notable plans and circumstances from its essential motivation, Frank Miller's politically mocking, fastidiously plotted realistic novel The Dark Knight Returns, it resembles a child lurching around in father's boots.

There are a couple splendidly acknowledged minutes, the acting is generally solid notwithstanding the feeble script (Affleck and Cavill are both heavenly—Affleck out of the blue so), and there's sufficient mythic crude material sunk somewhere down in each scene that you can sort out an exemplary in your psyche in case you're feeling altruistic; however in the event that you aren't, "Batman v Superman" will appear like a missed open door. Now and again it may make you yearn for Christopher Nolan's sensitive touch. Those last four words have never seemed one next to the other. Life's amusing that way.