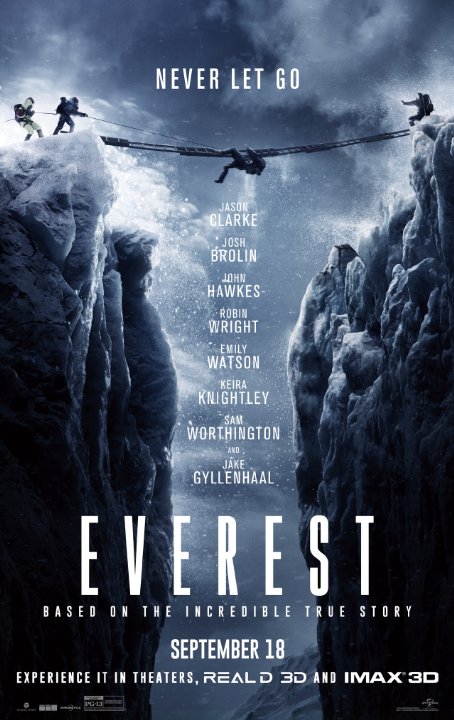 Everest (2015)
Everest (2015) - Regal Beagle Review
Patrick Regal - wrote on 09/18/15
English mountaineer George Mallory once answered the question "Why do you want to climb Mount Everest?" with "Because it's there." These three famous words (perhaps the most influential in mountain climbing) inspired people around the globe to do what he had done. According to National Geographic, almost 4,000 people have climbed Everest because it was there.

The cast and crew had one story to tell in this film: the 1996 Mount Everest Disaster and the people who witnessed it. The story was told, but the storytelling was lackluster. It is almost impressive how the most fatal day in Everest history (until 2014) was turned into a snooze-fest. However, the film has positive aspects, but the overall lack of excitement leads to a dull movie.

The visuals in this film are second to none. I had the opportunity to see this film in IMAX 3D at an advanced screening. If you want to see Everest, do yourself a favor and see it in 3D. You won't be disappointed. The visuals carry the film. You feel the shivering cold. You understand the magnitude of the situation. You feel the beast that is Everest.

Dario Marianelli's (Pride and Prejudice, Atonement, Anna Karenina) music creates action that is lost in meaningless dialogue and a lack of thrills. He makes you feel the intensity, but the performances lose it.

Director Baltasar Kormakur (2 Guns, Contraband) seems to have lost something along the way. The main character in the film is the mountain. It is our antagonist and our heroes are on a mission to defeat it. The visual department has brought Everest to life and the score has set the scene. Yet, intensity is lose on conversation on top of conversation. The best performances in the film are shoved to the side while lesser-known actors take the lead and focus is lost on the reason why we came to the the theater, the mountain. Our villain is part of the backdrop and not the main focus, and the entire story suffers because of that. The cast that was compiled is an all-star team, but too much attention focused away from the action leads to the audience wanting more from BOTH the heroes and the villain, which is not a winning combination for an action thriller.

The visuals and score deserve to be remembered around award season. The rest of the film, for me, will be just the opposite: forgotten.