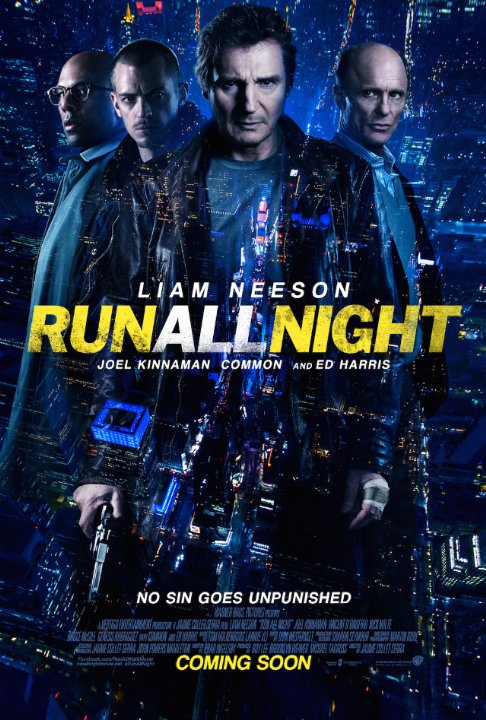 Run All Night
A solid action film
Matthew Brady - wrote on 04/29/15
Yes I know this review is late but March has been a slow month for me with movies not playing at my location theater, it's a pain in the ass sometimes but hey I finally got a chance to watch it and this is what I have to say about.

The story to Run All Night is about a prolific and aging hitman, Jimmy Conlon, once known as The Gravedigger, has fallen on hard times. With the sins of his past catching up, he finds out his estranged son has been targeted by his former mob boss and must now choose between the crime family he grew up with or the family he left behind.

I think I was like everybody else when I sawed the trailer to Run All Night thinking it was another copy cat of Taken with Liam Neeson playing the same character. With all these movie with Liam Neeson playing pretty much the same character in every movie his in is getting a bit old now and his movies now I would call them The Liam Neeson film with action and bullets flying everywhere. Now I don't hate Liam Neeson I actually freaking love the guy he's awesome and his really funny when his mad https://www.youtube.com/watch?v=lbdeAhpIPhE .

After the long search for this movie and finally viewing it I was actually surprise that this wasn't another Taken movie and more of a movie that can stand on it's own feet as a revenge thriller with a lot of good things in it.

Liam Nesson in this movie isn't just playing himself this time, he's actually got a character ark in this movie and his character isn't all perfect but more damage and understandable. Liam Nesson did a great performance showing all the pain and sadness from his character and Liam nailed it because well this shows you that Liam Nesson...is a great actor. Liam Nesson character is the kind of character that I think we all can relate to when he isn't perfect but he's trying his hardest to make things right but it doesn't quite work out, we had that in are life's and it may not happened to you yet but it will do sooner or late, and as I said before Liam pulled it off excellently.

Ed Harris was also great in this movie as he added a lot to his character just like Nesson. I think Liam Nesson and Ed Harris back and forward with each other and how both of them stare each other down, sh*t talking to each other and ready to attack and the movie took a whole scene to show that and it was like art house brilliant for two characters who are both damage to bounce off each other with their emotions really made one heck of a show.

The directing of the movie I thought did a great job directing characters and actions scenes. The writing in the movie that can be cliche at times but still has some bad-ass lines that will crack a smile on your face or leave you in silence.

The title of the movie doesn't lie at all, the movie is literally set on one night and everyone is always moving around and nobody get's a break everything's always moving. This is what action movie plot should be like and Run All Night gives you that plot that isn't stupid but more creative for what they had.

Now for problems I do have some like: There are so many things going on in this movie with the cops, mob bosses, drug dealers, Ed Harris, Liam Nesson mid life crisis and may god these so many things happening and it feels a bit crushed together at time for how many things they wanted to show.

But overall I had a good time watching Run All Night and I was surprise how it didn't turn into the cliche Liam Nesson action movie that's trying way to hard to be Taken. The movie actually had character ark, a good story to it and a solid cast and actors that pulled off a great performance in this surprisingly good movie.