2/4

3.5/4

3.5/4

4/4

2.5/4

2/4

2/4

1.5/4

1.5/4

4/4

2/4

2/4

2.5/4

3/4

0.5/4

1/4

3.5/4

3.5/4

4/4

2/4

3/4

3/4

4/4

3/4

4/4

Next 25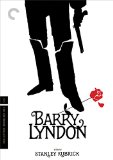 Barry Lyndon
A charismatic, sophisticated period piece.
3/4 stars
There's not an awful lot to say about this movie. That may seem like a bad sign, but it's not as bad as it sounds.
Kubrick always leaves a pending mark in your mind. This movie didn't astound me, nor do I remember most of it, but that's okay, because I at least had an interesting time watching it. I normally hate period pieces, but all I can say about this one is that it is genuinely interesting. There's no layer before the battle with Kubrick, he balances the story well.
The music in this movie is spectacular. I loved the use of classical pieces to emphasize moods, expressions and exaggerations. It never felt forced like in Eyes Wide Shut.
By the end of the film, the lead falls victim to a mass of incidents that result in an excellent character change. I simply loved the way his character evolved over time, like Henry Hill in Goodfellas.
The direction here, is great as always. Perfect framing, perfect cinematography. I like that it isn't shot like a traditional period piece.
Although this movie is quite long, it really doesn't feel like it. Most of the film flew by, with new characters introduced and new locations visited, so that means props to the pacing and structure.
I will admit, this is not a movie for everyone. Many will describe it as endless and boring, it's definitely not for a friends' night.

No, this isn't the best thing ever, but it's a nice 'snuggle up in a blanket and watch it out of boredom on a rainy Sunday night' kind of movie. It will comfort you and with its extraordinary acting will make you want to know the fates of the characters.
Someone in the movie 'Room 237', a documentary about fans' interpretations of 'The Shining' (one of my all time favorite films) said Barry Lyndon felt like the people on set were bored and that Stanley Kubrick wasn't interested while making it. Viable point.

So, put together: this is one of the more interesting period pieces. It doesn't spend half the movie dwelling on conversation and political debates, it actually does something with its useful narrative, structure, dialogue, director and actors. While I consider this Kubrick's worst film, I still admire it for its charisma and storyline. It's not A Clockwork Orange, but it's something.