New in Theaters January 09: Taken 3, Selma
By Chris Kavan - 01/08/15 at 06:51 AM CT
The new year started off with a bang, now we get to see if things can keep on rolling in the right direction. We have the third entry in a high-impact action series along with the nationwide expansion of a civil rights drama with a very good chance of some awards-season love. I think the two, along with the strong holdovers that have been chugging since Christmas, should be enough to propel the box office to another win.


TAKEN 3 Liam Neeson has done an excellent job of reinventing himself as the go-to action star when you need someone older to kick ass. Taken and Taken 2 nearly earned the same amount ($145 million vs. $139.8 million) and now that we have reached the (probable) finale of this series, I don't see things slowing down much. Neeson once again plays ex-super government operative Bryan Mills. This time, no one is kidnapped, but something even more sinister is afoot. His wife (Famke Janssen) is murdered and he is framed for her death. He must do everything in his power to protect his daughter (Maggie Grace), outrun a dogged pursuit (led by Forest Whitaker) and track down the people responsible and end things once and for all. You know - a standard Taken formula. I felt the second movie was pretty much the first movie all over again - so I'm hoping things go in a somewhat different direction this time around. That being said, it's obvious the formula works, and Neeson is an awesome presence, and I'm confident Taken 3 should be able to secure the top spot without too much trouble.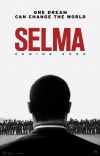 SELMA Although it has been out in limited release since Christmas, Ava DuVernay's Selma is getting the nationwide push this weekend. The civil rights drama follows Martin Luther King, Jr. (David Oyelowo) as he stages one of the most pivotal moments in securing voting rights by staging a march from Selma to Montgomery Alabama in 1965. The supporting cast is excellent - Tim Roth as George Wallace, Tom Wilkinson as President Lyndon B. Johnson, plus Cuba Gooding Jr., Oprah Winfrey, Common, Giovanni Ribisi, Dylan Baker, Martin Sheen and Carmen Ejogo all round out the impressive lineup. The powerful, emotional drama has gotten plenty of attention with plenty of nominations and wins under its belt already. This is one of a handful of films that certainly has a chance at Oscar glory - in several categories - and I think it should do pretty good at the box office. It might not be able to topple Neeson, but it should have a respectable wide release.


Two very different films - one straight-up action, the other straight-up drama - both should draw decent crowds and hopefully on Sunday Hollywood will be able to notch another year-to-year win under their belts.