New in Theaters October 31: Nightcrawler, Before I Go to Sleep
By Chris Kavan - 10/30/14 at 10:42 AM CT
With October 2014 going down as the highest-grossing month on record, we'll see if November (the first few days, anyway) can open up just as strong. Granted, the really big movies aren't coming until the second weekend, but we still have a highly-regarded crime drama along with an under-the-radar thriller with a well-rounded cast. If the previous week's films can continue to hold on to at least a decent chunk of their audience, next month should give us a decent start.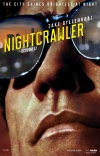 NIGHTCRAWLER Jake Gyllenhaal has proven to be an adept actor - from Enemy to End of Watch to Prisoners, he has chosen he projects carefully - avoided huge projects (ever since Prince of Persia fell flat) and has flexed some serious acting muscles in the process. It's looking like Nightcrawler is going to be following that pattern. Gyllenhaal takes on the persona of an underground crime journalist, who gets maybe a bit too involved in the craft as he covers the gritty, dirty L.A. crime scene - and just maybe becomes a part of the madness. I can say - it looks like he went all-out for this role - as slimy as it seems - and if his previous efforts are any indication, it should be an excellent ride. The issue is whether audiences can get behind someone so unscrupulous, manipulative and what amounts to an evil loose cannon. Even if it gets a heap of praise, this might be a tough sell for general audiences. Still, I'm pulling for it - this is one I'm looking forward to in the near future - maybe not in theaters, but I'll be keeping an eye out for it.


BEFORE I GO TO SLEEP Despite featuring a stellar cast led by Nicole Kidman, Colin Firth and Mark Strong, I admit I know almost nothing about Befoe I Go to Sleep. Marketing has been light to say the least - if I saw a trailer for this, it certainly didn't leave any kind of impression on me. Director Rowan Joffe only has one other low-key crime drama under his belt (Brighton Rock), so his name isn't exactly a draw. Neither is the fact this mystery thriller seems like a pale imitation of Gone Girl (an R-rated mystery), even if the story is very different. It involves a woman (Kidman) who suffers from memory loss due to a traumatic event, thus each day she wakes is a new day - until she slowly realizes those around her may not be taking care of her - but something much more sinister. It seems like an interesting premise - but everything else surrounding this film seems so generic. If this cracks the top five, I would be surprised.


There may not be a lot of fireworks this weekend - plus Halloween festivities may put a damper on audience attendance - but hopefully there is enough to keep the train rolling. We'll find out on Sunday what kind of start November has in store.