New on DVD and Blu-ray Week of October 21-October 27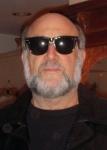 By Harley Lond - 10/21/14 at 03:01 AM CT
THIS WEEK'S THEATRICAL RELEASES:

"The Purge: Anarchy": Writer-director-producer James DeMonaco's sequel to his summer 2013 sleeper hit takes place in a near-future Los Angeles as citizens once again get ready to prepare for the country's yearly night of anarchy -- The Purge -- in which murder and mayhem is legalized for 12 hours in an effort to lower the crime rate for the rest of the year. This chapter follows a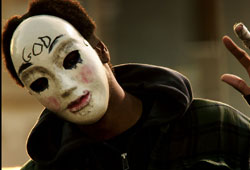 couple driving home whose car breaks down, stranding them just before The Purge
commences; a police sergeant who goes out into the streets to get revenge on the man who killed his son; and a mother and daughter who run from their home after assailants destroy it. The armed-to-the-teeth sergeant takes the four under his wing as they attempt to survive the night, going up against petty criminals, murderers and a black ops operation. This outing takes the action out of the confines of the original (set in an upper-middle-class house) and broadens the scenario, bringing the story out into the streets where there's plenty of excitement, twists and surprises. It's bloody good fun with slick direction and solid acting. Extras include deleted scenes and a behind-the-scenes featurette. From Universal.

"Snowpiercer
": This masterful action spectacular by South Korean horror-specialist director Bong Joon Ho ("The Host," "Mother") takes place entirely on a train and follows a revolt pitting passenger against passenger as the cars hurtle around the world. After a failed global-warming experiment kills off most life on the planet, a group of wealthy elites builds a train powered by a perpetual-motion engine; while they live in luxury in the front cars, the unwashed lower-class workers -- subjugated to death and brutality -- are relegated to the back. After more than a decade of subservience, the workers are rallied by one man to revolt, and they work their way -- car by car -- to the front. Brutal, violent and extremely exciting, it's an interesting visual diatribe on rich vs. poor, science vs. humanity and the nature of revolution. Outstanding performances by Chris Evans, Namgoong Minsoo, John Hurt and especially Tilda Swinton. Based on a graphic novel. Extras include several interesting behind-the-scenes featurettes. From Anchor Bay.

"Sex Tape
": Very dumb movie about a married couple -- played by Jason Segel and Cameron Diaz -- whose private video of their sex life, in which they try out every position in "The Joy of Sex," inadvertently goes viral on the Internet. Nuff said. Extras include a behind-the-scenes featurette, bloopers, deleted and extended scenes. From Sony.


THIS WEEK'S HIGHLIGHTS:
"La dolce vita
" (1960) was the biggest hit from the most popular Italian filmmaker of all time, rocketing Federico Fellini to international mainstream success. It also was a watershed film in world cinema as Fellini totally abandoned neorealism for an episodic, subjective look at 1960s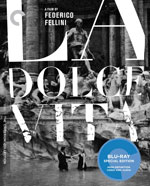 Italy and Rome and the upper-middle class that was rising to power. Not only did he cast a critical eye at the shallow "good life," he also offered a strong critique of the culture of stardom and the rise of the new, events-driven media. A look at the darkness beneath the seductive lifestyles of Rome's rich and glamorous, the film follows a notorious celebrity journalist -- played by a sublimely cool Marcello Mastroianni -- during a hectic week spent on the peripheries of the spotlight. The picture -- gorgeously shot on location in Rome with splendid widescreen interiors and sets -- is an incisive look at the empty lives of the bourgeoise and the claustrophobia of celebrityhood and fame. In a stunning new 4K digital restoration by the Film Foundation, with uncompressed monaural soundtrack on the Blu-ray. Extras include a new visual essay by kogonada on the cryptic closing shot; a new interview with filmmaker Lina Wertmüller, who worked as assistant director on the film; a featurette with scholar David Forgacs, who discusses the period in Italy's history when the film was made; and a new interview with Italian film journalist Antonello Sarno about the outlandish fashions seen in the film; and an essay by critic Gary Giddins. From The Criterion Collection.

If you grew up in the 1950s, you gotta remember the Western classic "Annie Oakley," starring Gail Davis as the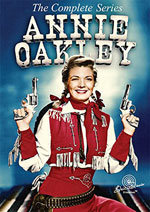 legendary sharpshooter. At a time when TV was dominated by male space heroes, private eyes and cowpokes, a female action hero was an anomaly. But what a heroine: Set in the frontier town of Diablo, Az., the series followed the adventures of Annie and her sidekick, deputy sheriff Lofty, as well as her mischievous little brother Tagg, as they clean up the streets of their quiet city by rescuing law-abiding neighbors and arresting outlaws. Cinedigm has brought out an 11-disc "Annie Oakley Complete TV Collection" (1954-57), with all 81 episodes of the sharpshooting series, $99.99. Extras include a cool new 2014 documentary about Gail Davis; seven photo galleries, including hundreds of photos from Gail Davis' personal collection; the original TV pilot starring Billy Gray as Tagg; and an eight-page episode guide.

Winner of an amazing 22 Emmy Awards, "Pee-wee's Playhouse" is a cultural touchstone for a generation, and its visually dynamic design and offbeat sense of humor were a genuine phenomenon. All 45 wacky episodes on eight discs, plus the Pee-wee's Playhouse "Christmas Special," have been meticulously remastered from the original film
elements -- Paul Reubens personally supervised the restoration of the series frame by frame -- in Shout! Factory's Blu-ray debut of "Pee-wee's Playhouse: The Complete Series." "Pee-wee's Playhouse" was an educational, artistic and entertaining show that taught kids strong "life lessons." With its innovative production design and Reubens' rich original characters and humor, "Pee-wee's Playhouse" was a magical place that sparked creativity and imagination ­and brought joy to children and adults alike. Parents and grown-ups have always enjoyed the show's many double entendres. The series features beloved regulars Cowboy Curtis (Laurence Fishburne), Reba the Mail Lady (S. Epatha Merkerson), Miss Yvonne (Lynne Marie Stewart), Captain Carl (Phil Hartman), The King of Cartoons (William Marshall), Jambi the Genie (John Paragon), Ricardo (Vic Trevino) and Mrs. Rene (Suzanne Kent). And of course, Chairry, Pterri, Conky, Magic Screen, Clocky, Cool Cat, Dirty Dog, Chicky Baby, Penny, the Dinosaur family, and the rest of the gang. $149.99.

Shout! Factory is beefing up its Vincent Price film offerings with the Blu-ray debut of "The Vincent Price Collection II
"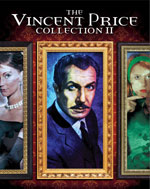 a four-disc set with "The House on Haunted Hill" (1959), "The Return of the Fly" (1959), "The Comedy of Terrors" (1963), "The Raven" (1963), "The Last Man on Earth" (1964), "The Tomb of Ligeia" (1964) and "Dr. Phibes Rises Again" (1972). Extras include commentaries with producer/director Roger Corman, actor Brett Halsey, film historians; original theatrical trailers; rare photos and archival materials; a 32-page collector's book featuring an essay by author and film historian David Del Valle; all for $79.97.

Also due from The Criterion Collection this week is the Blu-ray debut of "F for Fake
" (1975) Orson Welles' free-form documentary that looks at the tenuous line between illusion and truth, art and lies. Beginning with portraits of the world-renowned art forger Elmyr de Hory and his equally devious biographer, Clifford Irving, Welles embarks on a dizzying journey that simultaneously exposes and revels in fakery and fakers of all stripes -- not the least of whom is Welles himself.


BUZZIN' THE 'B'S:
"Life After Beth
" (2014), starring Aubrey Plaza, Dane DeHaan, Molly Shannon, Cheryl Hines, Paul Reiser, Matthew Gray Gubler, John C. Reilly, is a "Zom-rom-com" in which Zach (DeHaan) is devastated after his girlfriend Beth (Plaza) dies unexpectedly. After Beth suddenly and mysteriously returns to life, Zach is overjoyed to have the second chance to prove his love for her. But when Beth starts developing some bizarre tendencies -- including a rather disturbing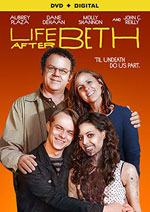 taste for flesh -- Zach has to confront the facts: Can love survive among the living dead? On DVD, Blu-ray Disc from Lionsgate ... In "The Squad
" (2011 -- Spain), a nine-man squad sent to investigate the destruction of a military base high in the desolate wastelands of Colombia find only carnage and a mute woman in chains; gradually the isolation, the inability to communicate with the outside world and the impossibility of escape begin to undermine the sanity of the soldiers and they turn on one another. On DVD, Blu-ray Disc from Scream Factory/Shout! Factory ... Set in 1859, during the last days of the Joseon Dynasty, the wages of greed bring poverty and death in "Kundo: Age of the Rampant
" (2014 -- South Korea). A pack of bandits -- calling themselves Kundo -- rise against the tyrants, stealing from the rich and giving to the poor. In an era where status is decided by birth, this band of thieves risks their lives for honor, in the name of the poor and oppressed. But for one man, a debt of bloody revenge is owed to the aristocrat who robbed him of his family and his name. Stars Ha Jung-woo, Kang Dong-won, Lee Sung-min, Ma Dong-seok. On DVD, Blu-ray Disc from Well Go USA ... In "Wrong Turn 6: Last Resort
" (2014), starring Sadie Katz, Roxanne Pallett, Anthony Ilot, Aqueela Zoll and Rollo Skinner, the unrelenting terror starts when an emotionally troubled young man, Danny, inherits an isolated backwoods hotel that may hold the key to his secret past. A trip to the peaceful resort quickly transforms into a blood-soaked killing spree, as Danny's friends are brutally murdered one by one. On DVD, Blu-ray Disc from Fox ... In "Autumn Blood
" (2011), starring Sophie Lowe,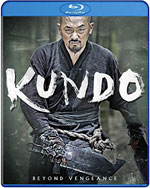 Peter Stormare, Gustaf Skarsgard, Samuel Vauramo and Maximilian Harnisch, two young orphans in the Austrian Tirolian Mountains -- whose father was killed by the local mayor -- come under siege by a vicious band of hunters led by the mayor's son. Later, when a well-meaning social services worker arrives too late to protect the terrorized siblings, the girl and her brother prepare to take a stand against their ruthless attackers. From ARC Entertainment ... A hardened DEA agent descends into the dangerous underworld of Tijuana, Mexico in search of his ex-wife who he believes has been abducted by a charismatic Cartel boss with aspirations for public office in "Misfire
" (2014), starring Gary Daniel, Vannessa Vasquez, Michael Greco. From Image Entertainment ... "Play Hooky
" (2014), starring Becky Byers, Kim Kleemichen, Vincent Kulish, J. Wright Chester, Theresa Davis and Tom Petrone, is a found footage horror film about five high school friends who skip class in hopes of finding the perfect spot to party. But they chose the wrong place: Against all warnings, they break into an abandoned mental hospital, notorious for reports of ghost sightings, satanic rituals and demon possessions. Armed only with a camera, they're trapped inside, haunted and hunted by something they can't stop, reason with, or describe. On DVD, Blu-ray Disc from Wild Eye/PollyGrind/MVD Visual ... In "The Scribbler
" (2014), starring Katie Cassidy, Michelle Trachtenberg, Eliza Dushku, Gina Gershon, Sasha Grey,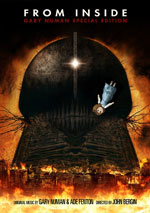 Garret Dillahunt, Michael Imperioli, Billy Campbell, a young woman confronts her destructive mental illness by using "The Siamese Burn," an experimental machine designed to eliminate multiple personalities. The closer she comes to being "cured," the more she's haunted by a thought ... what if the last unwanted identity turns out to be her? On DVD, Blu-ray Disc from XLrator Media ... "From Inside
" (2008), is a sci-fi animated adventure, based on the graphic novel by John Bergin, tells the story of Cee, a young pregnant woman who finds herself on a damaged train slowly transcribing its way across a bleak, apocalyptic landscape. Flood, war, starvation, and a plague of death threaten the train's passengers. Cee struggles through these dangers while coping with the memory of her lost husband and the imminent birth of her child. Animation uses panels from the graphic novel with 3D models, set pieces and effects. From MVD Visual ... "Sexina
" (2007), starring Adam West, Annie Golden and Lauren D'Avella, is the world's hottest teen pop star who's also a secret crime-fighting detective battling evils in the music industry. When she discovers a missing scientist has been forced to create a cyborg band for "The Boss" (West) of Glitz Records, the fists and the power ballads fly. Features music by Davy Jones. From Wild Eye Releasing/MVD Visual.


ON THE INDIE FRONT:


"The Search for Simon": (2013) Carol Cleveland, Simon Jones, Sophie Aldred, Lucy Clements, Carol Cleveland, Millie Reeves, Noeleen Comiske. David is 39 and, for almost 30 years, he's been looking for evidence of alien activity since, when he was 10, 7-year-old brother Simon suddenly disappeared; David's father told him that "Simon was abducted by aliens." David vowed to find his brother -- or at the very least find out about the Aliens that took him. This quest has taken over and completely filled his life; it's more than a passion, it's an obsession. David's best (and only) friend Robert, saddened by his friend's obsession and unwillingness to let go of the past, tries his best to get him interested in other things: games, pub quizzes, re-enactment societies and even ... women. And then one day after a chance random encounter with a book writing psychologist with an ear for obsession, he catches the eye of a pretty young woman, and everything changes. On DVD from MVD Entertainment.


"Satellite": (2014) Stephanie Szostack, Karl Geary, Pell James, Christina Kirk, Larry Fessenden. An indie romantic fable about a pair of millennials who give up everything they have in order to find something better. During a three-day marathon of passion, they make a pact to push each other to do the things they've avoided or are afraid of, and never lie to one another. Fueled by new love and a sense of adventure, Ro and Kevin impulsively quit their jobs, sell all their possessions, and begin stealing to make ends meet. However, their new life of free-spirited adventure is nearly derailed by Ro's self-destructive streak of jealously and a dark secret she steadfastly refuses to reveal. From IndiePix.
FOREIGN FILMS:
"Cannibal
" (2014 -- Spain), starring Antonio de la Torre and Olimpia Melinte, is the dark yet complex story of Carlos, the most respected tailor in Granada, Spain, who also happens to have a macabre hobby he keeps to himself. When her twin sister goes missing, Nina arrives in town to find her, and soon Carlos is at a crossroads -- will Nina be yet another victim in his fruitless, fatal search for love, or will she be the first to show him just what it means to forge a true connection to someone else? From Film Movement ... "For a Woman
" (2014 -- France), starring Benoit Magimel, Melanie Thierry, Nicolas Duvauchelle and Sylvie Testud, is the latest from Oscar-nominated director Diane Kurys ("Entre Nous," "Peppermint Soda," "Sagan"); it's the semi-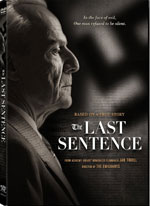 autobiographical story of Anne, a woman who discovers a family secret as her father lays dying. When her parents, Michel and Lena, escaped the concentration camps of World War II, they began a new life in France; not long after, Michel's long-lost brother Jean shows up at their doorstep, and what ensues is a story of patriotism, rebellion, lust and desire. From Film Movement ... "The Last Sentence
" (2012 -- Sweden), starring Jesper Christensen and Pernilla August, is the gripping true life story on the crusading Swedish journalist who mounted a one-man battle against his country's appeasement to Nazism. Set between 1933 and 1945, when Sweden was caught between the tightening vise of Nazi Germany and Stalin's Russia. At the time, the country's elite chose a policy of neutrality and compliance, with few daring to speak up against the evil around them. Among those who did, nobody was as vocal and uncompromising as Torgny Segerstedt (Jesper Christensen, the editor-in-chief of one of Sweden's leading newspapers and the most prominent Swedish journalist of the 20th century. Amidst the ensuing political turmoil of the era, Segerstedt's own personal life took a dramatic and scandalous turn as he entered into a very public affair with Maja Forssman (Pernilla August), the Jewish wife of his close friend, who happened to be the newspaper's publisher. From Music Box Films ... Shot in luxurious black-and-white and featuring a snappy jazz soundtrack, "A Coffee in Berlin
" (2014 -- Germany), is a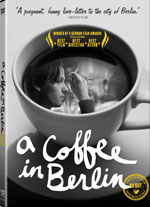 delightful, unassuming and deceptively easy-going comedy that zooms in on Niko, a twentysomething young man who is completely disengaged with life as he drifts through the day without a care in the world. However, his careless days eventually come to an end after his girlfriend ends their relationship, his father cuts his money off, and he's diagnosed with an emotional imbalance. A quirky love letter to both Berlin and The Generation Y experience. Stars Tom Schilling, Katharina Schuttler, Justus von Dohnanyi. From Music Box Films ... In "Le Chef
" (2012 -- France), starring Jean Reno and Michael Youn, a veteran chef faces off against his restaurant group's new CEO, who wants the establishment to lose a star from its Michelin rating in order to bring in a younger chef who specializes in molecular gastronomy. On DVD, Blu-ray Disc from Cohen Media Group ... In "A Woman in Flames
" (1983 -- Germany), a wealthy housewife, frustrated with her stuffy life, leaves her arrogant husband and enters the call girl business in a bizarre effort to regain her freedom and maintain her high-end lifestyle. When she meets a charming bisexual gigolo, she falls in love and the pair move in together until she eventually enters a world of sado-masochism that tears their world apart. Stars Gudrun Landgrebe, Mathieu Carriere, Hanns Zischler. From Film Chest Media Group.


SPECIAL INTEREST:


"Billy Crystal 700 Sundays": (2014) HBO comedy special based on Billy Crystal's award-winning, smash-hit, one-man Broadway show. Spanning several decades beginning in the 1950s, Crystal reminisces about what it was like growing up in a loving Jewish family in Long Beach, NY. He recalls the numerous eclectic relatives who inspired him; the huge influence of jazz on his family (his father ran an iconic record store in Manhattan, and his uncle was a Hall of Fame producer); his passion for the New York Yankees and, especially, Mickey Mantle; the impact of his father's sudden and unexpected death on the teenaged Crystal and his mother; and finally, his emergence from grief to pursue his dream of becoming a comedian -- a dream made possible by the support of his family and his wife. From HBO.


"Crazysexycool: The TLC Story": (2014) KeKe Palmer, Lil Mama, Drew Sidora. VH1 original movie chronicles the meteoric rise of the best-selling female recording group. From Paramount.


"Dorothea Lange: Grab a Hunk of Lightning": (2014) Her celebrated photograph "Migrant Mother" is one of the most recognized and arresting images in the world, a haunting portrait that came to represent the suffering of America's Great Depression. Yet few know the story, struggles and profound body of work of the woman behind the camera: Dorothea Lange (May 26, 1895 – Oct. 11, 1965). This American Masters documentary explores the life, passions and uncompromising vision of the influential photographer. Her enduring images document five turbulent decades of American history, including the Great Depression, the Dust Bowl and World War II Japanese American internment camps. Award-winning cinematographer Dyanna Taylor -- the granddaughter of Lange and writer/social scientist Paul Schuster Taylor -- directs and narrates. From PBS Distribution).


"The Fluffy Movie": (2013) A comedy concert film that captures the on-stage performance and success story of Gabriel "Fluffy" Iglesias. On DVD, Blu-ray Disc, from Universal.


"Hugh Hefner": (1973) This documentary by the award-winning director Tony Palmer shone a light on the multi-millionaire Hugh Hefner and his Playboy empire, giving Hefner the opportunity to tell his story and, of course, it offended the usual suspects -- Mary Whitehouse, the Daily Express and many more. The film charts Hefner's rise from a small-time publisher to outrageous success as he turned Playboy into one of the world's best known brands. From MVD Entertainment Group.


"NOVA: Rise of the Hackers": (2014) Our lives are going digital. We shop, bank, and even date online. Computers hold our treasured photographs, private emails, and all of our personal information. This data is precious -- and cybercriminals want it. NOVA goes behind the scenes of the fast-paced world of cryptography to meet the scientists battling to keep our data safe. They are experts in extreme physics, math, and a new field called "ultra-paranoid computing," all working to forge unbreakable codes and build ultra-fast computers. They're a new global geek squad harnessing cutting-edge science -- all to stay one step ahead of the hackers. $24.99 from PBS Distribution.


"Mobilize": (2013) This documentary might make you think twice about answering your next cell phone call. After a friend's father was diagnosed with brain cancer, potentially from 20 years of cell phone use, filmmaker and community activist Kevin Kunze became fascinated with cell phone radiation, public health and their intersection. The result is this explosive investigative documentary that explores the potential long-term health effects from cell phone radiation, including brain cancer and infertility -- findings that the cell phone industry vigorously disputes. Did you know that the majority of cell phone manuals tell consumers, in fine print, to keep the phone about an inch away from the body at all times? Or that researchers have discovered studies conducted over 10 years or longer that show an increased risk of brain cancer for heavy cell phone users? Filmed over three years in conjunction with associate producers Devra Davis, Ph.D., M.P.H., a Nobel Prize-winning author and scientist, Ellie Marks, founder of the California Brain Tumor Association and Joel Moskowitz, Ph.D., the Director for Family and Community Health in the School of Public Health at Berkeley, this thought-provoking film examines the most recent scientific research, and the harsh challenges politicians face trying to pass precautionary legislation. Featuring interviews with expert researchers, mobile phone industry representatives, and prominent politicians, "Mobilize" illuminates how the industry's economic and political influence can corrupt public health in myriad ways. $19.98 from TDC Entertainment.


"Nuclear Nation" (2013) March 11, 2011: A huge tsunami triggered by an 8.9 magnitude earthquake hits Japan, crippling the Fukushima Daiichi nuclear power plant, releasing radiation, and turning the residents of Futaba into "nuclear refugees." The devastation experienced by the town -- dead livestock left to rot, crops abandoned, homes and businesses destroyed­ was infinitely worse than anything reported by the newspapers. A year later, many refugees are still unable to return to contaminated homes. The irony of this disaster occurring in a nation that experienced two nuclear bombs is not lost on the victims who poignantly question their responsibility for striking a Faustian bargain with nuclear power. DVD packaged in certified Green Forestry eco pack. From First Run Features.


"Uranium Drive-In": (2013) The story of Naturita, Colorado, an economically devastated rural mining community that finds itself hopeful for the first time in decades. Their potential salvation: a new uranium mill, the first of its kind built in the U.S. in 30 years. A mill that would re-connect to Naturita to its proud history -­supplying the uranium used to build the first atomic bomb, which ushered in the Nuclear Age. And now, a greener energy source to help free America from its dependence on foreign oil. But others in the town are worried about the severe health and environmental consequences of the last uranium boom. DVD packaged in certified Green Forestry eco pack. From First Run Features.
FROM TV TO DVD:

"Borgen: The Complete Series" (2010-13) -- cited by Stephen King as his favorite television series of the year -- is Denmark's blockbuster political drama that explores the insular world of high-stakes Danish politics and the press corps that covers it in instantaneous, relentless news cycles. Birgitte Nyborg becomes Prime Minister of Denmark through a political fluke and has to learn the ways of power, quickly. This 12-disc set contains all three seasons of Borgen. In Danish with English subtitles. $119.95. from MHz Home Entertainment ... Led by Hugh Bonneville, Elizabeth McGovern, Michelle Dockery, and Maggie Smith, the acclaimed ensemble cast brings to life all the drama and intrigue of the inhabitants of Downton Abbey, the lavish English country manor, home to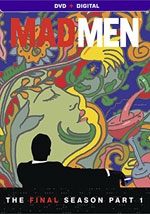 the Earl of Grantham. The limited edition "Downton Abbey Seasons 1, 2, 3 and 4" box set, available just in time for the holidays, includes every episode of the first four seasons of the Golden Globe and multi-Emmy Award-winning series, following the Crawley family and their servants from pre-war England through the storms of World War I, and into the social upheaval of England in the 1920s as the lives of its inhabitants are shaped by romance, heartbreak, scandals, rumors, blackmail, and betrayal. Twelve-disc DVD: $99.99, 11-disc Blu-ray Disc: $109.99. From PBS Distribution ... "Duck Dynasty: Seasons 4-6 Gift Set" (2013-14) is an eight-disc set, $49.98 from Lionsgate ... "Mad Men: The Final Season, Part 1" (2014) is a three-disc DVD and two-disc Blu-ray with seven episodes. Set in the captivating world of 1960s New York, the series continues to follow iconic ad man Don Draper, his colleagues and his family, offering a glimpse at how the renowned television series will end. DVD: $33.98, Blu-ray Disc: $34.99. Extras include commentaries for each episode, "The Trial of the Chicago Eight: Part One" featurette, "The Trial of the Chicago Eight: Part Two" featurette, "Gay Rights" featurette, "Gay Power" featurette, "Technology: 1969" interactive timeline. From Lionsgate ... "The Soul Man: The Complete Second Season" (2013) is a two-disc set with 10 episodes of the TV Land series starring Cedric "The Entertainer" as a former R&B superstar-turned-preacher who continues to find his footing in the transition from music to ministering. $19.97 from Shout! Factory ... "Unit One: Series 1, 2 and 3" (2000-2002) is the ground-breaking Danish crime thriller inspired by actual police cases that won of an International Emmy Award for Best Drama Series, and brought Danish television into the international spotlight. The Unit is headed up by ambitious detective Ingrid Dahl (Charlotte Fich), who's been promoted to lead Unit One, the elite mobile task force created to support local law enforcement across Denmark, and Detective Allan Fischer (Mads Mikkelsen), the bad boy of the team whose disregard for rules and hot temper often leads to trouble. Series 1 four-disc set, $39.95; Series 2 four-disc set, $39.95; Series 3 three-disc set, $39.95; from MHz Home Entertainment.

Check out other October 21-October 27 DVD releases and reviews at OnVideo.