New on DVD and Blu-ray Week of October 7-October 13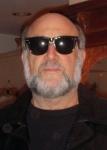 By Harley Lond - 10/07/14 at 03:19 AM CT
THIS WEEK'S THEATRICAL RELEASES:

"Edge of Tomorrow": Here's a time-loop sci-fi adventure that really works, one that not only gives us plausible scenarios, lots of military action and terrific special effects, but also a fine performance from the enigmatic Tom Cruise. All from eclectic director Doug Liman (who brought us "Swingers," "Go," "The Bourne Identity" and "Jumper"). The plot: In the near future, an alien race has hit the Earth in an unrelenting assault, and is on the verge of destroying the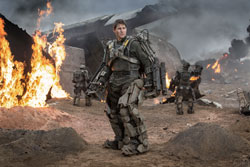 world's armies. Major William Cage (Tom Cruise), an officer who has never seen a day of combat, is unceremoniously dropped into what amounts to a suicide mission. Killed within minutes, Cage finds himself inexplicably thrown into a time loop -- ­forcing him to live out the same brutal combat over and over, fighting and dying again ... and again. During one of his loops, he meets up with Rita Vrataski (Emily Blunt), a Special Forces warrior who also has encountered the time anomalies, and she trains Cage to engage the adversaries with increasing skill. Each repeated encounter -- expertly mapped out by Liman -- gets them one step closer to defeating the enemy. Extras for Edge of Tomorrow
include deleted scenes, a behind-the-scenes featurette with Liman, and short vignettes on "Weapons of the Future" and "Creatures Not of This World." From Warner.

"A Million Ways to Die in the West
": Seth MacFarlane chose this junky send-up of Western films as his follow-up to the brilliant and funny "Ted" and struck out his second time at bat: The three strikes were an insipid and boring storyline, weak acting by several of the leads, (including MacFarlane himself and Sarah Silverman), and limp direction. There's no fun in the town of Old Stump, where MacFarlane plays sheep farmer and coward Albert Stark, whose fickle fiancee (Amanda Seyfried) dumps him for a mustachioed dandy (Neil Patrick Harris). To try to win her back, he enlists the help of Anna (Charlize Theron), a gorgeous gunslinger hiding out in the town, waiting for the return of her husband, Clinch Leatherwood (Liam Neeson), the most dangerous desperado around. There's plenty of stale bathroom jokes transported into the Old West, a lot of stupid carnage, and an unnecessary and distastefully filthy subplot with Silverman as a saloon whore who wants to be "pure" for her betrothed boyfriend (Giovanni Ribisi). The Blu-ray includes an unrated version with 18 additional minutes. There's a load of extras that only highlight the lackluster nature of the production, including a featurette about some of the familiar faces that pop into the town of Old Stump, including a visit from Christopher Lloyd, aka Doc Brown (who, if he was really smart, would have hopped into his "Back to the Future" DeLorean and time-traveled the hell out of this movie). From Universal.

Also due this week: "Million Dollar Arm
" and "Obvious Child
."


THIS WEEK'S HIGHLIGHTS:

There's three blasts from the past to tickle your imagination this week:

Disney offers up this week the "Sleeping Beauty
Diamond Edition," a Blu-ray reissue of the 2008 50th Anniversary Platinum Edition Blu-ray. The image and sound are superb, as was that version six years ago, and the extra features are embellished with three never-before-seen deleted scenes.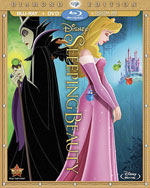 Other special features include "Once Upon a Parade," in which "Modern Family" star Sarah Hyland tells us the tale of Walt Disney World's new Festival of Fantasy Parade; "Art of Evil: Generations of Disney Villains," a legacy piece spotlighting Disney's favorite villain animator and Maleficent creator Marc Davis; "@DisneyAnimation: Artists in Motion," in which Walt Disney Animation Visual Development artist Brittney Lee goes through the process of creating a three dimensional sculpture of Maleficent, completely out of paper; "BEAUTY-OKE Once Upon A Dream" sing-along; classic DVD bonus features "The Sound of Beauty: Restoring a Classic," "Picture Perfect: The Making Of Sleeping Beauty," "Eyvind Earle: A Man And His Art" about "Sleeping Beauty" art director Eyvind Earle. The 1959 film was directed by Clyde Geronimi with the voices of Mary Costa, Bill Shirley, Eleanor Audley, Verna Felton, Barbara Luddy, Barbara Jo Allen. Disney is also releasing a DVD version as well offering it on Disney Movies Anywhere, its cloud service.

Next up is "The Best of The Danny Kaye Show" (2013), a two-disc set with six uncut episodes of the Emmy-winning 1963-1967 variety show. Danny Kaye was at the height of his popularity when "The Danny Kaye Show" debuted on CBS in the fall of 1963. A pair of Broadway hits including "Lady In the Dark" and "Let's Face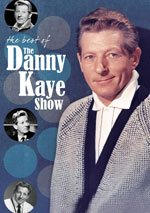 It" and a succession of classic films including "The Secret Life of Walter Mitty," "The Inspector General," "The Court Jester," "Hans Christian Andersen" and "White Christmas" made Danny Kaye one of the biggest stars in show business. "The Danny Kaye Show" was the perfect showcase for its star's unequaled range of talents: Kaye, who was 52 when the show premiered, sings with Ella Fitzgerald (1966), Nana Mouskouri and Harry Belafonte (1965); sings and dances with Liza Minnelli (1966) and Gene Kelly (1963); and deftly clowns his way through comedy sketches with Art Carney, Rod Serling and Jackie Cooper (1963). Also featured in this collection are Michelle Lee, Buddy Greco, John Gary, Joe & Eddie, Lovelady Powell and Alan Young. Series regulars included Harvey Korman, Jamie Farr, Joyce Van Patten and orchestra leader Paul Weston. Among the numerous gems: Kaye conducting the Television City Philharmonic, a spoof of "The Twilight Zone" with Rod Serling, performances of Danny Kaye classics "Pavlova" written by Danny's wife Sylvia Fine and originally seen in the film "The Kid From Brooklyn," and "Ballin' the Jack" from "On the Riviera," and a brilliant interpretation of "Take Me Out to the Ballgame" if that song was performed in "My Fair Lady," West Side Sotry" and "The Music Man." Not to be missed. $24.95 from MVD Visual.

"The Wonder Years: Season One" (2013) is a two-disc set that includes all six unedited episodes from the unforgettable first season (1988) and features every song from the original broadcasts, with classics by Jimi Hendrix, The Byrds, Joni Mitchell, The Monkees, Steppenwolf and Smokey Robinson, plus Joe Cocker's timeless rendition of The Beatles' "With a Little Help from My Friends." "The Wonder Years" debuted in 1988 following ABC's broadcast of Super Bowl XXII, and the affectionate look at growing up in the late '60s and early '70s in suburban America was unlike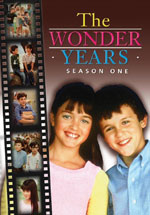 anything else on television. It was 1968 -- the year of Nixon and space walks and Mod Squad and Vietnam. Enter Kevin Arnold, a sixth grader at Kennedy Junior High School. Set against the suburban backdrop of Anytown, USA, Kevin sought to minimize his teenage angst while dealing with an older, noogie-happy brother Wayne (Jason Hervey), a rebellious sister, Karen (Olivia d'Abo), distant, workaholic father, Jack (Dan Lauria) and doting housewife mother, Norma (Alley Mills). Add to the mix Paul Pfeiffer (Josh Saviano), his nerdy, allergy-riddled best friend, a potential love interest in winsome girl-next-door Winnie Cooper (Danica McKellar) and narration by an older, wiser, wittier Kevin (voiced by Daniel Stern) to add perspective to the nostalgia, and you have the perfect recipe for TV greatness. And, for the next six seasons, America tuned in to follow Kevin's exploits, as he navigated adolescence in the most memorable of ways. $19.95. Also available online only is a 26-disc collector's set featuring all 115 episodes housed in a replica metal locker, along with a host of extras including 23 hours of specially-produced bonus programming. Read the release. From StarVista Entertainment/Time Life.


BUZZIN' THE 'B'S:


"The Dead and the Damned 2 (aka The Dead the Damned and the Darkness)": (2014) Robert Tweten, Iren Levy. In a post-apocalyptic world where zombies attack the remnants of humanity, one survivor, on a mission to give his fallen family a burial at sea, must first enter a quarantined, infected zone and fight through hordes of bloodthirsty zombies -- and humans -- before reaching the coast. From Inception Media Group.


"The Devil Incarnate": (2013) Rod Luzzi, Graci Carli, Emily Rogers. On a road trip to celebrate their honeymoon in Miami, newlyweds Holly and Trevo visit a tarot reader, who inform them that Holly is pregnant. But their joy is overshadowed by a mounting sense of dread that something sinister lurks within Holly's womb. From RLJ/Image Entertainment.


"Doc Holliday's Revenge": (2014) William McNamara, Eric Roberts, Ashley Hayes, Tom Berenger. In 1882, after the famous events of the shootout at the O.K. Corral, Morgan Earp is killed and Doc Holliday seeks revenge. When Joseph and Elizabeth Cooley head west to reunite with Elizabeth's family, they become stranded in a logging camp just outside Tucson where a wounded man stumbles into their camp -- his would-be killer is Doc Holliday. When Holliday shows up, Elizabeth considers him a stone-cold killer but, during the course of their tense standoff, she comes to find that this courtly, ailing man has a surprisingly well-honed sense of justice, frontier-style. From Lionsgate.


"A Haunting at Preston Castle": (2012) Mackenzie Firgens, Heather Tocquigny, Jake White. Inspired by true events at northern California's infamous haunted house, Preston Castle. A trio of college-age teens take an outing to an abandoned boy's correctional institute with a From Inception Media Group.


"The List": (2013) Sienna Guillory, Anthony Flanagan, Nigel Planer, Clive Russell. When the owner of a small advertising agency loses a court case to a richer and more powerful opponent, he creates a website called "The List" where users can name corrupt public figures and award them points as to how much of a menace they are. The result is a list of leading politicians, CEOs and bankers, and the website quickly becomes a worldwide success ... until the man voted number one on "The List" is murdered. From Level 33 Entertainment.


"Nekromantik": (1987) Daktari Loren, Beatrice M. Director Jorg Buttgereit's controversial horror film shocked the world in 1987, when it was banned in Germany, censored in Japan and simultaneously became a huge underground hit in the U.S. (now long out of print.) "Nekromantik" tells the story of Rob (Daktari Lorenz), who works at a street-cleaning agency and visits roadside accidents to clean up the scene, collecting the body parts to share with his girlfriend Betty (Beatrice M.) When Rob presents a complete corpse taken out of a swamp, their undying love reaches its peak. But Betty soon starts liking the corpse and leaves Rob, which takes him to the sick end of his destruction. New director's approved HD transfer (taken from the original Super 8mm negative), new grindhouse HD version (taken from the theatrical 35mm print). From Cult Epics.


"School Dance": (2014) Bobb'e J. Thompson, Leunell, Mike Epps, George Lopez, Katt Williams, Wilmer Valderama. Comedy updated retelling of "West Side Story" has high schooler Jason finding his dream girl -- the gorgeous Anastacia. There's just one problem: she doesn't know he exists. If he can win a spot on the school's hottest dance crew, he might have a shot, but he first has to overcome his battle-ax of a mother, survive Anastacia's gangsta brother, and pass the crew's initiation. From Lionsgate.


"Sharknado 2: The Second One": (2014) Ian Ziering, Tara Reid, Vivica A. Fox, Mark McGrath, Judah Friedlander with cameo appearances by Kelly Osbourne, Perez Hilton, Billy Ray Cyrus, Al Roker, Matt Lauer, Andy Dick. Extended version of Syfy's smash hit creature/disaster mashup. This time around, terror hits the Big Apple when a Category 7 hurricane pummels New York, and the surging floodwaters bring thousands of sharks. To make matters worse, tornadoes soon dot the horizon. As Sharknadoes tear through the city, no vehicle, building, or national monument is safe. From Cinedigm.


"Snakehead Swamp": (2014) Ayla Kell, Dave Davis, Terri Garber, Antonio Fargas. A horrifying hybrid of genetic science and nature has taken over the Louisiana bayou, leaving terror in its wake: In the heat of the summer, a school of genetically enhanced snakehead fish finds its way into Black Briar Swamp. As their thirst for blood grows, the creatures evolve by the minute, even learning to walk on land. From Sony.


"Sons of Liberty": (2014) Tamer Hassan, Keith David, Elyese Levesque, Neil Dickson, Mark Sheppard, Adam Cardon, Catalina Soto-Aguilar. A special operations unit comprised of elite soldiers and scientists -- known as the Sons of Liberty (SOL) -- is tasked with tracking and preventing a radical group of mercenaries from constructing a potentially devastating doomsday device. From Inception Media Group.
ON THE INDIE FRONT:
"Sleeping With the Fishes
" (2013), starring Gina Rodriguez, Ana Ortiz and Priscilla Lopez, is a quirky romantic comedy about one girl's journey of self-discovery and the dynamics of her zany Latino Jewish family. Alexis Fish (Rodriguez) is left broke and broken-hearted after the death of her cheating husband, working as a phone sex operator and a walking meatball hero. As she returns to her hometown of Brooklyn for a distant Aunt's funeral, she fears to admit to her family and overbearing mother (Lopez) that her life is a mess. With help from her quirky sister Kayla (Ortiz) and a new love interest, Alexis realizes she must let go of her past to define her own future. From Breaking Glass Pictures ... The wide range of 21st-century cinema created by women is represented in "The Female Gaze," a boxed DVD set of seven films from 2001 to 2012 and represent filmmakers from the United States, France, Peru, Turkey and Germany. Several of the titles, each offering a unique female perspective on contemporary society, have received awards, and all have earned accolades for their wide-ranging styles, themes and performances. Read more about "The Female Gaze." From Film Movement.


FOREIGN FILMS:

The erotic drama "You and the Night
" (2013 -- France) features The Stud, The Teen, The Slut, and The Star as guests at a pansexual orgy thrown by the mysterious and sexy menage-a-trois of Mathias, Ali, & Udo. Heir to the playful sex romps of early Francois Ozon, the dreamy color palette of Dario Argento, and Kenneth Anger's erotic occultism, "You and the Night" is billed as an erotic and wild take on "The Breakfast Club" with each character baring their inner souls to the group to find acceptance and love. With an original score by M83 and a kinky cameo by the legendary Beatrice Dalle ("Betty Blue"). From Strand Releasing ... In "Nothing Bad Can Happen
" (2013 -- Germany), starring Julius Feldmeier, a young man is brought face to face with inhumanity and pushed to his limits. Tore Tanzt, a young lost soul involved with the underground Christian punk movement, falls in with a dysfunctional family. Curious to test his seemingly unwavering faith, the family can't resist playing a cruel game designed to test his beliefs. As his trials become more and more extreme, he finds his capacity for love and resilience pushed to its limits and beyond. From Drafthouse Films/Cinedigm.


FOR THE FAMILY:


"Adventure Time: The Complete Fourth Season" (2014) contains all 26 episodes from the series' fourth season; packaged in a new collectible Marceline slipcase. From Cartoon Network/Warner.


"Alpha And Omega 2: A Howl-iday Adventure": (2013) Following the successful theatrical release of "Alpha and Omega," this holiday sequel follows the unlikely pair of wolves, Kate and Humphrey, and their new frisky family of cubs in a winter journey when their smallest cub, Runt, mysteriously disappears. From Lionsgate.


"Ava & Lala": (2014) Voices of Tom Arnold, JK Simmons, Mira Sorvino, George Takei. Ava, a spirited and imaginative girl, meets a curious animal named Lala. Together they go on a wild and magical adventure, where they encounter new animal friends and battle the evil General Tiger for power over Cloud Land. From ARC Entertainment.


"Dragon Ball Z: Battle of Gods": (2014) First "Dragon Ball Z" theatrical release in 17 years picks up following the events of the Dragon Ball Z television series, after the defeat of Majin Buu, a new power awakens and threatens humanity. Beerus, an ancient and powerful god of destruction, searches for Goku after hearing rumors of the Saiyan warrior who defeated Frieza. Realizing the threat Beerus poses to their home planet, the Z-fighters must find a way to stop him before it's too late. Only Goku, humanity's last hope, can ascend to the level of a legendary Super Saiyan God and stop Beerus from destroying Earth, and possibly the entire universe. Includes uncut and theatrical versions of the movie. From FUNimation.


"It's A Very Merry Muppet Christmas" (2002 -- TV) Kermit the Frog, Miss Piggy, Fozzie Bear, Gonzo and the entire Muppet gang. 'Tis the night before Christmas and the Muppet Theater is in danger of being torn down. When bad goes to worse, Kermit begins to believe that the world would be a better place if he had never been born. With a little heavenly help and holiday shenanigans, Kermit and the Muppets discover what matters most is their love for each other. Guest stars David Arquette, Joan Cusack and Whoopi Goldberg. From Universal.


"Jack and the Cuckoo-Clock Heart": (2013) English voice cast of Orlando Seale, Samantha Barks, Michelle Fairley, Stephane Cornicard and Richard Riddings; the French-language version features the voice cast of Mathias Malzieu, Olivia Ruiz, Grand Corps Malade, Jean Rochefort, Rossy de Palma, Babet, Marie Vincent, Emily Loizeau, Dani and Arthur H. Set in the late 19th century Edinburgh, where little Jack is born on a day so cold that his heart remains frozen. Madeleine the midwife saves his life by inserting a cuckoo clock in place of his defective heart; it will work, she warns him, as long as Jack observes three golden rules. First of all, he must never touch the hands of the clock. Secondly, he must control his anger. And last, but certainly not least, he must never, ever fall in love. The moment Jack sets eyes on a young girl singing on a street corner, the hands of his clock-heart begin to race. Desperate to find her again, Jack launches himself into a romantic quest that will lead him from the lochs of Scotland, to the city of Paris and all the way to Andalusia. Adapted by Mathias Malzieu from his own bestselling novel and the gold-selling album by his band Dionysos. From Shout! Factory.


"Teenage Mutant Ninja Turtles: The Complete First Season": (2012-13) Twenty-six episodes, $39.99. From Nickelodeon/Paramount.


"Woody Woodpecker and Friends Holiday Favorites": Created by renowned cartoonist Walter Lantz, the "Woody Woodpecker and Friends Holiday Favorites" collection includes seven memorable cartoon adventures featuring Woody Woodpecker and his friends Chilly Willy, Wally Walrus, Buzz Buzzard and more. From Universal.
SPECIAL INTEREST:


"Frank Zappa: Freak Jazz, Movie Madness & Another Mothers": (2014) In August 1969, to the dismay of many fans, Frank Zappa disbanded the original Mothers of Invention. Feeling constrained by the musical abilities of certain members, he cleaned the slate and set about assembling a new group. Hand-picking superior talent from a variety of musical genres, by 1970 the second incarnation of the band was unleashed. This film -- a tad too long -- focuses on the sophomore Mothers, looking at the very different projects that book-ended their brief existence; Zappa had incorporated ideas from free jazz and fusion into his music to produce three eccentric albeit influential solo albums. As the 1970s dawned and the musical landscape shifted, this prolific but often-overlooked period in Zappa's career remained a pioneering era for a composer who often confounded both audiences and critics, but who refused to compromise. Includes new interviews with George Duke, Aynsley Dunbar, Don Preston, Jeff Simmons, Mark Volman, Max Bennett, Sal Marquez, Ian Underwood plus "200 Motels" director Tony Palmer, biographers Ben Watson and Billy James and Mojo Magazine's Mark Paytress. From Sexy Intellectual/MVD Entertainment.


"Level Five": (1996 -- France) Political filmmaker Chris Marker's (see below) shock-to-the-senses mind-melter concerns a woman (Catherine Belkhodja) haunted by the loss of her lover while working on programming a video game about World War II's Battle of Okinawa. Melding retro-futuristic sci-fi imagery, references to American film noir, and reflections on traumas in Japanese history into a visually and philosophically provocative puzzle, "Level Five" is a hallucinatory visual essay on memory, tragedy, and early digital culture. Extras: Eight-page booklet of articles. From Icarus Films.


"Money For Nothing: A History of the Music Video": (2013) A rip-roaring look at the past, present and future of the music video, a refresher course on the last 60 years of popular music and the unforgettable images that accompanied them. While the music video became a staple of entertainment with the birth of MTV in 1981, the art form existed for many years before that, from musical shorts shown between features in movie theaters, to "event" pieces created by the Beatles and others to unveil and promote their new songs. But with the rise of MTV, what was originally considered an ad for a product became the product itself, with artists like Madonna, the Police, Michael Jackson, Dire Straits, David Bowie, R.E.M. and many others creating elaborate little films that not only accompanied their music, but were a parallel creative expression. If the music video was still ultimately a commercial, it was an ad campaign so brilliant, slick and subtle that it occasionally made its consumers forget what they were being sold. Based on the book of the same title by Saul Austerlitz. From Virgil Films.


"On Strike! Films by Chris Marker & The Medvedkin Group": Two films -- "Be Seeing You" and "Class Of Struggle" -- on the workers' strikes of 1968 in France by famed filmmaker Chris Marker ("La jetee"). Marker studied philosophy with Jean-Paul Sartre in the late 1930s and was involved in the French Resistance during World War II. He produced "Far from Vietnam," a 1967 documentary made in collaboration with Jean-Luc Godard, Alain Resnais, Claude Lelouch, Agnes Varda and others that opposed American involvement in Vietnam. After the filming of "Be Seeing You" (directed by Mario Marret and Marker) about a landmark 1968 factory occupation, workers who were unhappy with their portrayal began being trained to make their own films collaboratively with Marker under the name The Medvedkin Group. Their first film was "Class of Struggle." From Icarus Films.


"A People Uncounted: The Untold Story of the Roma": (2011) Journey into the world of the Roma -- a people who through the ages have been both romanticized and vilified in popular culture, politics and art, and who have endured centuries of intolerance and persecution. Visiting 11 countries and interviewing dozens of Roma artists, historians, musicians and Holocaust survivors, this revealing film documents their culturally rich but often difficult lives, taking us back to ancient times and forward to the little-known story of Roma genocide at the hands of Nazis during World War II. From First Run Features.


"The Prosecution of an American President": (2013) Famed Charles Manson prosecutor and New York Times bestselling author Vincent Bugliosi makes the most powerful, explosive, and thought-provoking argument of his storied career when he presents a meticulously researched legal case that proves George W. Bush took our nation to war in Iraq under false pretenses, and is therefore, under the law, guilty of murder for the deaths of 4,500 young American soldiers who fought and died there. Bush's unlawful war also cost the United States over a trillion dollars; alienated many of our allies; caused the deaths of over 100,000 innocent Iraqi men, women, and children; and pushed a previously tranquil nation into unending civil war, atrocities and chaos. As a prosecutor who is dedicated to seeking justice, Bugliosi delivers a non-partisan argument based on hard facts and pure objectivity. A searing indictment of Bush and his administration, "The Prosecution of an American President" also outlines a legally credible pathway to holding our highest government officials accountable for their actions, thereby creating a framework for future occupants of the Oval Office. Ultimately, Bugliosi calls for the United States to return to the great nation it once was. From First Run Features.




FROM TV TO DVD:


"The Almighty Johnsons Season 1" (2011) is a three-disc set with 10 episodes of the action-packed comedy drama -- set in New Zealand -- about four brothers who just happen to be descended from Norse gods; upon turning 21, each brother secretly became a Norse god with his own powers, except that their powers are not all that powerful anymore. From PBS Distribution ... "Ancient Aliens: Season 6 - Volume 1" (2013) is a two-disc set with eight episodes. This season digs deeper into what role aliens may have played in shaping our world. Explores whether lost islands and mysterious, Eden-like paradises were actually earthly homes for aliens, and examines why the Greeks, Macedonians and other ancients believed the world's mountains to be sacred homes to all-powerful gods. Also looks at American history via rock carvings from an 8,000 B.C. man-made cave filled with ancient objects and mummies. Is there a link between this cave and the Native American legend of the "star beings"? And more. From Lionsgate ... "Bates Motel: Season Two" (2014) Bates Motel has vacancies and welcomes you for a second season of 10 episodes, starring Vera Farmiga and Freddie Highmore. In the aftermath of Miss Watson's murder, Norman's (Highmore) innocence is buried under blackouts, suspicious characters, and his strange behavior. Meanwhile, Norma (Farmiga) faces dark truths of her own when family secrets begin to unravel and looming threats from local villains jeopardize Norma's stab at happiness. No matter where you turn --there's no escaping what bubbles beneath the surface in White Pine Bay. From Universal ... "China Beach: The Complete Series" (1988-91) is a 21-disc set with all 62 episodes as well as 268 classic hit songs as they were played in the original broadcast, $199.98. Celebrates "China Beach's" 25th Anniversary. In an era of testosterone-driven war movies, "China Beach" delivered a unique perspective: the Vietnam War through the eyes of women. Includes more than 10 hours of new bonus features, a deluxe collector's box and the "Tales from the Five & Dime" booklet. A limited-edition 25th Anniversary Collector's Edition includes three commemorative scripts: the series pilot, "China Beach", "Vets" and the series finale "Hello, Goodbye"; and five 8x10 photos featuring the cast and one 8x10 of the actors together again at the cast reunion. $279.99 from StarVista Entertainment/Time Life ... "Duck Dynasty: Season 6" (2014) is a two-disc set with nine episodes, from Lionsgate ... "The Great Train Robbery" (2013): On August 8, 1963, Britain awakened to the news of the biggest robbery in the nation's history. The Royal Mail train from Glasgow to London had been hijacked, and a gang had made off with millions in cash. Who could have executed such an audacious raid? And who could catch them and get the money back? Both stories -- A Robber's Tale and A Copper's Tale -- play out in this two-part drama starring Jim Broadbent, Luke Evans, James Wilby, Tim Pigott-Smith, Martin Compston, Robert Glenister. From Acorn Media ... "Hemlock Grove: The Complete First Season" (2013) is a three-disc set with all 13 episodes of the Netflix original series, from Scream Factory/Shout! Factory ... "Houdini" (2014) stars Adrien Brody, Kristen Connolly, Evan Jones in the scripted four-hour event that chronicles Harry Houdini's extraordinary life as he finds fame while defying death with his incredible stunts and illusions. His ability to escape from handcuffs, strait-jackets and water tanks is legendary -- but breaking the shackles of his past proved more challenging. Two-disc set with both the History channel mini-series as well as an extended version with 20 additional minutes. From Lionsgate ... (1975), starring Elizabeth Montgomery, Fionnula Flanagan, Ed Flanders, is a stylized retelling of the events of August 4, 1892, when the parents of New England spinster Lizzie Andrew Borden are found brutally murdered in their Fall River, Massachusetts home. The subsequent incarceration of the prime suspect (Lizzie herself) as well as the coroner's inquest and trial are largely faithfully depicted, using actual testimony. This legendary TV movie makes its DVD debut from Cinedigm ... "Perry Mason Movie Collection: Volume 4" (1991-93) is the latest collection of made-for-TV movies: "The Case of the Glass Coffin," "The Case of the Fatal Fashion," "The Case of the Fatal Framing," "The Case of the Reckless Romeo," "The Case of the Heartbroken Bride," "The Case of the Skin-Deep Scandal." From CBS/Paramount ... The hit Canadian mystery "Republic of Doyle, Season 2" (2011) features a father and son sleuthing team based in the province of Newfoundland. Three-disc set with 13 episodes from Acorn Media ... "Still Life: A Three Pines Mystery" (2013) is a TV adaptation of Louise Penny's award-winning book that follows Chief Inspector Armand Gamache (Nathaniel Parker) as he investigates a murder in a picturesque town in Quebec. From Acorn Media ... "Vikings Season 2" (2014) is a three-disc set with 10 unrated episodes of the History channel drama series. From Fox.

Check out other October 7-October 13 DVD releases and reviews at OnVideo.