New in Theaters August 29: As Above, So Below, The November Man
By Chris Kavan - 08/28/14 at 07:00 AM CT
The month of August has had some great highs and surprising lows - but whether a movie has exceeded expectations or bombed spectacularly - one thing is for certain, August 2014 is going down in the record books for the most successful on record. But we still have one more weekend left before we can put the month on the books - and two new movies to close out things. We have another horror movie trying to succeed in a year that has been very unforgiving to the genre. We also have a rather low-key crime thriller. I don't exactly think either film is going to provide much of a spark at the box office, but the combined effort from the new films and old favorites should be enough for the month to top last year (once again), providing some relief to an otherwise lackluster summer.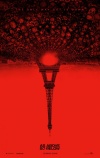 AS ABOVE, SO BELOW Having seen ads for this way too much recently (mostly during the Simpsons marathon and Syfy's website viewing of Defiance, season 2) I'm convinced that while the idea has merit (massive, dark and creepy Paris underground tomb! - where the worst enemy is your terrifying past memories!) it seems kind of cheesy. This is billed as a psychological thriller - and it could be decent, but nothing I've seen makes this stand out in the horror genre. It's still a group of people (who are supposed to be somewhat smart, I'm guessing) getting in trouble because they're not smart enough to leave well enough alone. But it should at least be interesting to see just how the whole "your past comes back to haunt you" actually works - most promos feature a creepy piano, creepy (probably dead) siblings and a burning car/black hole that sucks you right in. Still cheesy - but compared to most horror films this year, it doesn't look half bad. But this is the end of August - we' entering into the dead days for film (last week was pretty disappointing as well). But, hey, horror can bring out fans - we'll see if they're desperate enough to make this a hit.


THE NOVEMBER MAN Despite having Pierce Brosnan and Olga Kurylenko on board, I have to say I have seen next to nothing about November Man. And what I have seen does nothing to dissuade me from labeling this as yet another generic "ex-agent brought back from retirement for one last job" type scenario that has become the rage (Taken, 3 Days to Kill - pretty much everything Liam Neeson is in...) with older action stars. Brosnon does fit the mold - the one-time James Bond is no stranger to action, but, man, there just isn't enough here that brings anything new to the table. I would be surprised if this makes it into the top five - it's just about as generic as this genre gets and nothing I've seen has shown me otherwise.


The end of the month is night - and even with an extra day thrown in for good measure, it's not likely to be a barn burner. In fact, the biggest news should be Guardians of the Galaxy (which should be able to muscle up to the largest-grossing domestic release of 2014) and not the two newcomers. I'll be back with the full holiday weekend update on Monday.