Modern Films to Melt Your Brain
By Chris Kavan - 08/27/14 at 04:45 PM CT
There are plenty of films that play it straight forward: axe-murder goes after yet another teen, cop meets up with fellow buddy cop and takes down the bad guys (without needing to reload his gun even!), a man and woman couldn't have more different personalities and yet through a series of wacky events find themselves together (maybe even married!) - and a hundred other examples too. Sometimes, though, I like my films to be thought-provoking - even downright strange - you know, until the gray matter starts seeping from various orifices from working overtime.

There are plenty of directors our there who have made a living on "WTF" film making - David Lynch, David Cronenberg, Terry Gilliam and even Stanley Kubrick - they have all delivered films that just give layer after layer of utter insanity. One viewing may not be enough - maybe two, maybe five, maybe more - and even after all that, you might still never know if you "get" the movie or not. But that's not always the point, sometimes the fun is just in watching - getting your mind a little twisted in the process. Here are some modern masters (2010-present) who have given us some unforgettable films - even if I don't entirely understand them.

ENEMY Denis Villeneuve had already delivered a great crime/thriller in Prisoners, but it's another film starring Jake Gyllenhaal that really stands out. Enemy stars
Gyllenhaal (and Gyllenhaal again) as a frumpy science teacher who looks like he's fed up with his life - that is until he finds his exact double as an extra in a movie a colleague recommends him. Thus begins his quest to track down this man - and the effect it has on both their lives drives the film. But the film takes some strange turns - spiders play an interesting part - as does the power of women in our lives - mothers, girlfriends and the like. But theories on enemy persist - is it all in the main character's head? And what the hell do those spiders mean? Arachnaphobes be wary - you won't like this one, but one thing it certainly excels at driving you a bit mad.

UPSTREAM COLOR Shane Carruth is not stranger to giving us some head-scratching fun. Primer, from 2004, is still one of the most technological, and mind-bending, time travel films I have ever seen. From that standpoint, you would think Carruth was on the fast track, but, alas, his projects stalled. That is until 2013, when he delivered upon us Upstream Color. Now, this is not so much a movie as a series of emotion put on screen. It's challenging - in fact, I would say one has to work to actually get anything out of this film. I don't know if it's entirely successful, but don't let that dissuade you - if you like movies you can dig deep into, this one is for you - just don't expect to be handed the answeres.

TREE OF LIFE Can I actually suggest a film I was disappointed with? Well, if that film happens to be directed by Terrence Malick, why not? Tree of Life is certainly an... acquired taste. It moves in strange ways - and will definitely polarize the audience - some will find it on par with Kubrick's 2001 - others will find it boring and pretentious. I couldn't get into it myself, but Malick is a director who follows his vision - whether you agree with that vision or not is up to you but doesn't change the fact that Malick has talent.

HOLY MOTORS Leos Carax gives us actor Denis Lavant in a series of roles - some live, some die, some play the accordion in an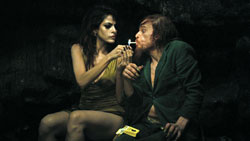 extended musical number and he even brings back the unforgettable Mr. Merde (who made a splash in his short film included in the Tokyo! trilogy). The film goes all over the place - some may find it disjointed and certainly it's strange - but, according to popular theory, it's also about film (or at least the film industry) and how certain changes are affecting the business. Or maybe it's just a crazy set of scenes with Lavant giving it his all. Whatever theory you subscribe to, one thing is for certain, there is not another film out there like Holy Motors and it will leave its mark on you.

RUBBER I'm still not sure if director Quentin Dupieux is messing with the audience or making a statement or what - one thing is for certain, he's having a good time. Rubber is about a sentient tire who goes on a journey - an often violent journey - and the film often breaks the fourth wall. In fact, in the opening we are told this is going to be a film about "no reason" and damned if it doesn't deliver on that premise. For some reason I like to think Dupieux made a bet with someone about making this movie - and he won said bet. In any case, this is another director who follows the beat of his own drummer. I haven't had the chance to see Wrong yet, but if it's half as insane as this one, it will probably wind up on this list too.

I would love to hear from everyone else out there on movies that challenge, excite, enrage and confuse them - old, new - I don't care - and if there is a few in there I haven't had the chance to see yet, well, I'm always open for an experience that will leave me scratching my head and itching to watch a movie again.