New on DVD and Blu-ray Week of June 10-June 16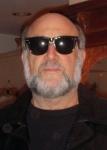 By Harley Lond - 06/10/14 at 03:09 AM CT
THIS WEEK'S THEATRICAL RELEASES:

"Non-Stop": Liam Neeson has carved a niche for himself as a 21st century action hero -- an intelligent father-husband who just happens to be a spy-hitman-cop who can fight off bad guys half his age (he turned 62 last week) and make it seem believable. And the man can act. Here he reunites with director Jaume Collet-Serra ("Orphan") for the first time since their collaboration on the hit 2011 thriller "Unknown." During a transatlantic flight from New York City to London, U.S. Air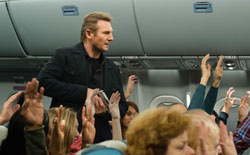 Marshal Bill Marks (Neeson) receives a series of cryptic text messages demanding that he instruct the airline to transfer $150 million into an off-shore account. Until he secures the money, a passenger on his flight will be killed every 20 minutes. Get ready for some surprising -- and exciting -- high altitude mystery and action -- but also be prepared to suspend a little disbelief. Co-stars Julianne Moore, Lupita Nyong'o, Michelle Dockery, Nate Parker, Scoot McNairy, Corey Stoll, Omar Metwally, Linus Roache, Jason Butler Harner, Shea Whigham, Anson Mount. Non-Stop

extras include a couple behind the scenes featurettes. From Universal.

Also due this week: "Tim's Vermeer
," an absorbing documentary about Tim Jenison, a Texas based inventor who attempts to solve one of the greatest mysteries in all art: How did 17th century Dutch Master Johannes Vermeer ("Girl with a Pearl Earring") manage to paint so photo-realistically -- 150 years before the invention of photography? From Sony. And "Jack Ryan: Shadow Recruit
," which was unavailable for review.


THIS WEEK'S HIGHLIGHTS:

There's two prime examples of classic cinema due this week from The Criterion Collection: "L'eclisse
" (1962), the concluding chapter of Michelangelo Antonioni's informal trilogy on contemporary malaise (following "L'avventura" and "La notte"), "L'eclisse" (The Eclipse) tells the story of a young woman (Monica Vitti) who leaves one lover (Francisco Rabal) and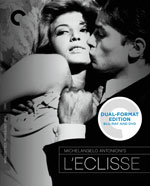 drifts into a relationship with another (Alain Delon). Using the architecture of Rome as a backdrop for the doomed affair, Antonioni achieves the apotheosis of his style in this return to the theme that preoccupied him the most: the difficulty of connection in an alienating modern world. New, restored high-definition digital film transfer, in a Blu-ray/DVD Dual Format Edition ... "All That Heaven Allows
" (1955), a heartbreakingly beautiful indictment of 1950s American mores by Douglas Sirk that follows the blossoming love between a well-off suburban widow (Jane Wyman) and her handsome and earthy younger gardener (Rock Hudson). After their romance prompts the scorn of her selfish children and snooty country club friends, she must decide whether to pursue her own happiness or carry on a lonely, hemmed-in existence for the sake of the approval of others. With the help of ace cinematographer Russell Metty, Sirk imbued nearly every shot with a vivid and distinct emotional tenor. A profoundly felt film about class and conformity in small-town America, "All That Heaven Allows" is a pinnacle of expressionistic Hollywood melodrama. In a new 2K digital restoration in a Blu-ray/DVD Dual Format Edition.

"True Detective: The Complete First Season" (2014), starring Woody Harrelson, Matthew McConaughey, Michelle Monaghan, Tory Kittles, Eric Price, J.D. Evermore and Madison Wolfe, is HBO's highly watchable (and very R-rated and gory) eight-part very dark series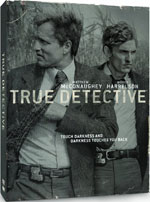 that explores the underbelly of law, order, politics, religion and crime over the course of two decades in Louisiana (and, by proxy, America). In 2012, Louisiana State Police Detectives Rust Cohle (McConaughey) and Martin Hart (Harrelson) are brought in to revisit a homicide case they worked in 1995. As the inquiry unfolds in present day through separate interrogations, the two former detectives narrate the story of their investigation, reopening unhealed wounds, and drawing into question their supposed solving of a bizarre ritualistic murder in 1995. The timelines braid and converge in 2012 as each man is pulled back into a world they believed they'd left behind. As they look back on the case, Hart and Cohle's personal backstories and often-strained relationship become a major focal point. Superb performances by Harrelson and McConaughey as two very unlikable cops doing their job against bizarre odds. On DVD and Blu-ray Disc. Extras include interviews with McConaughey and Harrelson, a discussion between series creator Nic Pizzolatto and composer T Bone Burnett, deleted scenes, more. From HBO.


BUZZIN' THE 'B'S:

In "Adult World
" (2013), a quirky but naive college grad (Emma Roberts) takes a job at an adult bookstore, where she pursues a mentorship under a reclusive, crusty and alcoholic poet (John Cusack), and eyes the store's adorable young manager (Evan Peters). From IFC Films ... In "Kill Zombie!" (2013), starring Yahya Gaier, Ouled Radi and Gigi Ravelli, a Russian Space station crashes in Amsterdam, releasing a deadly virus that turns everyday citizens into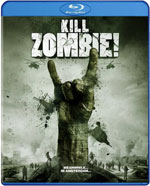 flesh-craving psychopaths. Aziz, his brother Mo and several strangers emerge from jail, oblivious to the mayhem until they team up with a local police officer. After receiving a desperate call for help, this unlikely band of heroes sets out on an insane rescue mission. On DVD and Blu-ray Disc from Well Go USA ... When the staff inside a renovated film studio finds a co-worker dead one morning, the pieces of a 40-year puzzle add up to an angry ghost who has let the last person step inside her house ... alive in "Ghost of Goodnight Lane" (2014), starring Lacey Chabert, Danielle Harris and Billy Zane. From Inception Media ... In "Haunt
" (2013), starring Harrison Gilbertson, Liana Liberato, Jacki Weaver, Ione Skye, Brian Wimmer, Danielle Chuchran and Ella Harris, an introverted teen teams with his new neighbor to explore the haunted house that his family has unknowingly just purchased. Their communications with the dead reveals terrible secrets surrounding the circumstances of the previous inhabitants' demise. From IFC Midnight ... When a dishonorably discharged, former special ops interrogation officer learns his parents have been mercilessly slaughtered after an attempted robbery gone horribly wrong, he sets out to exact revenge on his parents' killers in "Vendetta" (2013), starring Roxanne McKee, Josef Altin and Danny Dyer. From Inception Media ... In "The Secret Lives of Dorks
" (2013), starring Gaelan Connell, Charlie Stewart, Vanessa Marano, Beau Mirchoff and Riley Voelkel, Payton (a dork) is in love with Carrie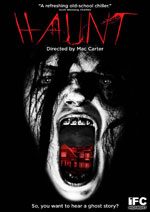 (the head cheerleader) who is dating Clark (the football captain). When she realizes that Payton's crush is likely to last until middle age, Carrie sets him up with Samantha -- a dorkette who works in the local comic book store. Naturally, all doesn't go as planned. From Random Media/Cinedigm) ... A former boxer moves to Thailand to start a new life, but when he's robbed and left with nothing, he soon enter an underground fight club called "Fighting Fish" where losing is not an option in "Brawl
" (2012 -- Thailand) from Lionsgate ... In "Bushido Man: Seven Deadly Battles" (2013 -- Japan), starring Mitsuki Koga, Yoshiyuki Yamaguchi and Masanori Mimoto, a student of martial arts is on a quest to seek seven scrolls containing the fighting secrets of seven different disciplines: stick, knife, sword, kung fu, nunchaku, firearm, and special weapons. Along the way he must learn his enemy's ways by what they eat, and bring both secrets and stories of his adventures home to his master. Featuring blistering martial arts, comedy, and food. On DVD and Blu-ray Disc from Shout! Factory.


ON THE INDIE FRONT:
"The Odd Way Home
"(2013), starring Chris Marquette and Rumer Willis, is a road picture --featuring a very odd couple -- with an interesting premise that ends up degenerating into a series of cliched set pieces. Maya (Willis) hits the road in Los Angeles, hoping to break a long cycle of domestic abuse and start a new life. When her car breaks down in a middle-of-nowhere town in New Mexico, she meets Duncan (Marquette), a reclusive man with autism. Their journey through the vistas of the Southwest at first offers some enjoyable moments but as the screen fills with predictable characters and scenes, it bogs down and wanders off into the desert. Like with so many indie films, director Rajeev Nirmalakhandan just doesn't know when to say "cut." From Breaking Glass Pictures ...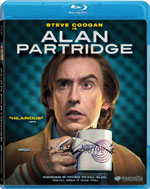 When notorious DJ Alan Partridge's (Steve Coogan) radio station is taken over by a new media conglomerate, it sets in motion a chain of events that forces Alan to work with the police to defuse a potentially violent siege mounted by disgruntled fellow DJ (Colm Meaney), who decides to hold the station hostage after learning that he's getting sacked in "Alan Partridge
" (2013 -- U.K.). On DVD, Blu-ray Disc from Magnolia Home Entertainment ... "Devil's Knot
" (2013), directed by Atom Egoyan and starring Colin Firth, Reese Witherspoon, Amy Ryan, Mireille Enos and Stephen Moyer, is a dramatization of the true story of the West Memphis Three, a trio of innocent teenagers suspected of devil worship and tried and convicted of murdering three young boys in West Memphis, Arkansas, in 1993. Already the subject of two impressive, major documentaries (the HBO "Paradise Lost" trilogy and "West of Memphis," co-produced by Peter Jackson). On DVD, Blu-ray Disc from Image Entertainment ...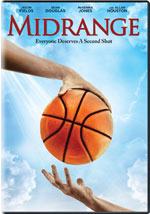 Jason Fields wrote and stars in "Midrange
" (2013), a touching film that follows a basketball superstar athlete's journey to finding faith and accepting God into his life. A college basketball player destined for the pros returns to his hometown to find his brother consumed with drugs and alcohol and his mother depressed and helpless, and has to decide between saving his family and following his dream. Also stars Sean Douglas, Susan Grace. From Cinedigm ... When a wannabe writer living in Brooklyn who can't seem to quite get it together loses his girlfriend, he resolves to get down to some serious work once and for all ... until fate intervenes and he's called to Florida to deal with his parents' failing health: his father has had a stroke and his mother has early Alzheimer's, and he gets a crash course in love, loyalty, family, and forgiveness in the dark comedy "A Short History of Decay
" (2013). Stars Bryan Greenberg, Linda Lavin, Harris Yulin, Kathleen Rose Perkins, Emmanuelle Chriqui. From ARC Entertainment.


FOREIGN:

Cohen Media Group has released two late-career films from Costa-Gavras: "Amen
" (2002 -- France-Germany-Romania), in which Costa-Gavras creates a powerful and riveting account of the Final Solution that questions how much was known outside of Germany as mass exterminations were carried out in Nazi death camps. Ulrich Tukur stars as Kurt Gerstein, a German chemist whose work on various governmental health projects leads to his assignment as an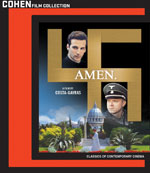 SS officer in charge of hygiene. When he learns that Zyclon B, a toxic cleanser he created to stem the tide of typhoid among German troops, is being used in gas chambers, Gerstein is horrified. But his pleas to officials in Germany, Sweden and the U.S. to stop the genocide fall on deaf ears. One person who does listen is Riccardo Fontana (Mathieu Kassovitz), a young Jesuit priest with ties to the Vatican and even Pope Pius XII. Ultimately, Gerstein and Fontana must fight a brave but lonely and dangerous battle to save the innocent -- and themselves ... Based on the novel by Stephane Osmont and a prize winner at the San Sebastian Film Festival, Costa-Gavras's most recent feature, "Capital
" (2012 -- France), is a fast-paced, darkly comic, suspenseful drama set in the high-stakes world of global finance. When the CEO of France's Phenix Bank collapses on the golf course, Machiavellian young executive Marc Tourneuil (Gad Elmaleh) is crowned as his replacement. A whirlwind of ruthless ambition, power struggles, greed and deception ensues as Tourneuil's brutal ascent is jeopardized by a hostile takeover attempt from a large American hedge fund led by Dittmar Rigule (Gabriel Byrne), erotic distractions from international supermodel Nassim (Liya Kebede), and adversaries with an agenda for destruction. Both films are released on DVD and Blu-ray Disc.


FOR THE FAMILY:

"Deltora Quest: The Complete Series" (2013) is an anime series based on the children's books of the same name, written by Australian author Emily Rodda. The anime is full of magic,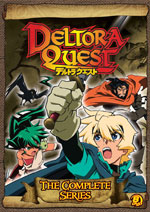 mystery and action: The heroic Lief must venture into the darkest and most terrible places in Deltora to find the seven magical gems that can free everyone from the evil tyranny of the Shadow Lord. Eight-disc DVD set, $79.95 from Cinedigm ... "Transformers Animated: The Complete Series" (2007-09) is a six-disc set with all 42 episodes, $34.99 available exclusively at Amazon. Also available: Transformers Animated: Season Three, a two-disc set, available at Walmart. Both are from Shout! Factory Kids ... In "WordGirl: Monkey Business" (2014), WordGirl and her sidekick Captain Huggy Face fight the good fight against dastardly villains and bad vocabulary. In these four episodes, the super duo faces everything from a meat portal to a peanut butter gun, saving the day and instilling a love of language in children all at the same time. $9.99 from Scholastic Media/PBS Kids.


SPECIAL INTEREST:


"Auf Wiedersehen - 'Til We Meet Again" (2013): After a terrifying experience on 9/11, writer Linda Mills is compelled to return with her comedic son and opinionated mother to the site in Vienna where her family fled the Nazis in Vienna in 1939. This documentary finds surprising humor and uplifting moments in a tale of one family's repeated escapes from evil. From SISU Home Entertainment


"Bible Quiz" (2013): Documentary explores coming of age in the face of faith, doubt, fierce competition, sexuality and love. Mikayla Irle is just like any other normal 17-year-old girl with a crush; except unlike other girls, Mikayla has memorized more than several books of the Bible -- more than 2,000 verses -- and the object of her affection is her studious Bible Quiz team captain, JP. But this year JP only has eyes for the National Bible Quiz Championship. In order to succeed, though, he and Mikayla must compete against thousands of other teens from across the U.S. Mikayla hopes that if she can help lead her team to victory she will find the love she lacks in her own family and win the ultimate prize: JP's heart. Challenges stereotypes and presents an even-handed look at religion in these teens' lives as they explore faith, identity, sexuality and competition at one of the most unique summits in evangelical America today. From Virgil Films.


"Brazil with Michael Palin" (2014): Join award-winning actor and founding member of Monty Python Michael Palin as he visits Brazil for the very first time to discover the spectacular people, landscape, food, and music of this bustling and beautiful country -- just in time for the 2014 FIFA World Cup, the most viewed sporting event in the world, which will be hosted by Brazil. Learn about the fifth largest country in world, which takes up over half of South America and is home to over 192 million people. DVD: $24.98, Blu-ray Disc: $29.98; from BBC Home Entertainment.


"Cosmos: A Spacetime Odyssey" (2014): Follow-up to Carl Sagan's award-winning series that explored the remarkable mysteries of the cosmos and our place within it. This 13-part adventure transports viewers across the universe of space and time, bringing to life never-before-told stories of the heroic quest for knowledge and a deeper understanding of nature. With an updated Cosmic Calendar, dazzling visual effects, and the wondrous Ship of the Imagination, viewers will experience an unforgettable journey to new worlds and across the universe for a vision of the cosmos on the grandest and smallest scale. On DVD, Blu-ray Disc from Fox.


"The Missing Picture" (2013 -- Cambodia/France): Explores filmmaker Rithy Panh's quest to create the missing images during the period when the Khmer Rouge ruled over Cambodia between 1975 and 1979. The film recounts the firsthand experience of his family and friends' suffering during the communist regime. Since most of the existing recorded artifacts of that time are propaganda footage, Panh decided to utilize beautifully sculpted clay figurines and elaborately detailed dioramas to recreate the missing images from his memory. His recollections of his family and friends before and after the regime's rule are poignantly told through a narrator's poetic voice, as written by Panh. Academy Award nominee for Best Foreign-language Film. From Strand Releasing.


"Ride Report: 10,000 Miles to Rio" (2014): When filmmakers Tiernan Turner and Matt Kendall decide to go to the world famous Carnaval, they embark on a 10,000 mile, cross-continental road trip of a lifetime -- from Las Vegas to Rio de Janeiro -- on nothing but Suzuki motorcycles and the help of the burgeoning, international social network of adventure riders and couch-surfers. Along the way they make life-changing connections with strangers and fellow travelers, proving despite all of our fears, the world is filled with kind and generous people. But as they encounter dangerous terrain, mechanical failures, and logistical problems, they must find their own strength in order to make it to the festival on time. From Cinema Libre Studio.


"Unacceptable Levels" (2014) Documentary examines the results of the chemical revolution that began in the 1940s through the eyes of affable filmmaker Ed Brown, a father seeking to understand the world in which he and his wife are raising their children. Over 80,000 chemicals flow through our system of commerce, and many are going straight into our bodies. Even our unborn children are affected. Due to this constant exposure, we have approximately 200 synthetic industrial chemicals interacting with our body cells every single day. Until recently, modern science really didn't understand what that could mean for all of us in the long run, but that is changing. Globally, disease rates are on the rise. Theories about the causes abound, yet the issues are complex and often muddied by the maneuvering of political and corporate interests. To explore different facets of common chemical exposure, "Unacceptable Levels" was made in consultation with experts in multiple fields. To create this debut documentary, Brown traveled extensively to find and interview top minds in the fields of science, advocacy, and law. Weaving their testimonies into a compelling narrative, he presents us with the story of how the chemical revolution brought us to where we are, and of where, if we're not vigilant, it may take us. Go to UnacceptableLevels.com for more information $19.98 from TDC Entertainment.


"Visitors" (2014): Thirty years after "Koyaanisqatsi," Godfrey Reggio -- with the support of Philip Glass and Jon Kane -- once again leapfrogs over earth-bound filmmakers and creates another stunning, wordless portrait of modern life. Presented by Steven Soderbergh in Black and White digital 4K projection, "Visitors" reveals humanity''s trancelike relationship with technology, which, when commandeered by extreme emotional states, produces massive effects far beyond the human species. The film is visceral, offering the audience an experience beyond information about the moment in which we live. Comprised of only seventy-four shots, "Visitors" takes viewers on a journey to the moon and back to confront them with themselves. On DVD, Blu-ray Disc from Cinedigm.


FROM TV TO DVD:

The Discovery Channel six-part miniseries "Klondike" (2014) dives into the brutal, thrilling, get-rich-or-die-trying world of the late 1890s gold rush, based on Charlotte Grey's best-selling book, "Gold Diggers: Striking It Rich In The Klondike." Based on actual events, "Klondike" tells the story of the last great Gold Rush in history. In 1897 two friends make the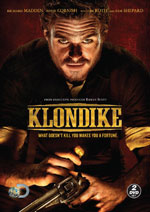 perilous journey through North American wilderness to the Klondike boom town Dawson City, "The Paris of the North" where murder, revenge, riches and redemption await. Executive produced by Ridley Scott and starring Richard Madden, Abbie Cornish, Sam Shepard, Tim Roth, Augustus Prew. On two-disc DVD and two-disc Blu-ray Disc. From Cinedigm ... "Love Will Keep Us Together" (2013) is an urban rom-com about two best friends preparing to live out their dreams of an extravagant double wedding in Hawaii but, as the ladies' big day approaches, their jitters, jealousy and just outrageous expectations meet with emotional highs and lows. Stars Reagan Gomez-Preston, Cynthia McWilliams. From Entertainment One ... "Major Crimes: The Complete Second Season" (2013-14) is a four-disc set with 19 episodes, $59.98 from Warner ...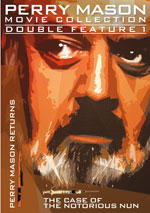 "Perry Mason Movie Collection Double Features One, Two and Three" are three single-disc double feature releases starring Raymond Burr as the famed defense attorney: Double Feature One: "Perry Mason Returns," "The Case of the Notorious Nun"; Double Feature Two: "The Case of the Shooting Star," "The Case of the Lost Love: Double Feature Three: "The Case of the Sinister Spirit," "The Case of the Murdered Madam"; $16.99 each from CBS Home Entertainment/Paramount ... "Ray Donovan: The First Season" (2013) features all 12 episodes of the Showtime series starring Liev Schreiber. Set in Los Angeles, the sprawling mecca of the rich and famous, the show centers on Ray Donovan, the man called in to make the most complicated and combustible situations from the city's celebrities, superstar athletes, and business moguls go away. The only problems he can't fix are those involving his own damaged South Boston family, problems which are exacerbated when his father Mickey (Jon Voight), a gangster with the Irish mob who never protected his family, makes his way to Los Angeles after 20 years in jail. Four-disc DVD: $65.99, three-disc Blu-ray: $76.99 from Showtime/Paramount ...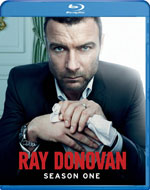 "Resurrection: The Complete First Season" (2014) consists of eight episodes of the series about the dead coming back to life -- not as zombies -- but as full-bodied people unchanged since their deaths, sometimes decades earlier. Based on the 2013 book "The Returned," by Jason Mott, which is suspiciously similar to the 2012 French TV series "Les Revenants" ("The Returned"), which in turn was based on the 2004 French film "Les Revenants" (English title "They Came Back"). Takes place in Arcadia, Missouri, where the deceased loved ones of the townspeople suddenly start to reappear. Stars Omar Epps, Samaire Armstrong, Frances Fisher, Kurtwood Smith, Matt Craven, Mark Hildreth, Devin Kelley, Landon Gimenez, Veronica Cartwright, Sam Hazeldine. $29.99 from ABC/Disney ... "Rizzoli & Isles: The Complete Fourth Season" (2013-14) is a four-disc set with 16 episodes, $39.98 from Warner.

Check out other June 10-June 16 DVD releases and reviews at OnVideo.