New in Theaters May 23: X-Men: Days of Future Past, Blended
By Chris Kavan - 05/22/14 at 06:47 AM CT
This Memorial Day weekend should be one of the best weekends of the year - mainly due to the fact some mutants are about to crash the box office. I have to say my level of anticipation hasn't been this high for a super hero movie since The Avengers - and if this manages to reach (or even surpass) that experience, it could be in for a long run. Still, it comes with a bit of controversy surrounding it, so no telling what that will do to the audience. And with Godzilla still stomping around - it should be the battle of two titans over the long weekend.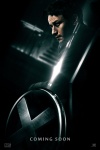 X-MEN: DAYS OF FUTURE PAST I do admit that X-Men: First Class was a minor letdown. I loved the cast - especially Michael Fassbender as the young Erik Lehnsherr/Magneto and, of course, the always welcome Jennifer Lawrence as the shape-changing Mystique. But the story was a bit hit-or-miss for me - but it promised better things to come. Well, that better thing is here. In my mind, Days of Future Past looks like a grandslam - you have the "original" X-Men cast returning (some in just cameos - but others with larger roles to play - like everyone's favorite Hugh Jackman aka Wolverine) and, of course, the new cast as well. Ripped straight from the comics, the plot essentially involves a future where the creation of Sentinels to hunt down mutants has led to humanity facing their wrath - and only by sending someone to the past, in order to prevent Mystique from killing Sentinel developer Dr. Bolivar Trask (Peter Dinklage - another worthy addition to the cast) can they hope to save the future, and the deaths of so many. My only worry is that by combining so many great characters in to one film, you won't get to see nearly as much of them on screen as you would like. I have a feeling the film is going to move very fast - so one better be prepared to take it all in. But, man oh man, am I ever pumped up to see this one - if it doesn't have the best opening of the year, I would be surprised - though it remains to be seen how the controversy surrounding director Bryan Singer plays out. Early reviews have been positive, for the most part, but we'll see if audiences are as receptive. I know this is one I will not miss.


BLENDED What movie would dare challenge the might of the mighty X-Men? How about a rom-com starring Adam Sandler and Drew Barrymore - yes, that will provide excellent counter-programming... if this were ten years ago. If you recall, they duo teamed up once before in 50 First Dates (back in 2004) but since that time Sandler has come back with a series of movies with diminishing returns - only the (somehow) popular Grown Ups and the animated hit Hotel Transylvania has saved his skin but he has had so many more stinkers from Jack and Jill to You Don't Mess with the Zohan to That's My Boy - and, unfortunately, I have a feeling Blended is going to join that list rather than his few successes. Blended just looks bland, boring and pretty dumb. I don't care if they have good chemistry or if the children cast can act - I don't think anything is going to save this from tanking. Granted, it could draw a crowd, as it is different than anything out right now, I just don't think it will have enough support and I would consider a top 5 finish to be a success for it.


With most schools out by now and plenty of people ready to soak up the extra day off - X-Men looks likely to ring in Memorial Day with huge numbers. I'll be one of the many to help it get off to a good start - and we'll see how the long weekend plays out.