New in Theaters Feb. 28: Non-Stop, Son of God
By Chris Kavan - 02/27/14 at 07:07 AM CT
All the talk the past few weeks has been about the phenomenal success of The Lego Movie. The animated film is well on its way to a $200 million domestic gross and a with a sequel already in the works, looks to have established a new franchise. But even with Lego dominating, that means pretty much every other film has been at best "solid" but much more likely "disaster". Any film with a decent budget has wilted in the face of family-friendly animation. This week, two more films will try to knock the Lego Movie off the top spot - but I still predict an uphill battle.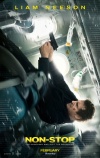 NON-STOP First on the list would have to be Liam Neeson's latest action-packed thrill ride Non-Stop. Neeson has reinvented himself as the new badass elder statesmen - Taken, The Grey, Unknown - you never want to get in the man's way. However, despite carrying the action mantle quite handily, I find all these films begin to blend together until there's little to distinguish them. Sure, throw in some wolves, throw Neeson on a plane or some exotic locale - but when it comes down to things, it all feels a bit redundant. We'll see if Non-Stop benefits from the inclusion of Julianne Moore, Corey Stoll (from House of Cards fame), the awesomely-named Scoot McNairy (see him in Argo) and 12 Years a Slave breakout star Lupita Nyong'o. The cast looks solid and the story - an air marshal has to defend a transatlantic flight after a series of texts promises to kill passengers unless $150 million is deposited into an account - at least looks interesting. Whether it can distinguish itself from other Neeson films - that's going to be the factor of whether it does well, or simply does adequate.


SON OF GOD This is essentially a steam-lined version of "The Bible" - the quite popular min-series that aired on The History Channel last year. I admit, I did watch a few episodes, but non being a particularly religious person, didn't really see what all the excitement was about. Despite feeling that Son of God is a quick way to capitalize on the popularity of that series (and make truckloads of money) - reports are the religious right are turning out in big numbers for this one. Don't forget that religious movies can do very strong business - look no further than The Passion of the Christ to see just how big things can get - but Son of God has no big names attached, so chances are it won't reach those lofty numbers. Still, with a modest budget and a lot of support, this could be a big hit (relative to its budget) and even if it doesn't draw in a big crowd outside of the more religious crowd, it still has a chance to do quite well at the box office.


So, the question remains can another Neeson action film or a biblical effort be enough to unseat The Lego Movie from the top of the charts? I still see this as an uphill battle, but these two stand a better chance at pulling off the upset compared to the films over the last two weeks. Stay tuned for the results - and I'll see Sunday for the Academy Awards live blog event.