New in Theaters Dec. 06: Out of the Furnace, Inside Llewyn Davis
By Chris Kavan - 12/05/13 at 06:44 AM CT
After a monster Thanksgiving for Hollywood, things are going to be a bit more quiet (at least for one weekend). With only one new wide-release opening (thank isn't likely to have that much of an impact), things should keep rolling for movie titans Catching Fire and Frozen. The looming shadow of The Hobbit hangs over the blockbusters - but there is at least one more week of clear sailing before Smaug burns it all down.


OUT OF THE FURNACE Scott Cooper brought us Crazy Heart, and now he's back with Out of the Furnace - which follows a man (Christian Bale) who has recently been released from prison only to find out his younger brother (Casey Affleck) had become deeply ingrained into the most ruthless Northeastern gang - he must decide between enjoying his new freedom or getting justice for his brother. The supporting cast looks excellent with the likes of Zoe Saldana, Woody Harrelson, Sam Shepard, Willem Dafoe and Forest Whitaker all lending their considerable talents to the mix. Cooper has proven he is amazing at directing an excellent story filled with plenty of emotion - and this Rust Belt revenge tale looks pretty dark and gritty. Good thing Bale is along - as he has proven time and time again that dark and gritty is his cup of tea. Still, while I think this looks like it's going to be a good movie - it's not exactly the type that brings in huge numbers.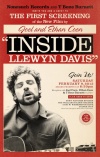 INSIDE LLEWYN DAVIS Granted, it's only opening in limited release this week (expanding on the 20th) but the Coen Brothers latest has been getting a lot of awards-seasons buzz. The movie takes place in Greenwich Village circa 1961 as the folk scene erupts. Oscar Isaac plays the titular character - and this has truly been his breakout role after being a supporting actor in such films as Drive and Sucker Punch. Although early, critical reception has been incredibly high and for those who enjoy a good drama (and music) this is one to check out. Carey Mulligan and Justin Timberlake are also along for this journey and this looks to join the likes of Fargo and No Country for Old Men as another Coen Bros. masterpiece. It will be interesting to see how it stacks up against other indie films this year, but chances are the art house crowd is going to eat this one up and I would expect to see it as awards season continues to heat up.


The new movies both have a lot of dramatic chops this week - but I doubt the box office is going to change much (at least from the top few movies) compared to last week. But for those who enjoy quality, it's going to be a good weekend.