New in Theaters May 10: The Great Gatsby, Peeples
By Chris Kavan - 05/09/13 at 05:50 PM CT
One week after Iron Man 3 dominated the box office in near-record fashion, this week sees two films trying to take away some thunder. A comedy looking to attract an urban audience and a stylish adaptation of a literary classic are our two contenders. Something tells me that neither are going to have enough oomph to dislodge Tony Stark and co. from the top spot for a second week (a week I predict it will easily take over as the highest-grossing film of 2013). I'm more interested to see how the film fares against these new films that should provide some competition (though the real test will come when Star Trek hits). But that's next week - here's what we have this weekend.


THE GREAT GATSBY Baz Luhrmann is known for taking chances. He has changed up classic stories before (and also with Leonardo DiCaprio) when he tackled Romeo + Juliet back in 1996. He's also known to be a bit indulgent as the opulent Moulin Rouge! proves. But can he enjoy the same success with Gatsby? Early reviews aren't exactly that kind - saying the film has style, but little substance. I have to say that I'm still interested, if only because the previews (and amazing soundtrack) have me intrigued. Even if the film is mostly flash, I still want to see the final product. I may or may not see this one in theaters - that is still to be determined. However, even if I have to wait, I'm still willing to give this film a chance.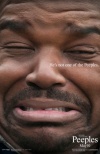 PEEPLES It's about time that Craig Robinson was elevated to lead actor. You've seen him before, maybe in The Office, maybe in Hot Tub Time Machine or Pineapple Express - but always in a supporting role. I like the guy, even if his first starring role, Peeples, reminds me ever so much of a Tyler Perry film. Perry did act as producer, but the film is in the hands of first-time director Tina Gordon Chism. If the same audience shows up for this that regularly supports Perry's films, it should enjoy mild success. It's still not something I would seek out, but I like Robinson, so I hope it does well enough that he takes on some more lead roles in the future.


This weekend should be another big week for Marvel, but the newcomers may have to settle for the scraps. Even if they can't topple Iron Man 3, the rest of the competition shouldn't present much of a challenge and both films should in the top five for sure, and a top three finish is more than likely. See you Sunday with the final results.