New in Theaters March 15: The Incredible Burt Wonderstone, The Call
By Chris Kavan - 03/14/13 at 02:05 PM CT
After Oz the Great and Powerful finally managed to jump start the box office - but can is sustain enough momentum to provide a second weekend of thrills? Out of the two new releases, only one has the potential to open to decent numbers, but even with some big names attached, it's going to be an uphill battle methinks. Unless a comedy can work some major magic at the box office, I'm pretty certain Oz is going to wind up back on top.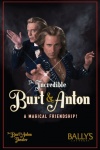 THE INCREDIBLE BURT WONDERSTONE With Steve Carrell, Jim Carrey, Steve Buscemi and even recently Oscar-nominated Alan Arkin on board, Burt Wonderstone certainly boasts an impressive cast. Plus you have Olivia Wilde along for your requisite eye candy. But the plot seems like it would have worked better about five or so years ago as it concerns a duo of Siegfried and Roy-esque Vegas magicians going up against a popular street magician (ala Criss Angel). It's not exactly a topical subject anymore. Given the talent involved, there should be some interest here, but I have to say that after everything I've seen, this ranks as a solid rental for me, nothing more. I have a feeling it won't have any trouble breaking into the top five, but knocking Oz off its perch is, in my mind, out of the question.


THE CALL How long has it been since Halle Berry has inspired me to actually see one of her films? I don't know about you, but taking a look at her filmography makes me kind of depressed. I have a feeling The Call is just going to be one more sad stepping stone on this list. It looks like just another generic thriller that is just going to get lost in the shuffle and will probably join the many other films of this year that fail to break the $10 million mark on opening weekend (and will likely end up with less than $20 million total). Despite the kidnapping angle and the connection to the past that Berry's character has to the crime - it just makes me want to yawn in boredom. I'll be skipping this and don't even know if I want to watch it at home.


I don't think the new movies are going to do too much to ignite the box office. I'm more interested to see how Oz holds up in its second weekend. If its going to reach that magic $200 million milestone, it better hold on to a decent percentage of its audiences. I'll be here Sunday with the good word.