By Chris Kavan - 09/13/12 at 11:18 PM CT
A week after one of the worst weekends on record for Hollywood can the box office hope to make a full recovery? That remains to be seen, but I have a feeling that the two movies opening this weekend stand a much better chance of capturing an audience than anything that has opened before Labor Day. The main reason is that both films opening have a built-in audience - one is a franchise that has seen moderate success, the other a near universally-acclaimed family film. If these can't save September from being a complete disaster, I don't know what else will stand a chance.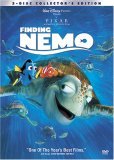 I have a feeling that Pixar has made a pretty shrewd move this weekend. Finding Nemo is not my personal favorite Pixar film, in fact, I would say it's kind of near the bottom for me, but for many people, it's one of their favorites. It's been nearly 10 years since it was released, and what better time to jump on the 3D bandwagon that has seen some pretty good success with re-releases of popular films. Why Sept. 14th? Well, think about it, the kids have been in school for two-three weeks now, they're itching to have some fun again - what better way than to celebrate with a much-beloved movie? The timing is right, the audience is there - now it's just a matter of whether they will show up or not. I have a feeling this will make some pretty good bank at the box office - if only because it has been awhile since a decent family film came along, and nothing draws in family audiences like Pixar.
The weekend's other new film is from the action/horror Resident Evil franchise. While I have long given up on this taking any cues from the video games (other than a few visual nods - like the chest-controlling device I've seen in a few trailers) - Milla Jovovich and a nice revolving set of supporting cast (Michelle Rodriguez, Sienna Guillory, Oded Fehr and Kevin Durand - amongst others, are helping out this time around) make this an inane, yet oddly fun, series to keep track of. I have never seen a single one of these films in theaters, and I'm not going to start now - but I will most likely catch this on video of some form and probably end up shaking my head as to why I keep watching them.
I have a feeling the news will be better come Sunday - certainly both films have a better chance of topping the box office, and making more than $10 million, than in the past few weeks. I'll be back on Sunday with the final results.
Comments