By Harley Lond - 03/13/23 at 11:24 PM CT
FROM THE BIG SCREEN:
"The Whale" (2023) A reclusive morbidly obese English teacher, living alone in the wake of a tragedy, attempts to reconnect with his teenage daughter for one last chance at redemption in filmmaker Darren Aronofsky's transcendent, emotional epic. Nominated for three Academy Awards and featuring a career-defining - and Academy Award winning performance from Brendan Fraser, "The Whale" is a deeply moving story of heartache, empathy, and grace.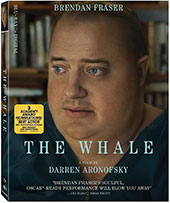 Vitals: Director: Darren Aronofsky. Stars: Brendan Fraser,Sadie Sink, Hong Chau, Ty Simpkins, Samantha Morton. 2023, CC, MPAA rating: R, 116 min., Drama, US box office gross: $16.619 million, worldwide $24,387 million, A24 Films. Formats for The Whale: DVD, Blu-ray/DVD Combo + Digital Code, VOD, Digital. Read more here



"A Man Called Otto" (2023) Based on the comical and moving # 1 New York Times bestseller, the film tells the story of Otto Anderson (Tom Hanks), a grumpy widower who is very set in his ways. When a lively young family moves in next door, he meets his match in quick-witted and very pregnant Marisol, leading to an unlikely friendship that will turn his world upside-down. A remake of the fantastic original film adaptation of the novel "A Man Called Ove" by Fredrik Backman (2015 Swedish film "A Man Called Ove" directed by Hannes Holm).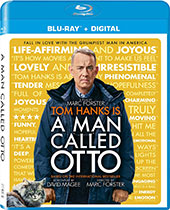 Vitals: Director: Marc Forster. Stars: Tom Hanks, Rachel Keller, Mariana Treviño, Rachel Keller, Cameron Britton, Mack Bayda. 2023, CC, MPAA rating: PG-13, 126 min., Comedy Drama, US box office gross: $62.802 million, worldwide $106.202 million, Sony. Formats: DVD + Digital Code, Blu-ray + Digital Code, VOD, Digital.


THIS WEEK'S BEST BETS:
"Secret Defense"
(1997 - France), starring Sandrine Bonnaire, Jerzy Radziwilowicz, Gregoire Colin and Francoise Fabian, is a late fim by the great Jacques Rivette. When a brilliant scientist (Bonnaire) discovers that her father did not die accidentally but was murdered by a family friend, she swears vengeance. However, she soon finds herself deeply embroiled in a mystery of lust and intrigue. And when she discovers the truth about her father, it threatens to shake her very foundations in this fascinating thriller. On DVD, Blu-ray, from Cohen Film Collection ...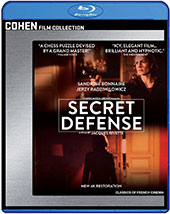 Before he became known as the master of the bullet-riddled heroic tragedy, John Woo sharpened his trademark themes and kinetic action choreography with
"Last Hurrah for Chivalry"
(1979 - Hong Kong), a whirlwind wuxia spectacle. Unaware they are caught in a deadly game of deception, a pair of rambunctious swordsmen (Wai Pak and Damian Lau) join forces to help a nobleman (Lau Kong) in his quest for vengeance. Paying thrilling homage to his mentor, martial-arts innovator Chang Cheh, Woo delivers both bravura swordplay set pieces and a bloodstained interrogation of the meaning of brotherhood and honor in a world in which loyalty is bought and sold. On Blu-ray, with 2K digital restoration, with 5.1 surround DTS-HD Master Audio and uncompressed monaural soundtracks. Alternate English-dubbed tracks. From The Criterion Collection.
Read more here
...
"Phenomena"
(1985 - Italy), from Italian master of the macabre Dario Argento, is one of his most beautifully designed horror films - and is now remastered in 4K Ultra HD and Dolby Vision in a two-disc set.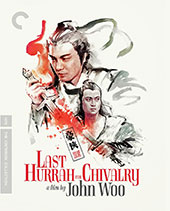 The young Jennifer Corvino, played by Oscar-winning actress Jennifer Connelly, is sent to a private Swiss academy for girls where a vicious killer is on the loose. Jennifer has the unique ability to telepathically communicate with insects and an entomologist, Dr. John McGregor (Donald Pleasence, enlists her help in locating the murderer. As the mystery unfolds, they find themselves in a bizarre murder plot with maggots, telepathic insects and a razor-wielding chimpanzee. Can Jennifer uncover the killer's identity before becoming a victim herself? Phenomena features a fantastic soundtrack from progressive-rock gods Goblin, British heavy metal masters Motörhead, Iron Maiden, Andi Sex Gang, Bill Wyman and Simon Boswell. Dalila Di Lazarro ("Andy Warhol's Frankenstein"), Daria Nicolodi ("Tenebrae"), Patrick Bauchau ("Clear and Present Danger") and Fiore Argento ("Demons") also star in this truly unique, gory and unsettling thriller. New 4K restorations of all three versions of "Phenomena," including the original Italian version (116 mins.), the International cut (110 mins.),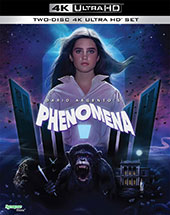 and the U.S. "Creepers" cut (83 mins.) On 4K Ultra HD from Synapse Films/MVD Entertainment.
Read more here.
BUZZIN' THE 'B's:
In
"The Grand Tour"
(1991), a widowed innkeeper battles a band of disaster-groupies from the future with explosive results. Ben Wilson (Jeff Daniels) and his daughter (Ariana Richards) buy an old Victorian mansion and begin renovations with plans to open up an inn. Their first guests are a strange and mysterious covey of tourists led by the eccentric Madame Lovine (Marilyn Lightstone). In an emotionally charged and suspenseful race against time, Ben must battle the seductive time bandits as well as his own personal demons in an attempt to save his daughter and the town from total destruction. On DVD, Blu-ray, from Unearthed Classics/MVD Entertainment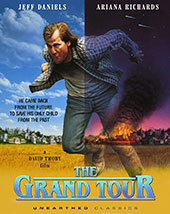 ...
"Alice, Darling"
(2022), starring Anna Kendrick, Kaniehtiio Horn, Charlie Carrick and Wunmi Mosaku, is a thriller about a woman pushed to the breaking point by her psychologically abusive boyfriend, Simon. While on vacation with two close girlfriends, Alice rediscovers the essence of herself and gains some much-needed perspective. Slowly, she starts to fray the cords of codependency that bind her. But Simon's vengeance is as inevitable as it is shattering – and, once unleashed, it tests Alice's strength, her courage, and the bonds of her deep-rooted friendships. On DVD, Blu-ray + Digital Code, from Lionsgate ... In the future, humans try to escape global destruction by moving underground in the award winning stop-motion animated film
"Junk Head"
(2017 - Japan) by Takahide Hori. Mankind can no longer reproduce because of gene manipulation aimed at making life longer. The clones ruling the bottomless underworld may have become fertile. Parton is selected to go on a mission through a subterranean labyrinth crawling with monsters to secure humanity's future. From Synergetic Distribution/MVD Entertainment ... In
"Texas Chainsaw Mascara"
(2022), a group of New Yorkers take a road trip to Texas, intent on seeing the locations of the Texas Chainsaw Massacre. They never make it. Their car breaks down and they trust a local woman to lead them toward help. Their northern attitudes anger the wrong people, and a series of gruesome events follow. On Blu-ray from Grimoire of Exalted Deeds/MVD Entertainment.
FOREIGN FILMS:
In
"All Eyes Off Me"
(2021 - Israel), starring Elisheva Weil, Leib Levin and Yoav Hayt, At a party in Tel Aviv, an anxious girl named Danny is looking for Max, a recent casual fling, to share that she's pregnant with his child. Through the haze of drugs and promiscuity of the partygoers, Danny doesn't get far in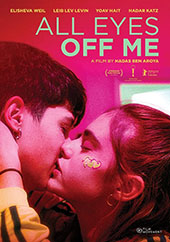 her search. Meanwhile, Max is busy with his new girlfriend, Avishag. He attempts to realize her rough sexual fantasies but Avishag instead turns her attention to another burgeoning relationship with Dror, an older man she dog-sits for. In these three, loosely connected vignettes, director Hadas Ben Aroya's second feature film proves to be an atmospheric exploration of a self-possessed generation of young Israelis. Though beautiful, confident, and sexually liberated, the film addresses the physical limits of intimacy, questioning just how liberated these youths really are when faced with vulnerability. From Film Movement ...
"A Bag of Marbles"
(2017 - France) is the true story of two young Jewish brothers in German occupied France who, with a mind-boggling mix of mischievousness, courage and ingenuity, were able to fend for themselves in order to survive the Nazi invasion and try bring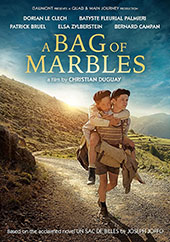 their family back together. The heartwarming adaptation of Joseph Joffo's memoir tells the story of two young Jewish boys, Joseph and Maurice, the sons of Roman, the local barber. At ages 10 and 12, the boys have so little understanding of the persecution of Jews that Joseph thinks nothing of swapping his yellow star for a bag of marbles. Despite their naiveté, Roman knows that their best chance to escape the Nazi roundup is to flee on their own to Vichy, France, where their older brothers Albert and Henri have found safe haven. From Omnibus Entertainment ...
"Blue Thermal"
(2022 - Japan) is the long-awaited feature film adaptation of author and creator Kana Ozawa's popular manga series that ran in Shinchosha's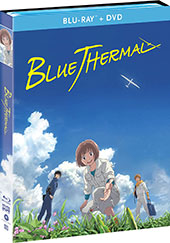 Monthly Comic @Bunch Magazine for many years before being published in five book volumes. This artful and beautiful coming-of-age movie captures the tension and excitement of a young college student who joins the school's aviation club flying for the first time, as well as the beauty and exhilaration of the aerial scenery as seen from the pilot's seat. Arriving from Nagasaki with her wishful mantra is Tamaki Tsuru, who in high school could think only about volleyball. Things don't begin well, however, when she looks for an extracurricular club to join and proceeds to immediately ding a glider at aviation club tryouts ending up having to work it off. She is initially disillusioned with campus life. Then Kuramochi, the club leader and glider pilot, takes Tamaki under his wing, and from the moment he takes her up for a flight in a glider, Tamaki becomes a captive of the vast beauty of the skies. The film's theme song "Blue Thermal" and the song "Beautiful Bird" are performed by the popular Japanese piano rock band SHE'S. On Blu-ray, from Eleven Arts/Shout! Factory.
FROM TV TO DISC:
"Mike Judge's Beavis & Butt-Head Season 1"
(2022) is a three-disc set with all 12 episodes from the latest series, and includes the Paramount +'s original movie, "Beavis & Butt-Head Do the Universe." Nearing their 30th anniversary, Beavis & Butt-Head, America's favorite culture critics, are back. They now have more than just music videos to make fun of – reality TV, the internet, and Mixed Martial Arts will all be crossing their TV screen. Brought back by creator Mike Judge, Beavis and Butt-Head are dumber than ever. In the movie "Beavis & Butt-Head Do the Universe," Beavis and Butt-Head go on a Space Shuttle mission in 1998, fall into a black hole, and reemerge on Earth in 2022, where they are pursued by the NSA, the Governor of Texas, and a highly-intelligent version of themselves from a parallel universe. From Paramount ...
"The Walking Dead" Season 11"
(2021-22) is a six-disc set with all 24 episodes. In the epic final season of "The Walking Dead," Daryl and Maggie embark on a risky mission with Negan to root out the shadowy Reapers while Eugene and Ezekiel make contact with the sprawling Commonwealth. To secure aid for Alexandria - their goal - they must assimilate ... a tough ask for people who've seen no end of deceit, betrayal, and loss. Stunned by the Commonwealth's resources, the group slowly adjusts to their new home, but they can't ignore what lurks beneath its seemingly civilized surface. Soon, threats abound, loyalties are tested and shocking fates await. But the fight for the future, threatened by an ever-growing population of walkers, means the walking dead will live on. On DVD, Blu-ray + Digital Code, from Lionsgate.
Check out other new DVD/Blu-ray releases, streaming films, and information and reviews at OnVideo.
Comments