By Harley Lond - 11/07/22 at 11:09 PM CT
FROM THE BIG SCREEN
"The Power of the Dog" (2021) Jane Campion returns to the kind of mythic frontier landscape - pulsating with both freedom and menace - that she previously traversed in "The Piano" in order to plumb the masculine psyche in "The Power of the Dog," set against the desolate plains of 1920s Montana and adapted by the filmmaker from Thomas Savage's novel. After a sensitive widow (Kirsten Dunst) and her enigmatic, fiercely loving son (Kodi Smit-Mcphee) move in with her gentle new husband (Jesse Plemons), a tense battle of wills plays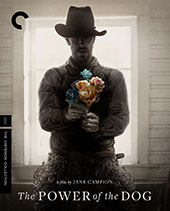 out between them and his brutish brother (Benedict Cumberbatch), whose frightening volatility conceals a secret torment, and whose capacity for tenderness, once reawakened, may offer him redemption or destruction. Campion, who won an Academy Award for her direction here, charts the repressed desire and psychic violence coursing among these characters with the mesmerizing control of a master at the height of her powers. Vitals: Director: Jane Campion. Stars: Kirsten Dunst, Kodi Smit-Mcphee, Benedict Cumberbatch, Jesse Plemons. 2021, CC, MPAA rating: R, 128 min., Drama, Netflix/Criterion. Formats for Power of the Dog: DVD, Blu-ray, 4K Ultra HD/Blu-ray Combo. Extras: Interview with Campion about the making of the film. Program featuring interviews with members of the cast and crew and behind-the-scenes footage captured on location in New Zealand. Interview with Campion and composer Jonny Greenwood about the film's score. Conversation among Campion, director of photography Ari Wegner, actor Kirsten Dunst, and producer Tanya Seghatchian, moderated by filmmaker Tamara Jenkins. New interview with novelist Annie Proulx. Trailer. Read more here


THIS WEEK'S BEST BETS:
Master filmmaker Robert Wise began his career with horror classics "The Curse of the Cat People" and "The Body Snatcher" for producer Val Lewton. His career would go on to include westerns, thrillers, science fiction and musicals, earning him two academy awards for Best Director. In 1963 he returned to his Lewtonian roots with the classic ghost story "The Haunting." In 1977 he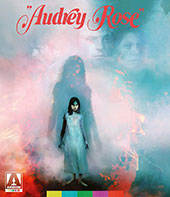 returned once more with the supernatural thriller "Audrey Rose." All Bill and Jane Templeton wish for is a quiet, peaceful life with their 11-year-old daughter Ivy. But their dreams turn to nightmares as Ivy is besieged first by terrifying "memories" of events that never occurred ... and then by a mysterious stranger who stalks her every move, and claims that Ivy was in fact his daughter in another life. Released in the wake of "The Exorcist" and "The Omen,"
"Audrey Rose"
(1977), starring Anthony Hopkins, Marsha Mason, John Beck, John Hillerman, Susan Swift, Norman Lloyd and Ivy Jones, is an intelligent, heartfelt drama that approaches its subject with an open mind and seriousness of intent that caught many off guard but typifies Wise's previous genre forays. Sensitively played by a sterling cast at the top of their game, this underseen gem deserves a place on the shelf of any fan of classic horror. Brand new 2K restoration from a new 4K scan of the original 35mm camera negative. On Blu-ray from Arrow Video/MVD Entertainment.
Read more here.
BUZZIN' THE 'B's:
"Christmas Cruelty"
(2013 - Norway) is a horror-thriller from Norway that follows a serial killer and his victims as they all prepare for Christmas in their own ways. This year it doesn't matter if you have been naughty or nice, Santa is coming to town no matter what, and he knows where you live. On DVD, Blu-ray from Unearthed Films ... In
"Dig"
(2022), starring Thomas
Jane, Emile Hirsch, Liana Liberato and Harlow Jane, Scott Brennan is trying to piece together a life shattered by a road rage incident that killed his wife and left his teen daughter, Jane, deaf and resentful of him. Still hoping to mend things with Jane a year later, Brennan accepts a contract for a high-paying demolition job in the desolate New Mexico sprawl outside Las Cruces. When he and Jane arrive at the site, they are suddenly taken hostage by a dangerous couple, who will stop at nothing to retrieve what lies beneath the property. Now father and daughter must work together to outsmart their captors and survive the grueling night. On DVD, Blu-ray from Lionsgate ... In
"Heartland of Darkness"
(1989), starring Nick Baldasare, Linnea Quigley, Dino Tripodis. Paul Henson, a former big-city journalist, buys a small local newspaper in the small town of Copperton, Ohio. He quickly falls into a wide-reaching conspiracy of ritualistic murder and cult mind control when he discovers that the entire town may be under the spell of a Satanic reverend and his flock. As the clues and corpses pile up, Henson and his family are thrust into a life-or-death struggle to expose the truth and stop the demonic cabal's reign of evil. After distribution false starts for over 30 years, "Heartland of Darkness" finally arrives on home video for the very first time and is packed with bonus features that spotlight the original creators and document the film's long history and final completion. On Blu-ray from Visual Vengeance ...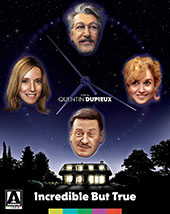 Quirky, deadpan humor, an absurdist eye for French social etiquette and a keen sense of the folly of existence are among the hallmarks of the oddball comedies of director Quentin Dupieux ("Rubber," "Deerskin"), and
"Incredible But True"
(2022 - France) is no different. Alain (Alain Chabat) and Marie (Léa Drucker) are a middle-aged bourgeois couple who move to their new house in a quiet suburb. A key feature of their new abode that the estate agent points out to them is a mysterious tunnel in the basement. Little do they realize that it will turn their lives upside down. "Incredible But True" is an inventive and nimble tale that perfectly showcases the singular and eccentric vision that has made Dupieux the most exciting director working in France today. On Blu-ray Arrow Video/MVD Entertainmen.
Read more here
...
"Aqua Teen Hunger Force: Plantasm"
(2022) features everyone's favorite rascals, the Aqua Teens: the brainy Frylock, the mouthy Master Shake, the loveable Meatwad, and everyone's favorite perverted neighbor, Carl, as they split up then get back together to fight everyone's favorite corporate overlord, Amazin, led by everyone's favorite tech mogul, Neil and his trusty scientist sidekick, Elmer. On Blu-ray, 4K Ultra HD/Blu-ray Combo, from Warner.
ON THE INDIE FRONT:
Inspired by writer, director and star James Morosini's true life experience, the comedy
"I Love My Dad"
(2022) follows Chuck (Patton Oswalt), a hopelessly estranged father who desperately wants to reconnect with his troubled son, Franklin (James Morosini). Blocked on social media and concerned for his son's life, Chuck impersonates a waitress online and starts checking in with Franklin. But, things begin to spiral when Franklin falls for this imaginary girl and wants nothing more than to meet her in person, as Chuck has inadvertently catfished his own son. On DVD, Blu-ray,from Magnolia Home Entertainment.
Read more here.
Check out other new DVD/Blu-ray releases, streaming films, and information and reviews at OnVideo.
Comments