By Chris Kavan - 10/11/18 at 06:40 AM CT
It was an opening October weekend for the record books last week when Venom and A Star is Born packed a whallop of a 1-2 punch and started the month off in record fashion. If that isn't enough excitment, this week brings us Ryan Gosling in a much-talked about biopic, a sequel to a family-friendly Halloween worthy film and what looks to be a Tarantino-esque thriller about a group of ne'er-do-wells holed up in a Lake Tahoe hotel. All told, it will be interesting to see if the new films can play nice with the current films and which one will ultimately come out on top.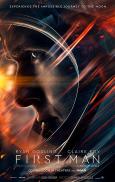 FIRST MAN
Last week the Oscar season officially got off to a strong start with A Star is Born garnering some great reviews and audience response. This week, Ryan Gosling joins in on the action with the equally impressive First Man. Gosling plays astronaut Neil Armstrong (the first man - get it - to walk on the moon) and follows his life leading up to the mission, and how it affected both his personal and professional life. By all accounts, Gosling is a lock for at least a nomination for best actor and it could get many more nominations. Director Damien Chazelle is no stranger Oscar drama (La La Land anyone?) but I think he could very well be looking at another mountain of nominations. The film crackles with drama, tense moments and hefty emotion. The rest of the cast looks excellent as well - Claire Foy as Janet Armstrong, Pablo Schreiber as Jim Lovell, Corey Stoll as Buzz Aldrin, Ethan Embry as Pete Conrad, Ciarán Hinds as Robert Gilruth and Jason Clarke as Edward Higgins White lead the charge with Christopher Abbott, Kyle Chandler, Shea Whigham, Patrick Fugit and Lukas Haas all on board. It will be interesting to see if the dramatic true story can topple a super villain, but I think it definitely has a shot.
GOOSEBUMPS 2: HAUNTED HALLOWEEN
Despite the fact most of the original cast is not returning for this sequel (Jack Black at least decided to make an appearance), the reason it's probably going to do just fine is the timing. It's almost Halloween, which means the younger set need something scary-ish to watch without being too intense. Yes, Venom is rated PG-13, but Goosebumps 2 is a true family film with a much nicer PG rating. The plot is pretty much the same as the first film, friends Sonny Quinn (It actor Jeremy Ray Taylor) and Sam Carter (Caleel Harris) come across a locked R.L. Stine book, open it, and unleash the author's many creations loose on their town, including the malevolent Slappy who leads the charge. They must work together in order to get the creatures and monsters back into the book before their town is completely destroyed. The cast is rounded out by the likes of Wendi McLendon-Covey, Madison Iseman, Chris Parnell, Ken Jeong and Shari Headley. Since the film is pretty much a retread of the first, my guess is it should do well enough with families to perhaps move up to near the top of the charts for the weekend. Whether it warrant a third entry, I can't say - but if they can track down both the old and new cast (or just go with a whole new one again) and maybe shake things up a bit - well, I'm always happy to see Jack Black.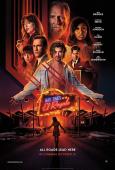 BAD TIMES AT THE EL ROYALE
The best thing I can say about Bad Times is that it looks like a Tarantino movie - just lacking Tarantiono himself. I've been a fan of the director for a long time and I'm guessing that Drew Goddard is as well. The director has crafted a 70s-set mystery/thriller, filled with a lot of interesting, crazy characters, holed them up together and looks like all hell breaks loose in the process. And what a set of characters we have - veteran actors like Jeff Bridges and Jon Hamm face off against current red-hot Chris Hemsworth and Dakota Johnson with plenty of other names, Nick Offerman, Cailee Spaeny, Cynthia Erivo and Katharine Isabelle helping things along. The trailers make this look just all kinds of wild, crazy and fun - and I'm all for it. As long as it makes some sense in the long run I think this could be an instant cult classic. Not sure if general audiences are going to embrace this one, but I can't wait to see how it turns out.
It should be another exciting weekend - perhaps not quite as exciting as how October opened, but it should certainly continue a strong October at the box office. I'll be back on Sunday with the full breakdown.
Comments