New in Theaters May 25: Solo: A Star Wars Story
By Chris Kavan - 05/24/18 at 06:47 AM CT
It's not a superhero this time, but Disney is still holding the cards for the long Memorial Day weekend. The latest Star Wars spinoff, focusing on everyone's favorite rogue, Han Solo is the only new wide release. While Deadpool 2 and Infinity War are sure to continue on their strong paths, Solo should have no problem claiming the weekend crown and extending Disney's winning streak.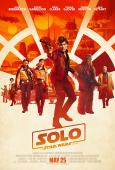 SOLO: A STAR WARS STORY The latest Star Wars film has gone through plenty of drama already. Original directors Phil Lord and Christopher Miller (best known for the LEGO movies) were dropped after their version rubbed Kathleen Kennedy the wrong way. Ron Howard was brought in, some casting changes were announced and it seems like everyone was collectively holding their breath to see if this was going to fail spectacularly. While I myself had my doubts (mainly because I'm not a huge fan of Howard), it seems that Solo has braved the rough waters and come out one top. By all accounts, while the movie is a bit on the safe side, it's a rollicking adventure, a heist film, a western, crime - all rolled into one. And while some were worried about casting Alden Ehrenreich in the Solo role, he has no problem pulling off the brash smuggler. A lot of praise has also gone to Donald Glover for his portrayal of Lando Calrission (including hopes of his own spinoff one day). There are plenty of other players here - Woody Harrelson, Emilia Clarke, Paul Bettany and Thandie Newton just to name a few. From the previews, I'm looking forward to this one but then, unlike so many people it seems, I've been very happy with the latest films, both the new trilogy and spinoff Rogue One. If Solo is any indication, the Force is still very much with the series and it will be interesting to see how it stacks up to the other films.


That's all - no other film dares open up against such a franchise hit and with the extended weekend, Solo will have no problem with taking the top spot. We'll see how the superheroes stack up and I'll be back Monday with the extended results.