New in Theaters December 1: Three Billboards Outside Ebbing, Missouri
By Chris Kavan - 11/30/17 at 06:42 AM CT
Boy, this must be vacation week for Hollywood. First, the ratings board slacked off with barely a nibble and this Friday offers absolutely zero new wide release films. Thus, even though I will talk about Three Billboards, it really got its wide release last weekend (but I missed it and figured I owe one of the best movies of the year a mention). So if it wasn't for my oversight, it would really be a slow week. At least I have something to talk about.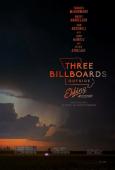 THREE BILLBOARDS OUTSIDE EBBING, MISSOURI One of the best-reviewed movies of the year follows an acerbic woman looking for justice after her daughter is murdered, and, fed up with the slow pace of the local authorities, purchases three billboards in order to berate them and, hopefully, spur them into action. Already an Academy Award winner, Frances McDormand will likely be up for at least a nomination as that mother. Woody Harrelson is on board as chief of police, not at all happy about this situation, while Sam Rockwell has also received much praise as the his second-in-command, a somewhat dim-witted mamma's boy with a penchant for violence. Peter Dinklage has a memorable cameo as well with Caleb Landry Jones, Abbie Cornish, Lucas Hedges, John Hawkes and Samara Weaving helping to round out the cast. The movie doesn't shy away from its R-rating and, much like Fargo, is dark comedy/crime and is a perfect fit for director Martin McDonagh after In Bruges and Seven Psychopaths. The film has a lot of competition right now for accolades - but I have a feeling it will show up on many year-end "best of" lists.


That's all you get, people. This weekend is likely going to play out much like last weekend, as I don't see many films getting switched around, but I'll be back on Sunday with the breakdown.