New in Theaters September 01: Tulip Fever
By Chris Kavan - 08/31/17 at 06:39 AM CT
As we bid goodbye to summer and hello to fall, let us reflect on how Hollywood is reeling. August was way down and it will be the first time in over a decade that the summer movie season will fail to break the $4 billion mark. And, by all accounts, September is going to get off to a rough start. The long, Labor Day weekend will have only one wide release, the historical drama/romance Tulip Fever. This is a film that has jumped around and was scheduled for limited release for a long time before this final adjustment. I hardly think it's going to attract a crowd and have a feeling that this opening weekend is going to be a slog but, have no fear, It (the Stephen King horror film) looks to be on track to scare up a record opening - but we'll have to wait on that.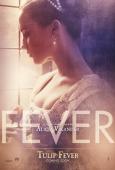 TULIP FEVER The story is set in the 17th century follows an unhappily-married noblewoman (Alicia Vikander) who begins an affair with the artist who is commissioned to paint her portrait (Dane DeHaan) and they ultimately conspire to leave her merchant husband (Christoph Waltz) and go on the run. They plan to supplement their meager income by cashing in on the Tulip bulb mania that is sweeping Amsterdam. Co-stars also include Jack O'Connell, Holliday Grainger, Tom Hollander, Matthew Morrison Zach Galifianakis and Judi Dench. This kind of period romance probably would have worked out just fine - if it had been released in the early 2000s, Now, the whole thing seems played out and, despite a great cast, this is going to land with a thud - no helping matters is how often this film was delayed and rescheduled. The Weinstein Company may have been better off going with their original plan (limited release, VOD) as Tulip Fever isn't likely to crack to the top five and may be lucky to crack the top 10. Last weekend was slow - I have a feeling this weekend is going to be even worse.




While that is the only new film in theaters, Close Encounters of the Third Kind is actually being re-released in more theaters (700 versus the 600 for Tulip Fever) for its 4K 40th Anniversary and has a much better chance to perform well, though it also isn't likley to make too many waver or save the box office from dismal numbers. I'll be back on Sunday with the details.