By Chris Kavan - 04/23/17 at 08:07 PM CT
Despite a big influx of new films across a lot of different genres, only Disneynature's Born in China managed to crack the top five. Two of the new films didn't even make it in to the top 10. The top 12 couldn't even top $100 million (for only the second weekend in 2017) and, overall, the weekend was down a big 40% compared to last year. The top three remained exactly the same as Fate of the Furious is fast closing in on $1 billion on the worldwide market. It's looking like the film is going to have no problem keeping its crown until Guardians of the Galaxy 2 drops in a couple of weeks.

1) THE FATE OF THE FURIOUS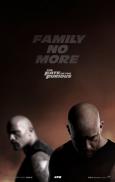 It was no contest for Fate of the Furious, as the sequel had no problem taking first place with a $38.68 million weekend. That represents a 60.1% over its monster opening. That drop is right in line with all six previous Fast and Furious films, which saw a second week drop between the 59%-63% range. Its total now stands at $163.57 million domestic and its international cume of $744.8 million brings its worldwide total to $908.4 million, blowing away Beauty and the Beast ($629.2 million overseas) to easy be the highest-grossing film on the foreign front this year. It will cross the global $1 billion mark sometime before next weekend. It's looking at a domestic total between $220-$240 million and it should be able to top Logan ($223.3 million) for the second-best domestic total of 2017 behind just Beauty and the Beast ($471 million).
2)
THE BOSS BABY

Holding strong in second place with a mere 20.4% drop (the best hold tying Going in Style), The Boss Baby is showing remarkable staying power in its fourth week out, earning $12.75 million and giving the animated film a new total of $137 million. The $125 million film has a $319 million worldwide and should be able to top $160 million domestic before it ends its run. Considering the considerable clout of Beauty and the Beast, this is no small feat and it looks like another fine result for Dreamworks.
3)
BEAUTY AND THE BEAST
Beauty and the Beast also had an impressive hold - in its sixth week not less, dropping just 27.2% and adding another $9.9 million to its total, which now stands at a domestic best $471 million. The film opened in its final foreign market, Japan, where it took the top spot with $12.8 million and a new worldwide total of $1.1 billion. It still remains the best domestic and worldwide film of 2017, though Fate of the Furious may be able to catch up to it and it's unknown just yet how Guardians of the Galaxy Part 2 is going to play out. No matter, Beauty and the Beast is still shaping up to be one of the top films of the year and, along with Star Wars, should bolster Disney's bottom line.
4)
BORN IN CHINA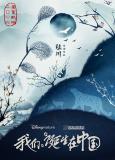 Speaking of Disney, the only new film to crack the top five this weekend was Disneynature's latest film, Born in China. The documentary series debuts a new film around Earth Day each year, and the opening for Born in China, $5.14 million, puts it ahead of the previous two releases Monkey Kingdom ($4.6 million) and Bears ($4.8 million). While this series has never had splashy numbers, they do well enough and Disney already has next year's film (Dolphins) lined up and it looks like the studio is going to stand by for near future anyway. If it plays out like other Disneynature films, Born in China should wind up in the neighborhood of $20 million or so. It earned an "A-" among audiences and played well with families despite the continued competition for that market at the box office.
5)
GOING IN STYLE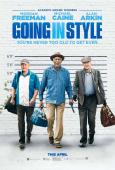 Rounding out the top five, and taking the fifth-place position for the second weekend in a row, Going in Style added $5 million to its $31.76 million total. As said earlier, it tied The Boss Baby for the best hold in the top 12, dipping just 20.4%. It managed to top its $25 million budget - but in order to really become a minor hit for Warner Bros. its foreign total (currently at $19 million) will have to catch up to that total.
Outside the top five: Ugh, let the bloodbath begin. Unforgettable, the Katherine Heigl, Rosario Dawnson thrilled that many had pegged as the weekend's best, could only managed a 7th-place finish with $4.8 million, well below most predictions. Both critics (45% on Rotten Tomatoes) and audiences (a barely-passable "C" average) had issues with the films. Heigl herself still has reputation issues that may have turned away viewers who were on the fence. This one isn't going to stick around long, but it's in good (and by good I mean bad) company.
The romance/drama/war film The Promise came in with a $100 million budget and some strong actors (Oscar Isaac, Christian Bale and Charlotte Le Bon) but it couldn't escape some toxic word-of-mouth. Plus it set up a love triangle amidst genocide. The film earned $4.06 million down in 9th place and isn't likely to wind up on any actor's best-of list and represents another miss for Open Road.
Outside the top 10 we find first the horror, found-footage film Phoenix Forgotten in 11th place with $2 million. Luckily the film only carried a $3 million budget, but it represents another sad horror release from Scott Free Productions following the Ex-Machina clone Morgan. This one is certainly going to be forgotten soon.
Still, it wasn't the lowest-grossing new film, that belongs to Free Fire, a film I thought actually looked pretty good, but apparently action wasn't on the menu as the film, despite a talented cast (Brie Larson, Cillian Murphy, Sharlto Copley and Armie Hammer among them) opened way down in 17th place with just $1.03 million. It also had a frighteningly low (for a wide release) $972-per-theater average. Granted, it only opened to a rather low 1070 theaters, but still, this is a grim result. A24 may have scored a minor hit with The Witch, but this one isn't going to be a shining example for the studio.
Other than that, The Lost City of Z expanded to 614 theaters after its four-theater limited release and jumped 1849% from 28th to 10th place, earning $2.14 million for a new total of about $2.3 million.
Next week brings us the techno-thriller The Circle, the romantic comedy How to Be a Latin Lover and the supernatural meets inner-city drama Sleight. We'll see if any of these stand a better chance against Fate of the Furious than this weekend's limp lineup.
Comments