New in Theaters April 01: God's Not Dead 2, Meet the Blacks
By Chris Kavan - 03/31/16 at 06:45 AM CT
It's fitting that the release date for the new movies is April 1st - because you'll truly have to fool yourself to think either are going to come anywhere close to Batman v Superman: Dawn of Justice. Even if the superhero film takes a big tumble due to withering reviews, I have no doubt it is going to win the weekend yet again. The only new films are a sequel to the worst kind of religious-based film and a Purge parody in the vein of the Scary Movie/Haunted House type franchises. Neither are likely to unseat the superhero film.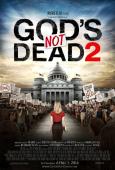 GOD'S NOT DEAD 2 I really do rag on all the films that take a religious angle. Now, I admit, not all of them deserve it, but, man, does God's Not Dead 2 represent the absolute worst pandering to the Christian crowd that you can get. I watched the trailer out of sheer dread and curiosity and it confirmed this is simply going to be a terrible film. The original was a pretty good hit - earning a $9.2 million opening on its way to a $60.7 million total. For film with a mere $2 million budget, it's no wonder a sequel was quickly developed. This time around a teacher (Melissa Joan Hart) finds herself in hot water after answering a religious question in a public school and dare invoking the name of God where any Tom, Dick and Mary Jane could hear it and get the wrong idea. Of course some student is incensed and makes a big deal and soon she finds herself going to court to defend God in schools. Jesse Metcalfe, Ray Wise, Robin Givens, Ernie Hudson and David A.R. White co-star in the film. I doubt this will find the same success as the original, but every time I dismiss these kind of films, they often go on to surprise me. In this case, I really hope I'm right and this is buried but I can't say. It might draw in a large Christian audience - or they may come to their senses and see through the masquerade. Eh, I guess it has as good a chance to succeed as fail, so we'll see what side it winds up on.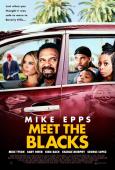 MEET THE BLACKS For the complete opposite of side of the coin, we have Meet the Blacks. When Carl Black (Mike Epps) finds himself coming into some unexpected funds, he takes this advantage to move out of Chicago and into the high live of Beverly Hill. His new wife (Zulay Henao), daughter Allie (Bresha Webb), son Carl Jr. (Alex Henderson) and cousin Cronut (Lil Duval) are all along for the move but little do they realize they're going to arrive in town just before the annual purge when all crime is legal for 12 hours. This is parody horror in much the same way Haunted House made fun of Paranormal Activity (among other horror titles). The film has a few big-name cameo/co-stars including Mike Tyson, Perez Hilton, George Lopez and Paul Mooney. It was only going to open in a limited capacity before being bumped up to a little over 1000 theaters (as compared to the 2300 plus for God's Not Dead 2) so even if it does well, the lack of theaters is most likely going to keep this in the lower end of the top 10 at best. Still, I did quite get a kick out of the Haunted House films so I might give this a shot at some point in time.


That's all folks - I'll be back on Sunday to see how Batman v Superman manged to hold up in its second weekend out and if either of the two newcomers offer any kind of challenge the superhero duo.