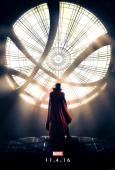 Doctor Strange (2016)
Purple Yellow Red and Blue
3/4 stars
Visuals are the main course here, and they really are something special. Opening up Marvel's catalog to Strange and tows' working magic presents an opportunity for the talented effects teams to conjure something more colorful and wholly other than the usual fare of explosions and massive, as-yet-impossible hardware. If you liked Ant-Man's "subatomic" faux-psychedelic sequence, you will probably like this movie even more.
Cumberbatch gives a solid performance of Strange's slow change of character, and holds the American accent reasonably well throughout. Swinton gives off a sense of coiled dignity. The other big names in the flick are more of character pieces, but that doesn't seem to hold them down at all. As with many of Marvel's productions, Doctor Strange keeps the general tone light with regularly placed jokes (which do stick the landing), a few of which unfortunately undercut the stakes set before our onscreen heroes. Still a very enjoyable, variegated ride.