Comic Con 2014 - Excitement Level +5
By Chris Kavan - 07/30/14 at 04:21 PM CT
Some may say Comic Con has lost some of the spirit it once had - but even if this year might not have delivered enough of what people wanted - the fact is it still delivered plenty of buzz and rightfully so. From superheroes to horror - if you didn't find something to get excited about this year, you're getting too old. While not everything generated the amount of heat people were looking for, here are the announcements and appearances that left me feeling good about next year:

Mad Max: Fury Road - The Wait was Worth It!

The most buzzed-about trailer to come out of Comic Con was hands down the one for Fury Road. This film has been planned from as far back as 2009 and delays, talk of feuding co-stars and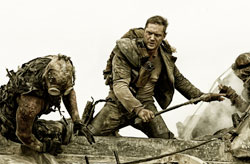 even uncooperative weather has all played a part in making this seem like a film that was going off the rails. Yet if anything, the trailer proves that this will be a film worth waiting for - from the design, to the action to even the story - this looks like a home run. And far from the CGI infested blockbusters that have become the norm, this looks much more realistic - gritty, dirty and just plain looks like it captures that post-apocalyptic wasteland feel perfectly. This is going to be one hell of a ride - damn all the bad press.


Age of Ultron Will Be Marvel-ous

Another great panel from the find folks in the Marvel Cinematic Universe. If The Avengers taught me anything it was that having a big ensemble cast can lead to great things. I was sure things were going to spread too thin and nothing would be accomplished - it only went on to become one of the highest-grossing films of all time and I loved every minute of it. If the early look at Age of Ultron tells me anything, it's that this time around, things are going to get heavy for our group of super friends - and this could be even better than the original. I still think the inclusion of Scarlet Witch and Quicksilver is kind of strange - but I have no doubt things will work themselves out. Also, we're getting a Guardians of the Galaxy 2 - so Marvel is betting on big returns for their gang of space misfits. We also got an update on the ever-shifting Ant-Man (I'm still bummed Edgar Wright is out - but we'll see how it ultimately turns out). All in all - Marvel should be in good shape for the near (and long-term) future.


Wonder Woman Gets a Badass Update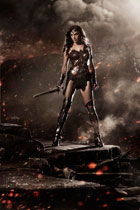 Although the Batman v Superman: Dawn of Justice information was a bit on the light side - at least we got a look at Gal Gadot as she takes on the most iconic female superhero. There has been a lot of work into bringing Wonder Woman back into the fold. A one-time TV show was shelved and a movie has been long talked about - but fear that an overwhelming male base audience wouldn't support a female-centric superhero film has kept it off the big screen. Maybe the start of a Justice League franchise will finally deliver us the Wonder Woman we deserve. If nothing else, Gadot certainly looks the part. Now if only they could have driven up some more excitement at the panel.


Guillermo del Toro Is a One-Man Army of Awesomeness

I'm all about spreading the love for del Toro - I've been enjoying the hell out of The Strain and I've been a fan of the director since The Devil's Backbone - but man, does he look like he's going to deliver the goods. From the animated Book of Live (which he helped produce) the upcoming horror film Crimson Peak (a much-needed infusion of originality in the somewhat lackluster horror genre of late). Plus, the Book of Life Panel brought us Biz Markie and his tonally-deficient hit "Just a Friend" - and that alone is worth the price of admission. The man has got a lot on his plate, from Pacific Rim 2 to a possible Hellboy 3 in the works (not to mention a long quest to adapt H.P. Lovecraft's Mountains of Madness), one thing is for certain, del Toro is going to be a hot ticket these next few years.


An Elusive Nolan Appears!

Christopher Nolan skipped Comic Con for the Dark Knight and Inception - but he finally made a long-awaited appearance for the upcoming Interstellar. The film deals with worm holes, space travel, climate change and has the human element to back things up. The movie is still a bit of a mystery, however (just like Nolan likes it) but one thing is for certain - if you thought Gravity looked good on the big screen, Interstellar looks even better. Plus, this was also somehow the first time Matthew McConaughey was at Comic Con - so the perpetually laid-back actor got some big cheers. This is one film I am truly looking forward to.


Tarantino's Hateful Eight Is a Go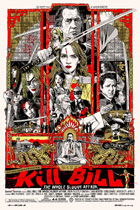 After a leaked script caused Quentin Tarantino to scrap plans for a western - he has done a complete 180 and decided that the story is just too good to let go. And that's a good thing for all of us - because if Django Unchained was a teaser - a full blown Tarantino western is going to be amazing. Some people aren't fans of Tarantino's style, but I am - and if the man wants to do a western, I will support him. But something that made me just as excited was the long-awaited announcement of Kill Bill: The Whole Bloody Affair - the two-part epic combined into one, with even more added in (including a 30-minute anime scene). Said to be released in limited form next year - I just hope for a Blu-Ray version with everything - I have waited a long time and I so want to be able to have it.


Giant Monsters Everywhere!

Finally, hopefully you like the direction the new Godzilla movie has taken, because we're going to be seeing a lot more. Godzilla 2 (once again directed by Gareth Edwards) will not only feature the ginormous lizard - but he will be squaring off with three of his biggest rivals: Mothra, Rodan and King Ghidorah. I, for one, was a fan of this most recent remake (not without its flaws, but good overall) and hopefully this next one will be bigger and better. But aside from that, we also found out the King Kong is going to be making a return to Skull Island - from the same team behind Godzilla no less. Early indications have Joe Cornish (Attack the Block) as the front-runner to direct the film, which will focus on King Kong before he was taken into captivity. Maybe an origin story or maybe something else - but it should be interesting.

Those are my impressions of this year's Comic Con offerings. There was plenty more to go around - but overall, things are looking very exciting for next year (and beyond).