2/4

3.5/4

3.5/4

4/4

2.5/4

2/4

2/4

1.5/4

1.5/4

4/4

2/4

2/4

2.5/4

3/4

0.5/4

1/4

3.5/4

3.5/4

4/4

2/4

3/4

3/4

4/4

3/4

4/4

Next 25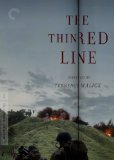 The Thin Red Line
A war movie that cares about its casualties.
3.5/4 stars
War is not my favorite genre, for a number of reasons. Straight up war movies are usually constructed the same way, have the same soldiering characters and the story never changes. It's just… war. Plus, it's not pretty to look at.

But finally, with The Thin Red Line, we have a war movie that actually contemplates war and doesn't just show it to you. The Thin Red Line is a remarkable film that thinks about war, describes war and has its own take on war, even fictionalizing part of it to bring its point across.

I knew from the moment it started that I was going to dig it. The first ten minutes of this film are simply stunning. And so it eases into the rest of the movie with a great handle on its substance and what it is trying to say. I loved every second of it, from its excellent direction and photography to its characters and philosophical monologues.
Terrence Malick is known to be a controversial director and not easy to work with (I've heard mixed things), and has also been known to remove entire actors from his movies during editing, but damn. This guy can deliver a mesmerizing movie.
His directorial style is like a clash of Stanley Kubrick and Steven Spielberg. It has all the triumph and it has all the depth.
Every actor is remarkable in this movie, especially Nick Nolte and Jim Caviezel.
They delivered performances that practically contradicted each other.
Caviezel's character was calm and peace-loving, Nolte's character was hotheaded and stubborn.

What I took away from the movie the most was the way both opposing sides were portrayed. There is no good and bad guy. Finally, a war movie can clearly bring across the message, that in war there is no winner or loser. Everyone is a loser if they succumb to such measures. And this movie follows that oath. It shows us tormented, crying and also some sadistic American and Japanese soldiers, and how they change over time as they continue through the island to meet their fate.
I felt that the last half hour of this movie was toning down. The tension was letting loose, and that let me know what was going to happen a little. It always had me interested, but it felt like they were trying to pull another ending into the story to get their final point across. At least the very ending was nothing less than phenomenal.

There were actual moments in this film where I thought: wait a second, this isn't how soldiers usually talk.
The dialogue and conversations between Sean Penn and Jim Caviezel were something different. They were an own little message in themselves. It's very philosophical and many scenes are intercut by unreliable narration of dreams, hope, life, death and a mysterious togetherness of 'one'.

Terrence Malick understood what war should be portrayed like in a movie.
I can't say this is an anti-war movie, it just has its own take on how it affects humans and takes away their humanity. How it can change someone for worse.
Malick's excellent script and stunning direction, and the phenomenal cast all contributed to make this cinematic experience something different; something more.

And the vision came to light.