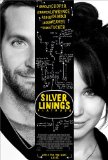 Silver Linings Playbook
Holy Hell, Bradley Cooper Was Great
4/4 stars
What an awesome surprise. A very serious movie about mental illness and coping with loss disguised as romantic comedy. Great direction, awesome casting, incredible performances by Robert Deniro, Jennifer Lawrence and even Bradley Cooper (that was the biggest surprise) and a strong soundtrack/score combine to create my favorite movie of 2012. ...