3.5/4

N/A

1.5/4

3.5/4

2/4

2/4

4/4

2.5/4

2/4

3.5/4

3.5/4

3/4

3.5/4

2.5/4

3/4

1/4

4/4

4/4

3.5/4

4/4

3.5/4

4/4

3/4

4/4

3/4

Next 25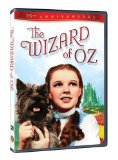 Wizard of Oz, The (1939)
The Wizard of Oz review
4/4 stars
People watch movies to be entertained, pick up an important subliminal message, timeless songs, watch wonderful characters, see an enticing story, just enjoy the way it was crafted or all of the aforementioned. For it's time, this picture was all of the above, even upon revisiting again after several years as an adult. This critic saw this before High-school so certain scenes were memorable. Dorothy Gale and her dog Toto suddenly wakes-up after enduring a cyclone and enter a different place far from Kansas. In the land of Oz, she encounters Glinda the Good, the Munchkins, Scarecrow, Tin man, and the Cowardly Lion. The Evil Witch of the West have plans of getting the magical Ruby Slippers from Dorothy.

Despite its flaws (painted background, the tail of the Lion moved by a visible wire, cartoonish effects, etc.), the eternal story, provocative screenplay, solid performances, lush sets and believable visual effects outweigh it. The movie may look colorful and cheery when looked at but underneath the dialogues from: Dorothy - "Auntie Em was so good to me and I never appreciated it." The Lion - "My life is has been simply unbearable." and Witch - "Oh...what a world...what a world!" it obviously elicits a dark negative connotation on our daily lives. Still it was mixed with positivity with lines: "There's no place like home." from Dorothy, "All in good time." says the Witch, "...a heart is not judged by how much you love, but by how much you are loved by others." "They have one thing you haven't got! A diploma!" and "And their hearts are no bigger than yours." from the Wizard. With this, it exemplifies underlying themes of having an education, taking risks, evil around, friendship, appreciation of things in life and never forgetting your roots.

This is one of the reasons to watch a film, you get colorful characters, a fantasy musical that can be viewed with the family (this reviewers' sleepy one year old sat thru it from beginning to end) and still pick on something new to learn from. Educational, spellbinding and timeless. Sometimes a Best Picture awardee doesn't have sufficient impact on viewers. Oftentimes, the ones that influence and make a huge impact are the ones unrecognized by award bodies, but how the people react to it. This specific critic never fails to laugh when Bert Lahr's performance as the lion quips a cowardly statement/gesture, hum with familiar tunes, amazed at Toto's skills/intelligence, appreciative of the work done for the costumes/settings and reflective of the metaphorical significances of certain lines. That itself is suffice to make The Wizard of Oz one of the truly great films created for its genre.