3.5/4

N/A

1.5/4

3.5/4

2/4

2/4

4/4

2.5/4

2/4

3.5/4

3.5/4

3/4

3.5/4

2.5/4

3/4

1/4

4/4

4/4

3.5/4

4/4

3.5/4

4/4

3/4

4/4

3/4

Next 25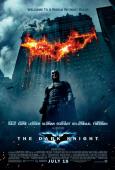 The Dark Knight
The Dark Knight review
4/4 stars
In most cases people feel that if a superhero flick comes out, it automatically makes it a bad movie. Sometimes there is an exception to this untenable discernment. From the beginning to end, the cinematography (beautiful overhead building camera shots from the beginning), script, plot, method of conveying the story, action and acting have been unblemished. You felt the realism of the story and the impact of the antagonists. Clearly the abilities of Heath Ledger as the Joker have been visually astonishing. His sinister laugh, detailed gestures and timely humor injected has been nothing short of amazing. Christian Bale played it well as Millionaire playboy Bruce Wayne and masked vigilante Batman. The only minor blemish I noticed on the film was some of his grumbling lines. Aaron Eckhart's powerful performance as Two Face/Harvey Dent is worth noticing.

The film succeeds in representing certain messages and symbolisms that we can learn from. From the mafia/corrupt cops (gaining power by using malevolent means), Brian the fake batman (idolatry and aspiration), Gordon (incorruptible, social responsibility and loyalty), Two Face (whose belief has changed after Rachel's death, taking chance on a coin instead of personal will), Joker (betrayal, tempting humanity, black mail, poor upbringing, burning money to make a point) and Batman (sacrifice, accepting the blame making Dent the hero for the betterment of Gotham/ethical decision making for the greater good), all of these within the dark and refined picture. Even the dialogues are worth revisiting – Bruce Wayne: "Yeah makes me learn from my mistakes." Alfred Pennyworth: "Well, you ought to be pretty knowledgeable by now, then." Joker: "Why so serious?" "It's about sending a message. Everything burns!" Batman: "This city just showed you that it's full of people ready to believe in good." Christopher Nolan and his crew really fine tuned the franchise.

Its awards cannot even measure its greatness. Numerous nominations/wins from organizations in terms of cinematography, editing, costume, art direction, sound effects, visual effects, music, stunts and performances. Heath Ledger alone has won 35 awards. The Dark Knight won 92 awards out of 150 nominations internationally. It also grossed more than a billion dollars worldwide in February of 2009. This is no ordinary superhero film; this is an extraordinary film that is enjoyed globally with universal themes. The movie can be enjoyed thru repeat viewings while we enjoy the special features on the DVD to make the experience unforgettable.