1.5/4

1/4

2/4

3/4

3.5/4

3/4

3/4

1.5/4

0.5/4

3/4

1.5/4

1/4

2/4

1/4

1/4

0.5/4

2.5/4

3/4

2.5/4

1/4

1.5/4

2.5/4

4/4

3.5/4

1/4

Next 25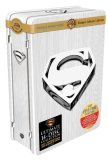 Superman
A Total Failure as an Origins Flick
1/4 stars
With all the bad superhero movies of recent years, it's good to know they could still totally screw things up back in the good ole days. Despite a cast that will always remain the most quintessentially Supermanish to me -- no one has played Kent better than Reeves -- this flick sucks. I thought Supergirl was bad when I rewatched it as an adult. Now I see it's a step up.

The script struggles. Between trying to establish the camp of the Superman serial, explain his origins, and introduce the various roles CK's associates will play, Superman 1 fails to have anything like plot or character. Instead, we get a lame interior monologue from Lois Lane when CK takes her for a romantic fly around Metropolis.

Skip Superman I and go directly to II -- you already know who everyone is anyway. And if you want some Origins, that's why the comic gods made Smallville.