2/4

3.5/4

3/4

3/4

3/4

2.5/4

3/4

2.5/4

2.5/4

2/4

2.5/4

2.5/4

3/4

3/4

3/4

3/4

2/4

3.5/4

3.5/4

3.5/4

3/4

3.5/4

3.5/4

4/4

3.5/4

Next 25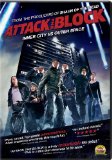 Attack the Block
Not an alien invasion actually.
2.5/4 stars
A group of silly teenagers tripping out at night discover an extraordinary creature which comes down from above. Only later that night they realize that several more of that creature's kind will come down on their block.

***

What kept me watching this movie was that the alien "invasion" remained a mystery until the group of teenagers figured it out. The action and thrill are sure to be enjoyed by many. But it is really the interesting story that holds the audience.

If you'll watch this movie, make sure you will see it from start to finish. It would appear trash if you only see the early parts.