1/4

3/4

3/4

3/4

4/4

3.5/4

3/4

3/4

3/4

3/4

3.5/4

3/4

3/4

3/4

3/4

4/4

3/4

2.5/4

3/4

3/4

1/4

4/4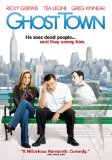 Ghost Town (2008)
Ghost Town, a Mr. E Movie Review
3/4 stars
Ghost Town, a Mr. E Movie Review

(Run time: 102 min. - Directed by: David Koepp - Starring: Ricky Gervais, Greg Kinnear, Tea Leoni)

Ghost Town, starring Ricky Gervais is a comedic love story mixed with a little of the after life. Ricky Gervais plays a great character who does as all good characters do and evolves perfectly throughout this movie into someone better. And, it doesn't hurt that his cool British accent is so thick and that his English-style wise cracks are as funny as hell.

OK, After a near death experience an uptight, jerk of a dentist named Bertram Pincus, Ricky Gervais, is able to see dead people. One of these dead people is Frank, played by Greg Kinnear, who now wants Bertram to help him to get rid of the man who is courting his widow, who's played by Tea Leoni. Along the way Bertram begins to change his ways and starts to have feeling for the widow. But, after a failed attempt to win her over he realizes he has to really start to think about others if he's going to be truely happy and so he does.

I think this movie was perfectly paced. It started out really cool and got you right into what was going to happen. In addition the main characters where all likable and their motives were all believable. I think Greg Kinnear and Tea Leoni both acted well both playing roles that seemed real familiar to both of them. But, Ricky Gervais, most known for his stand up shows and his appearances on TV's "The Office", did a really excellent job! I think we'll see more of him soon.

I would reccomend this comedy to all ages even though the older crowd will probably get a lot more out of it. There's nothing dirty or morbid about this movie, even though it deals with death in a light way. Ghost Town is just a good clean movie with a lesson. Check it out on DVD.