3/4

3.5/4

2.5/4

2.5/4

3.5/4

3/4

2.5/4

3/4

2/4

2.5/4

3.5/4

3/4

2/4

3/4

2/4

2.5/4

2/4

3/4

3/4

3.5/4

3/4

2/4

2/4

3/4

3.5/4

Next 25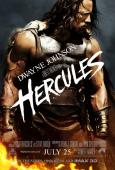 Hercules (2014)
Hercules Flexes More Than Muscles
3/4 stars
After hearing just how much Dwayne Johnson went though to portray the half-god/half-mortal Hercules, I was interested to see if the results would be as impressive as the regimen. I was expecting a bunch of mindless action, some decent special effects and not much else. But, somewhere along the way, Brett Ratner (mostly known for ruining X-Men and the Rush Hour films) managed to give us a compelling story and even drawing up some deeper characters than I was expecting. All in all - for what I was expecting to just be another run-of-the-mill blockbuster, it gave me a lot more than I thought it would.

We start with Iolaus (in a sticky situation) telling some of the many tales of Hercules' mythological labors - the Lernaean Hydra, the Erymanthian Boar and the Nemean Lion - making each more spectacular than the last. You see, Iolaus is the nephew of Hercules and is about to come to an uncomfortable end (literally) - but Hercules isn't far behind and shows up just in the nick of time. That's when reality comes into play - despite being depicted as a one-man army, Son of Zeus and all - he has help. The somewhat anamalistic Tydeus (Aksel Hennie) is his warrior companion, the Amazon Atalanta (Ingrid Bolsø Berdal) is the master of the bow, Autolycus (Rufus Sewell) is a whiz at knife throwing while Amphiaraus (Ian McShane) is a prophet (who adheres to the saying "Walk softy and carry a big stick). You see this dream team is actually a mercenary company - and they always get the job done. Hercules is hoping to save up his money to live a quiet life - pretty much away from everyone else. He has some demons in his past he is trying to escape - though Amphiaraus thinks his true problem is is unfinished labor (capturing Hades three-headed guardian, Cerberus).

Hercules legend precedes him and it isn't long before he is called upon the King of Thrace, Lord Cotys (John Hurt) to help put down a rebellion that is laying waste the farms and villages in his lands. An army said to be led by Centaurs and lightning-spewing magic users has the Thracians fearing for their lives - and though Hercules is but one man, he can train the people to fight for themselves.

The film does a great job of presenting Hercules as something beyond a bundle of muscles (though Johnson has an impressive amount here) - granted, he can knock a man back 20 feet, swing his club like a baseball bat and send opponents flying - Johnson gives some depth as a man tormented. Tormented because he thinks he committed a terrible act and, as much as he wants to run away from it - cannot escape its grasp. None of the other characters are as well developed, though each are given something - Iolaus wants to fight rather than be the storyteller, Amphiaraus is given glimpses of the future but what he really wants to do is confront his own death, even the silent, vicious Tydeus is provided a devastating back story.

But the real twist comes as the real intentions about his latest mission are made clear. Granted, it's probably a twist you can see coming, but it is still a welcome one that finally gives Hercules a chance to become the hero is has always been depicted as. It's a showcase for much more than Johnson's physique. The action is much appreciated but it is the surprising depth of story and characters that elevates is above a typical summer blockbuster/. I wasn't expecting all that much out of it, but Hercules delivered the goods and made my day.