2.5/4

2/4

3/4

3/4

2.5/4

2/4

2.5/4

3/4

2.5/4

2.5/4

3.5/4

3/4

2/4

3/4

3/4

1.5/4

1.5/4

3/4

2/4

3/4

2.5/4

2.5/4

3/4

3/4

2/4

Next 25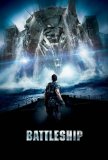 Battleship
Battleship Barely Manages to Stay Afloat
2.5/4 stars
Ever since Battleship was announced, I had major reservations about it. The idea of basing an entire movie off a board game seems ludicrous (but then again, so does basing an entire movie off a pirate ride at an amusement park - and that has played out pretty good so far). But Peter Berg wasn't backing down - action, action and throw in some aliens - and more action - a typical big-budget summer flick, right?

Yet as much as I was looking forward to thrashing this film - in the end, it really wasn't as bad as I was expecting. I mean, from the trailers it looked like an extension of Transformers - and, that's pretty much how it ended up feeling. Lots of explosions and fighting and aliens doing bad things - just replace them with transforming vehicles, and you would never tell the difference.

The film actually opened surprisingly well. Taylor Kitsch is Alex Hopper, a do-nothing younger brother to straight Navy man Stone Hopper (Alexander Skarsgård). Looking and acting like a younger version of The Dude, his birthday wish comes true when the dive bar he's hanging out in is graced by the presence of one Samantha Shane (Brooklyn Decker in a nod to the same role Megan Fox occupied in Transformers - eye candy). After the bartender refuses to make a delicious chicken burrito for the lady, Hopper does what any straight, horny male would do - runs to the convenience store, break in, fall down out of the cieling twice, steal a single burrito, be chased and tazed by the cops and hand the delicious morsel to the woman before being tossed in prison. Best part of the entire movie in my opinion because it told you all you needed to know about the characters and was highly entertaining.

Fast forward a few years and our boy Hopper is a Navy man as well - following the ultimatum given by his bother. Yet he's still a hot-head as we see after a pleasant soccer match with Japan turns personal. You see, a few nations gather in Hawaii to take part in a huge joint naval operation known as RIMPAC - Hawaii also happens to be the place where a huge satellite array has been beaming an intergalactic message for quite a spell. Hopper is about to be drummed out of the Navy for his temper and the fact he doesn't know how to utilize his talent. But not until RIMPAC is over.

Wouldn't you know it - the exercises are interrupted by a flying armada from space (which takes out a good chunk of Hong Kong) before the vast majority lands in the Pacific. Three ships go out to meet them - both Hopper brothers and a Japanese destroyer commanded by the man Alex really doesn't like (because of one soccer match). Guess who winds up having to take command and then become a real man and give up that command to a rival? No - don't even thing about it.

Then it's all out action - the aliens attack - but only when they are attacked first. In a nod to the Battleship game, the projectiles the aliens fire look like the pegs used in the game (before exploding and dealing massive damage). They take out a few areas around Hawaii and then land some forces in an attempt to gain control of the satellites and call in reinforcements. While Kitsch is battling it out at sea, Decker is on land in the right area to hopefully prevent that from happening.

As a completely pro-military film, Battleship not only manages to honor veterans, but disabled vets as well. Along with Decker is a man who lost both legs who probably plays the most badass character in the entire film. A major plot point also sees Hopper take control of the U.S.S. Missouri at Pearl Harbor, along with a group of salty veterans who help get the old girl up and running again. Some may see this as pure propaganda, but as my dad himself is a veteran who served on an aircraft carrier (U.S.S. Oriskany) as part of the Airforce, I don't see the problem with supporting an oft-overlooked part of our military.

That being said, the action and humor can only propel the film so far. It doesn't help that an untested actress like Rihanna is given a pretty major part. It's not that she's necessarily bad, just out-of-place. For a movie hell-bent on blowing a lot of things up, the characters are given at least some meat and aren't completely one-dimensional. I feel bad for Kitsch having to deal with the fallout from this film and John Carter. He isn't a bad actor, just trapped in mediocre movies. When it boils down to it, Battleship is just too generic - generic aliens, generic story, and even pretty generic effects. It is a typical summer movie, and therin lies the problem. When a film like The Avengers comes along and blows you away, Battleship seems like a sad afterthought. Also, I'm still upset no one uttered the line "You sank my battleship."