3/4

3.5/4

2.5/4

2.5/4

3.5/4

3/4

2.5/4

3/4

2/4

2.5/4

3.5/4

3/4

2/4

3/4

2/4

2.5/4

2/4

3/4

3/4

3.5/4

3/4

2/4

2/4

3/4

3.5/4

Next 25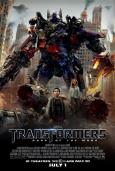 Transformers: Dark of the Moon
Third Time More Charming But Not Without Fault
3/4 stars
I have to say after the disappointing sequel, I didn't have much hope in this third entry. I have to admit, while Michael Bay is still, well, Michael Bay he managed to fix a lot of what I felt was wrong with the second entry and improve this third film.

The film has a strong opening - I love the old moon landing footage with new movie footage as the whole setup for the film is that during the Cybertron war a ship escaped and crashed on the moon with the ultimate result that the entire U.S. / Russia space race was actually a cover to explore the wreckage.

Flash to the present when the Autobots are now a secret weapon against terrorists world wide while our hero, Sam Witwicky is now just like the majority of college grads: looking for a job and mooching off his girlfriend. Megan Fox may be gone, but Rosie Huntington-Whiteley makes a pretty fine replacement, and dare I say, even a better actress. Some may feel Shia LaBeouf is a weak link in these films, but I had fun watching him in various interviews. John Malkovich has what amounts to an extended cameo - as does Kim Jeong, but I found the scenes in the corporate workplace to be a nice break from the action.

Speaking of action, there's no shortage of it in this film. After the Autobots discover that they have been deceived about the ship on the moon, Optimus Prime is is bit upset. He leads a team to the moon to recover some artifacts along with Sentinel Prime, the former leader of the Autobots. But our intrepid hero Witwicky discovers that this is all part of a Decipticon plot and with the help of former agent Simmons (once again, John Turturro) and his man-servant (a scene-stealing Alan Tudyk, who needed more screen time) he works to unravel the mystery against the wishes of the stone-cold Secretary of Defense (Frances McDormand). He also has to deal with the creep macking on his girl (a well-cast Patrick Dempsey) who happens to be handsome and rich.

When Sentinel Prime reveals his true intentions, that's actually when the movie begins to fall apart. I know Bay knows action, but even with the awesome Soundwave worm thing eating everything, an abundance of skydiving wing-suits and a covert ground rescue mission - it felt like he was trying to pack as much action as possible in the final part of the movie. It was exhausting and felt like it took way too long to resolve. When it did, the ending was quite abrupt and if there is a 4th film, one has to wonder who is left to fight.

All in all, if Bay had dialed down the action just a bit and provided a better coda to the film, I might have rated it even higher. As it stands, I was still happy with the film. I managed to improve on the second one and (for now) give the series a decent sendoff.