4/4

4/4

4/4

0.5/4

4/4

1/4

3.5/4

4/4

0.5/4

0.5/4

3/4

4/4

3.5/4

4/4

1.5/4

0.5/4

4/4

2.5/4

3.5/4

2/4

1/4

3/4

3/4

0.5/4

3.5/4

Next 24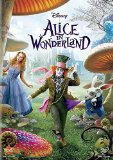 Alice in Wonderland (2010)
Tim Burton's Best Remake...er..Reboot..er....thing
3/4 stars
Anyone who knows me will tell you that I'm a huge fan of Tim Burton. Edward Scissorhands is awesome, I still consider Batman one of my favourite movies of all time, Ed Wood is absolutely fantastic, and The Nightmare Before Christmas is a timeless classic, in my opinion. However, I always thought he was better at doing origional works. I personally think he should stop doing remakes all together and just stick to his origional stuff. Planet of the Apes was OK, but not nearly as good as the origional sci-fi classic. Charlie and the Chocolate Factory is good overall, but has some real negative aspects (such as Freddie Highmore proving, once again, that he can't act), and like Burton's Planet of the Apes remake, it just wasn't as good as the origional. In fact, the only only movies Tim Burtton has done that weren't origional works that Iactually loved were Batman (an adaptation of the comics) and Ed Wood (a bio-flick), and neither of those were remakes. So naturally, I had mixed feelings when I heard Burton was doing a remake of Alice In Wonderland. The man is brilliant, but he just doesn't have a great track record with remakes (although he's better at them than that ass-hat Micheal Bay). However, the movie had some good things going for it. For one, I was excited when I heard Johnny Depp was cast as the Mad Hatter, since he and Tim Burton do great when they collaberate, and that Depp almost always guarentees a good performance (except for Charlie and the Chocolate Factory, his only annoying performance to date). So I went to see it on opening weekend, thinking that it was going to be average, like Burton's previouse remakes. However, I left the theatre pleasently surprised. Alice And Wonderland is not only Burton's best remake, but his best film since Sweeney Todd.

DIRECTION- Tim Burton was the perfect choice to direct Alice in Wonderland, since the man is fantastic working with odd and surreal visuals, and since Alice in Wonderland is practically a drug trip, I can think of no one better suited to direct. Burton fans will know what to expect- strange and often drug-like visuals, colorful environments, and really weird-lookin' creatures. If Tim Burton DOESN'T do acid, I'd be frightened to find out what he'd come up with if he did.

STORY- The story was actually pretty good. I mean, Alice in Wonderland isn't really supposed to have a story, but the one Burton comes up with is actually quite fitting. However, as Doug Walker (aka the Nostalgia Critic) said in his Bum Review of the film, it feels more like the plot for Chronicles of Narnia: Prince Caspian. Thank God it turned out better than THAT peice-of-shit movie. The one thing I don't get is why Burton didn't call it "Alice Through The Looking Glass" (the second Alice book) since it's really more of a film adaptation of that book than the first. Yeah, it really isn't a "remake" per-sey, but more of a stand-alone sequel.

ACTING- The acting is fantastic. Newcomer Mia Wasikowska is absolutely wonderful as Alice, it's really hard to believe this is her first film. In fact, I'd go as far to say that she's the best actress to portray Alice on screen. She has great chemistry with Depp's Mad Hatter, and she is a far better actress than that talentless twat Miley Cyrus. Johnny Depp is also fantastic, and completely makes up for his annoying portrayal of Willy Wonka from a couple years ago. He is actually the best Mad Hatter ever, in my opinion. Though let it be noted that this version is a little different than the version you all know, though in this case, that's a good thing. Helen Bonham Carter is a great Red Queen, and proves once again that she is one of the top actresses working today, and that she's always good when collaberating with Tim Burton (she gave the best performance in Charlie and the Chocolate Factory). Anne Hathaway is also very good as the White Queen, again proving that she gives a good performance no matter what film she's in (example: Rachel Getting Married was an awful film, but she gave a fantastic performance in it). And of course we have the great Alan Rickman lending his voice talents as the catepillar-who's-name-I've-momentrily-forgotten. Christ, that dude has the coolest voice.

WRITING- I'm not quite sure who wrote the script, but whoever did should write more movies. The dialogue was great, never corny or cliche'd, and acutally pretty witty and clever. He/she/wolf also characterized the chracters very well, keeping them faithful to their origional personas, but also tweeking things just a bit to make them stand out more. Lewis Caroll would be proud, I think. Then again, he would probabely be too drug-addled to know who he is, much less how his characters are protrayed, but still. It's the thought that counts, is all I'm saying.

FINAL THOUGHTS- Overall, Alice in Wonderland was awesome, and I recomend it to anyone who is a fan of Tim Burton, the Lewis Caroll books, or the Disney animated film. I may get flamed for this, but I actually thought this was better than the animated movie, but that's just me.