4/4

4/4

4/4

0.5/4

4/4

1/4

3.5/4

4/4

0.5/4

0.5/4

3/4

4/4

3.5/4

4/4

1.5/4

0.5/4

4/4

2.5/4

3.5/4

2/4

1/4

3/4

3/4

0.5/4

3.5/4

Next 24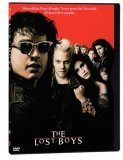 The Lost Boys
Sex, the Coreys, and Rock n Roll
4/4 stars
The Lost Boys is a movie that many have watched and few can forget, a movie which posesses that magic which holds us and keeps us watching untill the credits roll. I have seen many vampire movies in my lifetime, and few, with maybe the exception of Fright Night, have truely ever had the feeling of immense adolescent fun that the Lost Boys had. This movie is probabely one of the most unforgettable movies of the 1980's, which really was a fun decade for movies.

The Lost Boys has some of the best performances given by teenagers I have ever seen, and the one which stands out the most is Corey Feldman's performance as vampire hunter Edgar Frog. Corey Feldman really tried to make Edger a fun character, one which you really get excited with every scene he's in, and Feldman does a morethan superb job, as his character is probabely the most fun character in the movie. Another performance which stands out is Keifer Sutherland's performance as the vampire David (coincidently, Sutherland and Feldman both played supporting roles in Stand By Me the previouse year). He really excels at making hi character dark, mysteriouse, and overall a great villian. Other than Feldman and Sutherland's performances, there were several other actors in the movie who did a great job, such as Jamison Newlander, who played Edgar's brother, Allen Frog. Sadly, his part is extremely under written. Dianne West is very loveable as the mom, and Jason Patric gives a superb performance as Micheal. However, Corey Haim was somewhat annoying in this movie, but then again, Feldman was always the better actor of the two.

I highly reccomend the Lost Boys to anyone who hasn't seen the movie. It is funny, it's fun to watch, and very entertaining, and I hope that when my son is older I will be able to sit down and watch this movie with him. As for my daughter, I'm not sure if she'll like vampire movies, even when she's older.