4/4

4/4

4/4

0.5/4

4/4

1/4

3.5/4

4/4

0.5/4

0.5/4

3/4

4/4

3.5/4

4/4

1.5/4

0.5/4

4/4

2.5/4

3.5/4

2/4

1/4

3/4

3/4

0.5/4

3.5/4

Next 24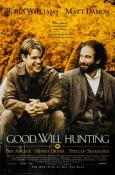 Good Will Hunting

4/4 stars
Easily one of the greatest movies of all time. The plot is great, the acting is phenominal, and the meaning is excellent.

The movie is about a troubled working class Boston kid named Will Hunting (Matt Damon) who is an absolute genius at math but has a bad criminal record. Instead of honing his skills, he spends alot of his time drinking wth his friends and beating up people who piss him off. Hey, we can all understand that. One day, however, he starts beating up this a***ole at a playground, and his arrested after accidentally hitting a cop. The judge makes him go to counseling and hone his math skills with an MIT proffessor (Stellan Skarsgard). Afte driving away several therapists, he meets his match with Dr. Sean McGuire (Robin Williams), who helps him see the light and allows him to open up his feelings about his life and his abusive step parents. The restt of the movie is about his journey to discover who he is and what he wants to do.

The acting is excellent. Matt Damon gives one of his most brilliant performances.

Everything else is about it is excellent.

Hey, are you still reading this? Watch the f***ing movie already!